By Johann Windt, MS, CSCS, CIHR Doctoral Award Scholar

BJSM has annual awards for the best systematic reviews. The award has two categories:
1) Risk Factor Systematic Reviews
2) Intervention Systematic Reviews
For the judging criteria, as well as the winner of the best risk factor-related systematic review, please look back at Part 1.
What was the best systematic review of an intervention?
The independent assessors of the four top papers could not find a meaningful difference in the excellence of these two systematic reviews:
Sugimoto et al (2015). Specific exercise effects of preventative neuromuscular training intervention on ACL injury risk reduction in young females: meta-analysis and subgroup analysis. 49:282-289
Hanson and Jones (2015). Is there evidence that walking groups have health benefits? A systematic review and meta analysis. 49:710-715
Both reviews adhered to the PRISMA guidelines, and investigated topics that have great public health relevance and interest to BJSM's 23 member societies. You can read more tips to write good systematic reviews here.
Dr. Dai Sugimoto and colleagues reviewed 14 clinical trials which utilized neuromuscular training for ACL injury prevention in young females. Through their subgroup analysis they identified that programs that included strengthening exercises, proximal control exercises and multiple exercise interventions were the most effective in reducing ACL injury.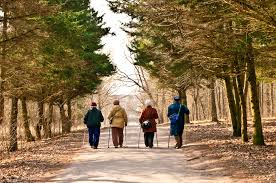 Sarah Hanson, a PhD student under the supervision of Professor Andy Jones, reviewed 42 studies to determine the health benefits of outdoor walking groups. Her meta-analysis revealed significant improvements in a number of important health outcomes, including blood pressure, % body fat, and physical function (SF-36 physical functioning and 6-minute walk). Furthermore, given that such walking groups experience low attrition and high adherence rates, this review highlights outdoor walking groups as a great referral option for clinicians counselling physically inactive patients.
We congratulate Dr. Sugimoto and Sarah Hanson and co-authors. Congratulations to all authors who contributed over 70 systematic reviews published in BJSM the past 12 months. We expect to publish 4 SRs in each of BJSM's 24 issues per year.
We welcome submissions to BJSM. Not only can you win a prize but you benefit from the wide reach of BJSM through academic libraries and 23 member societies who provide BJSM online to their members at no extra charge. And BJSM was ranked #1 in Sports Physiotherapy Social Media by the informal awards committee convened at Rylands of Hawthorn (2014).
(Visited 307 times, 1 visits today)