By HP Dijkstra¹, N van Dyk², YO Schumacher¹
¹Sports Medicine Department, Aspetar Qatar Orthopaedic and Sports Medicine Hospital, Doha, Qatar.
²Rehabilitation Department, Aspetar Qatar Orthopaedic and Sports Medicine Hospital, Doha, Qatar
Doping in sport, particularly in track and field, is a reality.[1] [2] The World Anti-Doping Agency (WADA) condemned a rife doping culture in Russian Athletics implicating athletes, coaches, doctors, managers, federations and even the Russian minister of sport. [1] The Council of the International Association of Athletics Federations (IAAF) reacted by provisionally suspending the All-Russia Athletic Federation (ARAF) as an IAAF member. IAAF President, Sebastian Coe commented: "This has been a shameful wake-up call and we are clear that cheating at any level will not be tolerated. To this end, the IAAF, WADA, the member federations and athletes need to look closely at ourselves, our cultures and our processes to identify where failures exist and be tough in our determination to fix them and rebuild trust in our sport." [3] This was, however, not the only recent doping scandal in athletics.
The prevalence of blood doping ranged from 1-48% for subpopulation samples (country, endurance, non-endurance) of a blood-testing program by the IAAF. [4] In a study on Doping in Elite Sports Assessed by Randomized-Response Surveys, the prevalence of reported past-year doping was 29% at the 13th IAAF World Championships in Athletics in Daegu, South Korea and 45% at the 12th Quadrennial Pan-Arab Games in Doha, Qatar. [2] WADA published a list of 113 coaches, physicians and other support staff, guilty of violating anti-doping rules – athletes are not allowed to associate with any of these individuals. [5]
How easy is it then for athletes to beat the system? What help do they get from team medical staff?
WHAT ABOUT PATIENT CONFIDENTIALITY?
Consider this: you're a team physiotherapist at an IAAF World Championships. While treating an athlete with Achilles pain he or she asks: "Can I tell you something? I'm doping… Please don't tell anyone." What do you do? Is this 'patient confidential information' or is it your ethical responsibility to report this?
This confession may be confidential in certain settings but in many countries (UK, Germany, Australia etc.) you are protected by the athlete's contract and senior management, and must report this. Athletes who use performance enhancing substances do not generally involve their team physician, but carefully choose to operate outside organized structures. How can healthcare professionals protect themselves and athletes from getting involved or accused of doping?
HOW TO PROTECT ATHLETES AND YOURSELF
Healthcare professionals in sport should lead and implement change to protect athletes and themselves. Here are four elements promoting best practice:
A comprehensive anti-doping education program warning athletes against taking supplements that might contain prohibited substances, and educating coaches and support staff (figure 1).
An effective out of competition testing program based on athlete where-about registration. There is huge discrepancy in the operational efficiency of many National Anti-Doping Organisations (NADOs) especially in countries where doping is more prevalent. The recent WADA report on doping in Russian Athletics is a clear indication of this. [1]
'Zero-tolerance' athlete contracts. Many elite athletes in "non-professional" sports are funded by governmental programs, such as lottery funds or employed by the armed forces. These funded athletes sign a contract, relinquishing their right to medical confidentiality related to doping. All athletes competing at major events sign an athlete's contract after team selection. These contracts underpin a zero-tolerance approach to illegal practices, including doping, and 'patient confidentiality' does not apply.
A well-structured, professional and transparent coaching, training and medical support system.
We reported on the Integrated Performance Health Management and Coaching Model implemented by UK Athletics. [6] Athletes, coaches and support staff work together in an integrated and transparent model of shared decision-making and mutual accountability.
Medical Team: Medical support staff should undergo annual clinical appraisals. They provide evidence of regular peer reviewed clinical activities, patient log books, reflective continuing professional development (CPD) diaries and performance-feedback by colleagues and patients. UK medical staff, including Sport and Exercise Medicine (SEM) physicians is already subject to a robust peer review and annual appraisal system that informs General Medical Council (GMC) revalidation. [7] Although not impossible, it is difficult for a physician in such a program to engage in illegal practices without drawing suspicion.
Athletes: Athletes should live in the official team hotel or athlete's village before and during major championships. These environments are not conducive to 'easy doping' – medical teams operate in designated 'open medical spaces' where peers observe and comment. Athletes and support staff, eat, train, rest and sleep (more often than not 2-4 in one room) in an environment where secret doping practices will be difficult. Athletes should be encouraged to embrace this type of organised team environment with appropriate performance measures (single rooms) to support individual medal-potential athletes.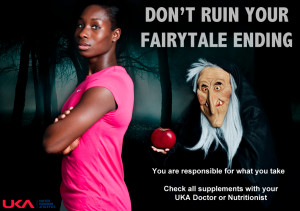 SUMMARY
There is a systemic failure of certain countries to curb doping practices. Prudent federations, managers, coaches and medical staff would invest in robust systems of professional and ethical athlete coaching and support. National and international governing bodies should prioritize these systems, creating educational platforms and mandatory practices that hold individuals and teams accountable at all levels. This will not only serve to protect the vast majority of ethical athletes, coaches and support staff, but also safeguard sport from becoming a pharmacological spectacle. It is fundamentally about fairness and the integrity of true competition – "play true"!
****************************
Correspondence to:
H Paul Dijkstra MBChB, BSc (Hons) (Pharmacology), MPhil (Sports Medicine), FFSEM (UK); Aspetar, Qatar Orthopaedic and Sports Medicine Hospital, PO Box 29222, Doha, Qatar; TEL: +974 4413 2000; e-mail: paul.dijkstra@aspetar.com
Contributions of each author:
Dijkstra HP: First author, substantial contribution to conception and design, coordination of authors, drafting and revising the manuscript and approval of the final version to be published
Van Dyk, Nicol: Contribution to drafting and revising the manuscript and approval of final version to be published
Schumacher YO: Contribution to drafting and revising the manuscript and approval of final version to be published
Competing Interest: All authors are prominent in sport and exercise medicine. Drs Dijkstra and Schumacher have practical experience as physicians working with athletes who have undergone drug testing. Dr Schumacher provides expert advice for various Anti-Doping Agencies including WADA. (See publications as well).
References
1          Wada commission wants Russia ban. BBC Sport. http://www.bbc.com/sport/0/athletics/34765444 (accessed 9 Nov2015).
2          Committee publishes "blocked" study on doping – News from Parliament – UK Parliament. http://www.parliament.uk/business/committees/committees-a-z/commons-select/culture-media-and-sport-committee/news-parliament-2015/chairs-statement-blood-doping-15-16/ (accessed 18 Sep2015).
3          IAAF provisionally suspends Russian Member Federation ARAF | iaaf.org. http://www.iaaf.org/news/press-release/iaaf-araf-suspended (accessed 14 Nov2015).
4          Sottas P-E, Robinson N, Fischetto G, et al. Prevalence of Blood Doping in Samples Collected from Elite Track and Field Athletes. Clin Chem 2011;57:762–9. doi:10.1373/clinchem.2010.156067
5          WADA Bans 114 Support Staff Banned For Doping Violations. http://www.swimmingworldmagazine.com/news/wada-publishes-list-of-banned-coaches-and-support-staff-for-doping-violations-italy-leads-tally-with-61/ (accessed 21 Sep2015).
6          Dijkstra HP, Pollock N, Chakraverty R, et al. Managing the health of the elite athlete: a new integrated performance health management and coaching model. Br J Sports Med 2014;48:523–31. doi:10.1136/bjsports-2013-093222
7          GMP Framework for appraisal and revalidation. http://www.gmc-uk.org/doctors/revalidation/revalidation_gmp_framework.asp (accessed 21 Sep2015).
Figure 1: UK Athletics poster used at training venues before the London Olympic Games
(Visited 1,054 times, 1 visits today)