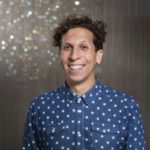 The Edinburgh festivals are in full flow, and there is a wealth of wonderful health and medicine related events to see and do. From a show about incontinence that will gain you CPD points for attending, to a one-to-one performance in darkness that explores the science of seeing, to comedies about bodies, and plenty of work about mental health, ageing, disability, heartbreak and more, one project at the Fringe aims to bring it all together.
The Sick of the Fringe is the brainchild of artist, performer, and Wellcome Engagement Fellow Brian Lobel, and is led by him and producer Tracy Gentles from In Company Collective. Commissioned by Wellcome, it's a mini-festival within the Fringe that runs events for and with theatremakers, as well as the public. It also involves a team of writers "diagnosing"—rather than reviewing—shows and building an online resource of material that examines and connects themes, topics, and people. 
Brian explains
The Sick of the Fringe is a programme dedicated to making meaningful connections and conversations among artists and audiences in Edinburgh during the Festival, with a particular focus on those performers dealing directly with themes of health, illness, the body, disability, and medicine. What began as an idea to have a small talk series at the Fringe has now blossomed into a community, actively involving hundreds of artists, scientists, writers, and medical professionals.
The Edinburgh Fringe is the largest and one the most exciting, democratic, and accessible arts festivals in the world. For many years people have come to the festival with an open heart, a wish to make it big, and lots and lots of flyers.
But, while Fringe performers are great at drumming up audience members for their show—a journey on the Royal Mile is the best way to see the most innovative marketing approaches—as a performer in Edinburgh for the last eight summers, I found myself frustrated by the lack of nuanced conversation, particularly about issues of health, the body, trauma, illness, and disability.
When I began writing about my experience with cancer, which I did on the day I was diagnosed as a young man, I did it with a fervent desire to connect with audiences—not just theatrical audiences, but with anyone who was looking at me, judging my deathly appearance, staring and looking away in equal measure. I wanted to use performance to reach across the silence and address the stigma related to being unhealthy and unproductive in a world which prefers people fit, healthy, and happy. I wanted performance to teach doctors what it felt like to be poked and prodded, to have lights shone in your eyes. I wanted performance to highlight for researchers that one can be both sick and sexual, to encourage more studies that look at the effects of illness on pleasure and relationships. I wanted audiences to see the body I had, instead of the body they wanted me to have.
And, after several reviews which called my work "inspirational," I wanted to create something more considered, and perhaps more useful to others making work about their own experiences of physical or psychological challenges.
In a world of star-reviews, must-see lists, and so many flyers, my aim for The Sick of the Fringe is to provide a safer platform for artists making work on subjects which are difficult and identities that are marginalised by differences in health and presumed ability. I also hope that The Sick of the Fringe provides opportunities for those working in health, medicine, and research, to engage with the ideas put forward by performers, and consider different perspectives for policy, research, and a sense of purpose.
Events for The Sick of the Fringe events can be booked via the website. Follow @TSOTFringe on Twitter and use the hashtag #TSOTF16 to connect with the project and the TSOTF community.
See also:
Medical stuff at Edinburgh's Festivals 2016
Brian Lobel is a performer, teacher, and curator who creates work about bodies and how they are watched, policed, prodded and loved by others. Lobel shows work internationally in a range of contexts, from medical schools to museums, marketplaces to forests, blending provocative humour with insightful reflection. He is a Senior Lecturer at University of Chichester, Wellcome Trust Public Engagement Fellow, and Co-Director of The Sick of the Fringe.