Personal perspectives on facilitating optimal performance with the Egyptian Men's National Football team
My background with "The Pharaohs"
Since 2015, I have been the head of sports medicine at the Egyptian Football Association (EFA). Being Egyptian myself, it gives me a lot of pride to be able to plan and provide advice to the technical staff to maintain the maximal performance for our players. Egypt has a long history in international football, playing in three World Cups and being the first African nation to play at a World Cup in 1934. Many people are now more familiar with Egypt thanks to a true global superstar (Mohammed Salah) playing regularly for Egypt. 
Ramadan and performance
Ramadan is the holy month in which all Muslims undertake fasting from food, drink, and sexual activity from dawn until sunset. It is one of the five pillars of Islam and is a spiritual time that is a crucial part of the faith of the 1.9 billion Muslims on the planet (Husain et al., 2020). Much of the available literature related to Ramadan and performance reports an impairment of performance of athletes during this time of fasting (DeLang et al., 2022), with altered nutrition and sleeping patterns suggested as possible attributable factors (Nakhostin-Roohi & Barmaki, 2012). More awareness of the effect of Ramadan on the fasting athlete is now available, including a recent BJSM blog (The Ramadan fasting athlete; competing in good health and for optimum performance). 
Since starting my role with the EFA, I have worked with our national team during Ramadan on two previous occasions. The first was in 2017 during the African Cup of Nations (AFCON) qualifying games, and then again during our preparation camp prior to the FIFA World Cup in 2018. Although Egypt was eliminated in the 1st round of the 2018 World Cup, as a staff we were able to implement a successful physical performance program (despite all of our World Cup preparations being undertaken in Ramadan). In this blog, I reflect on maintaining optimal performance during Ramadan.
Managing multiple challenges
More recently, I worked with the EFA at our AFCON qualification games in March 2023 during Ramadan. During a 9-day period, we played two games (home and away) and made a 9,000km round trip to play the away fixture during Ramadan. Aside from the implications of travel itself, the destination country of Malawi had recently experienced a cholera outbreak and the country had been affected by a natural disaster ("Cyclone Freddy") that took the lives of hundreds of people. 
To manage these challenges, we centered our approach on thorough planning and clear communication. Prior to and during the 9-day camp, the medical team had a series of regular meetings with the head coach, technical staff, team manager, and team captain (who was a central point of this process). This was kick-started by a PowerPoint presentation to this group (see Figure 1), which explained in detail more about all of these challenges and how we could collectively deal with them in an optimal manner. 
Figure 1: Example of presentation slide used by medical staff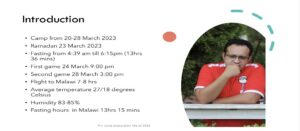 Adaptations to our schedules
To best manage nutrition and hydration, we divided the 9-day international camp into 3 blocks: 
3 days (non-fasting) prior to Ramadan beginning;

3 days of fasting (Match Day -1, Match Day, Match Day +1) where the game and training session times are after breaking fast; 

The final 3 days (Match Day -1, Match Day, Match Day +1) where the game and training sessions are before breaking fast.  
The three main meals were "Iftar" (the meal taken on immediately at the break of fast), a post-exercise meal or dinner, and "Sohour" (the last meal prior to starting fast). We aimed to distribute these between the fasting hours of 6:15 pm and 4:35 am. Hydration was monitored through urine analysis prior to going to bed, with electrolyte supplementation administered. Sleeping diaries and daily wellness questionnaires were used, and power naps were highly encouraged/supported.A summary of the schedule is shown in Figure 2.
Figure 2: Outline of training/nutritional times used to guide players and staff

The additional challenge of Cholera
For many SEM clinicians, managing Cholera is not a situation that they have to encounter. Cholera is an acute diarrheal illness caused by infection of the intestine by Vibrio cholera bacteria, and people get sick when they swallow food or water contaminated with the cholera bacteria. The infection is often mild or without symptoms, but can sometimes be severe and life-threatening (Guerrero Becerra et al., 2022). 
As of 23 January 2023, the Cholera outbreak in Malawi is still posing a big problem with daily reported new cases ranging between 500-600. The number of cumulative cases increased to 29,995 and 990 deaths have been reported since the outbreak in February 2022 (Wise, 2023). Prior to departure we had extensive communications with the Egyptian embassy in Malawi relating to the situation and we planned for vaccinations around our travelling schedule. Hand washing and food sanitation were continually reinforced, and our chef travelled in the advance party to be able to oversee everything related to that. 
Reflections on our experiences
In essence, the key approach to our strategy was ensuring optimal communication between staff and players (including the presentation we gave at the start of the training camp). Sleeping, nutrition, hydration, and mental readiness were the cornerstones to maintain optimal performance. For me, a big factor which helped was our head coach (Rui Vitória) undertaking full fasting days with the players too! He is not a Muslim but wanted to show support for the players and by doing this he created an atmosphere of shared commitment and togetherness during Ramadan. An additional point to make is that our medical staff were all fasting too. It was a hard job for us to be on the top of our own game, whilst also having our own sleep and nutritional intake affected. Overall, the trip was a success though, especially as the team won both of our games and didn't concede a goal. 
Authors:
Dr Mohamed Abou Elela– @mohamed18690329 
Egyptian football Assocoation,5 Gabalaya St. Gezira, Cairo, Egypt
The Sports clinic, Maadi, Cairo, Egypt
Dr Osman Ahmed- @osmanhahmed
The Football Association, St George's Park, Burton-upon-Trent, United Kingdom
University Hospitals Dorset NHS Foundation Trust, Poole, Dorset, United Kingdom
School of Sport, Health & Exercise Science, University of Portsmouth, United Kingdom 
Competing interests:
Dr Abou Elela is employed by the Egyptian Football Association. 

Dr Ahmed is an Associate Editor at the British Journal of Sports Medicine. 
References:
DeLang MD, Salamh PA, Chtourou H, Saad HB, Chamar, K., 2022. The effects of Ramadan intermittent fasting on football players and implications for domestic football leagues over the next decade: a systematic review. Sports Medicine 2022, doi:

https://doi.org/10.1007/s40279-021-01586-8

. 

Guerrero Becerra M, Reyes Gómez U, Soria Saavedra FM, Reyes Hernández MU, Baeza Casillas J, Espinosa Sotero MC, Almonte Dorantes AE, Juárez Jaramillo CA, Suárez Maldonado M, Yalaupari Mejía J. Cólera. Enfermedades Infecciosas y Microbiologia, 2022, 

https://doi.org/10.31729/jnma.1197

.  

Husain S, Zafar M, Ullah R. 2020. Ramadan and public health: A bibliometric analysis of top cited articles from 2004 to 2019. J Infect Public Health 2020,

https://doi.org/10.1016/j.jiph.2019.11.006

.  

Nakhostin-Roohi B, Barmaki S. Nutritional, sleep and exercise patterns of athletes in Ramadan. Gazzetta Medica Italiana Archivio per le Scienze Mediche 2012, 171(2):131-4. 

The Ramadan fasting athlete; competing in good health and for optimum performance. 

Bjsm blog.Posted on 

March 22, 2023

 by 

jenduncan

Wise J. Cholera: Malawi is in grip of its deadliest outbreak. BMJ 2023,380:328. doi:10.1136/bmj.p328.  
(Visited 388 times, 1 visits today)