Over the past decade, the expansion of online and social media platforms has increased interest in and access to player medical information in professional sports teams. The media regularly report on player injury and illness issues including updates on severity[1], return to play periods and annual surveillance reports[2]. A lack of specificity in relation to injury and illness information can lead to speculation, diagnosing via the media and unconnected medical experts, and the questioning on the future careers of players. Previous research has demonstrated that media based injury data has a higher validity for severe injuries than minor injuries when compared to team databases[3,4].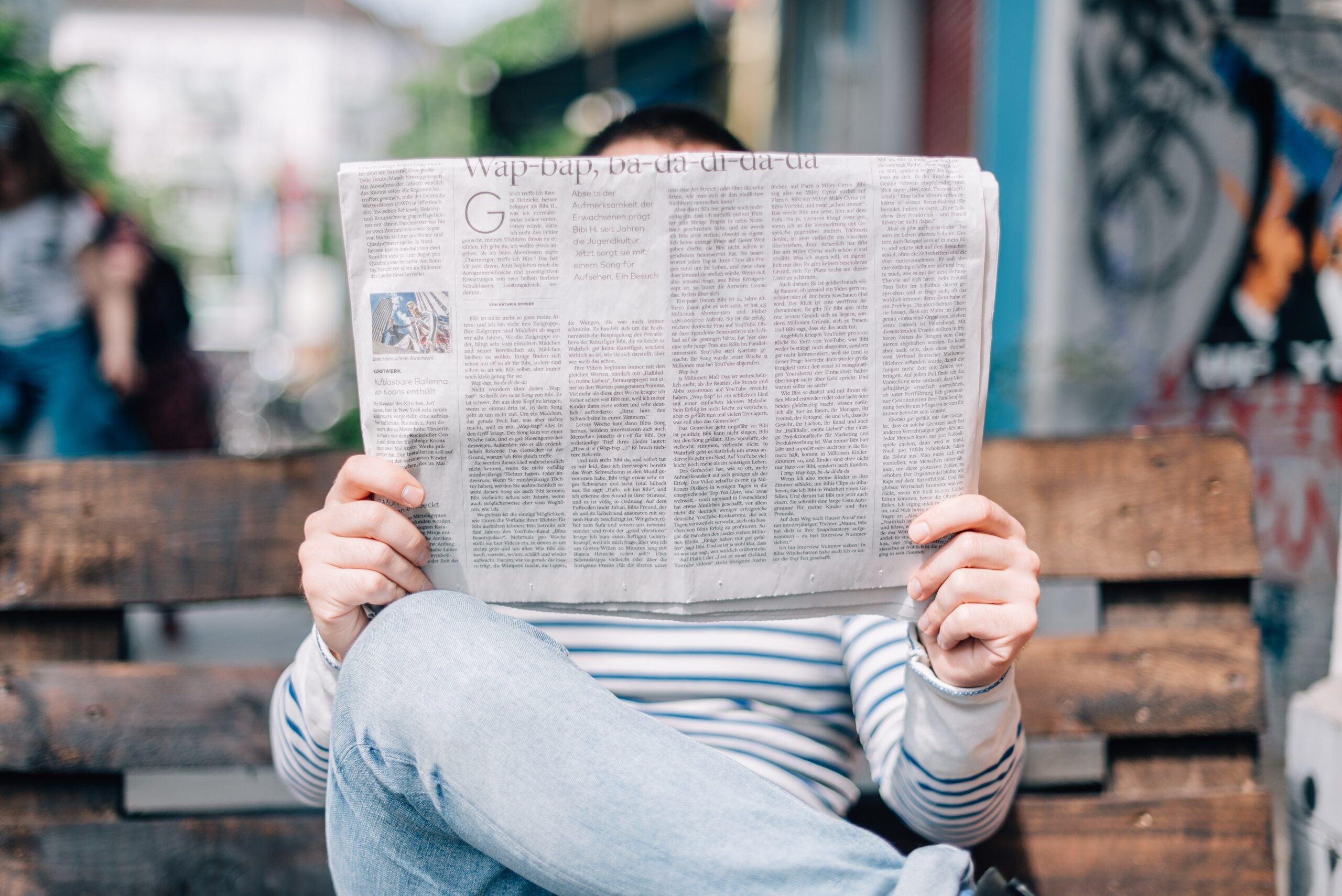 Many sports teams do not have guidance with respect to the release of this information from their governing bodies, despite the expectation that this is disseminated from the public and media. Previous publications have outlined guidance for sports and exercise medicine professionals in relation to social media use including clinical confidentiality, professional ethics and minimising the risk of misinterpretation / misrepresentation[5]. The accuracy and sensitivity of this player medical information, as well as the consent process for its release, are important for teams to consider in order to protect both them and the player. The purpose of this blog is to provide guidance and outline considerations for the reporting of injury and illness information by medical staff to the media in professional sports teams.
Privacy, Consent and Content
Clubs, leagues, and associations must comply with any applicable privacy, health, and medical records legislation in relation to the storage of, access to and disclosure of medical or health records of individual players. The general principle found in such legislation is that players' medical records held by their employing clubs or league or association must be treated as confidential. The relationship between the player (as patient) and medical staff is treated as legally privileged and protected. It follows that a player's medical records cannot and must not be released to any other person without the specific consent of the player.
There may be some qualified exceptions to this general principle: for example, the content of a player's medical records may have to be disclosed for insurance purposes, for anti-doping control or internal medical research such as injury or illness surveillance. A player's consent to give access to others (insurers, anti-doping agencies etc) will usually be obtained in advance by way of standard, contractual agreement though for every specific request, the player should be given written notification and particulars as to what medical data has been requested, why such data needs to be disclosed and to whom it is being securely given to.
It may be that the medical records of a player are requested by external third parties such as another club for transfer purposes or media, sponsors or even wagering outlets. The general principle is, again, that details of players' medical status cannot be granted unless the player gives their voluntary, express, and informed consent. In the specific instance where there are media requests for information relating to a physical injury or illness sustained in the course of training or playing; even where consent is obtained from the player, the usual approach is that only information of a general nature relating to the condition of the player should be given. To that end, the below Medical Terminology (Table 1) has been developed to facilitate the dissemination of these updates.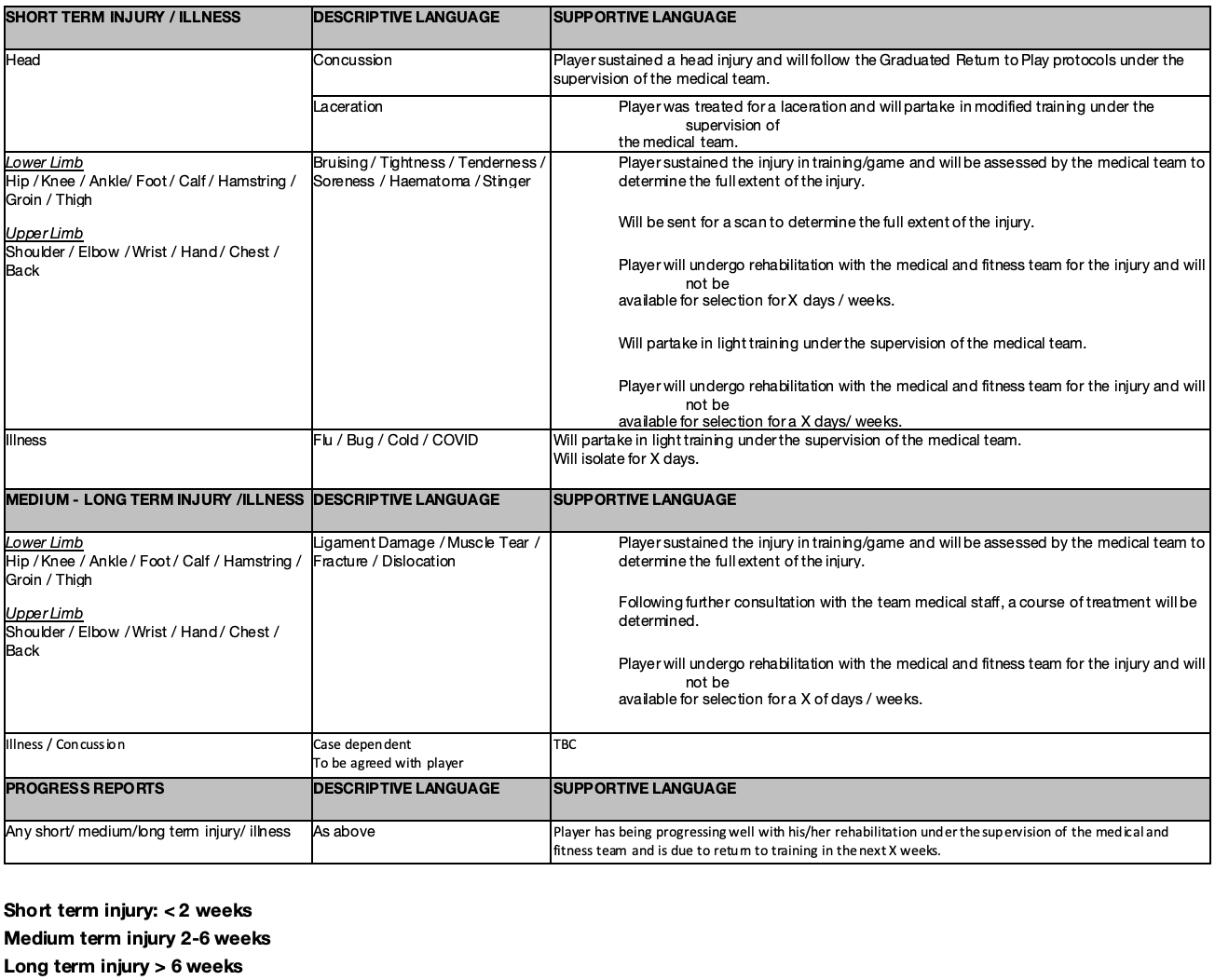 In contrast, mandatory reporting policies such as those in the NFL and AFL, place teams and players under a positive obligation to give the league, media, supporters and even opposing teams, notification of the injury or illness status of players. This process, which entails players expressly waiving their confidentiality privilege to their own medical data, is regulated by collective bargaining agreements between the players' unions, clubs and the league.
Players have been reported to regularly use social media platforms during injury recovery periods[6], however many players will typically be apprehensive to reveal their medical status, particularly if it may affect their selection and/or contract negotiations. Media and medical staff may recommend that players do not post any details or images of injuries or illnesses sustained and restrict all social media interaction on injuries or medical procedures to acknowledgement of well-wishers only.
Authors and Affiliations:
Garrett Coughlan @garrett_physio has over 10 years experience working as a sports physiotherapist in professional club and international rugby. He completed his undergraduate and postgraduate studies at University College Dublin and went on to work with the Irish Rugby Football Union for a decade prior to his current role with Mayo GAA. He has combined his clinical work with research over the past 15 years, primarily in the areas of lower limb rehabilitation and assessment, athlete profiling and concussion. Email: garrett@corehealthandperformance.ie
Jack Anderson is Professor and Director of Sports Law at the University of Melbourne.
References:
Orchard J, Hayes J. Using the World Wide Web to conduct epidemiological research: an example using the National Basketball Association. Int Sport Med J 2001;2. http://www.esportmed.com/ismj/content/viewarticle.cfm?aid=101&view=abs.
Orchard JW, Seward H, Orchard JJ. Results of 2 Decades of Injury Surveillance and Public Release of Data in the Australian Football League. Am J Sports Med 2013;41:734-41.
Krutsch V, Grechenig S, Loose O et al. Injury Analysis in Professional Soccer by Means of Media Reports – Only Severe Injury Types Show High Validity. J Sports Med 2020;11:123-131.
4.Szymski LA, Achenbach L, Krutsch V et al, Injury epidemiology in men's professional team sports: is media analysis helpful? Arthr Sports Med 2021;141:655-61
Ahmed OH, Weiler R, Schneiders AG et al. Top tips for social media use in sports and exercise medicine: doing the right thing in the digital age. Br J Sports Med 2015;49:909-10
Nankervis B, Ferguson L, Gosling C et al. How do professional Australian Football League (AFL) players utilise social media during periods of injury? A mixed methods analysis. J Sci Med Sport 21:681–85.
(Visited 744 times, 2 visits today)