Rugby Union involves repeated high intensity and physically confrontational tasks. The majority of injuries occur in games (1, 2) resulting in player welfare initiatives including pitch emergency certification courses, training/game medical standards and increasing numbers of medical personnel to manage these events. In this blog, we propose a game positioning model using a structured monitoring system that addresses player and medics safety, with possible application for other sporting codes. 
LINE OF SIGHT AND LINE OF ENTRY
Rugby Union is one of the few global sports permitting medics to track along touchlines with direct access to the field of play as required. Our concept centres on optimal positioning to observe and respond to on-field events and medics should consider the following;
Line of sight: A minimally obstructed view of play to ensure that on-field injurious events and medical hand signals are identifiable.
Line of entry: Close proximity to players on both sides of the pitch, combined with a safe and consistent field approach to enhance the ability to provide prompt and appropriate injury management.
OFF-FIELD MEDICAL TEAM
Off-field medical personnel will assume pre-determined game positions defined by competition authorities. The Match Day Doctor and Immediate Care Lead Doctor are located pitch side or in the stand with closest proximity to the stadium medical room.  An Advanced Paramedic and Ambulance Team will be located nearby to facilitate field access and egress to the medical room or ambulance, with rapid access for a medical buggy to facilitate extrications. These positions are communicated at the pre-match medical meeting and occupied to cover the warm-up period. A Medical Room Video Reviewer will also facilitate the review of any head injury events using a live stream. We previously proposed that the off-field medical team should have an independent radio system to facilitate communication (Coughlan et al, 2020). If this is not feasible, they should be located within a sufficient distance of each other to facilitate verbal and visual communication. The Lead Ambulance Team member should track along the touchline parallel to injuries under assessment by on-field medics, therefore having a direct line of sight for relevant hand signals requiring the Ambulance Team's entry to the field.
ON-FIELD MEDICAL TEAM
Professional teams will typically have a doctor and physiotherapist tracking along the touchline. This shared skill mix approach is optimal and beneficial for the injury spectrum that can present in elite Rugby Union. The doctor should track the touchline with closest to the medical room to facilitate the management of head and blood injuries, with the physiotherapist on the opposite side. The input of a team member observing a live stream pitch side to support the on-field medics is vital for reviewing injury mechanisms and communication.
Warm Up Positioning
Team members should be in position for the warm-up with each medic assigned to monitoring forwards or backs unit drills and both assuming touchline positions for team plays.
In Game Positioning
Both medics should track along their touchline following the play. If play is on one side of the pitch, the medic on that side should track between 5-10 metres (m)/15-20 degrees behind it with the other medic 15-20m/15-20 degrees behind (Figure 1 / Video 1). If the play switches to the opposite side of the pitch, these positions should see-saw and if  play moves to the middle of the field both medics should be positioned 15-20m/15-20 degrees behind it (Figure 2). If a team are defending their own try-line, medics should consider standing behind the dead-ball line (Figure 3 / Video 2). In our experience, these positions allow the optimal line of sight and entry for the on-field medics with minimal visual and physical obstruction with other game personnel e.g. touch judges, television crew and players (Video 3). For opposition tries, medics should assemble behind the posts during the conversion kick to evaluate players that may require attention. For own team tries, one medic should assemble in the centre field where players will normally gather before play resumes and the other should follow players from the try scoring area to identify any players potentially injured in the try scoring sequence. Where possible, medics should consider using stadia big screens if their view is obstructed (Video 4).
Injury Events
Where possible, both medics should safely access the field for injurious events with one leading the assessment and the other communicating on the radio or with the off-field medical team via hand signals should they be required. If the doctor has to leave the field of play with a player, a second team doctor or physiotherapist should replace them.
Post Game Positioning
One medic should remain on field until players have exited to ensure there are no issues in the final play or upon cessation of the game. The other should await the players arrival into the changing room, whereby a visual and verbal check is undertaken to identify any follow up assessments.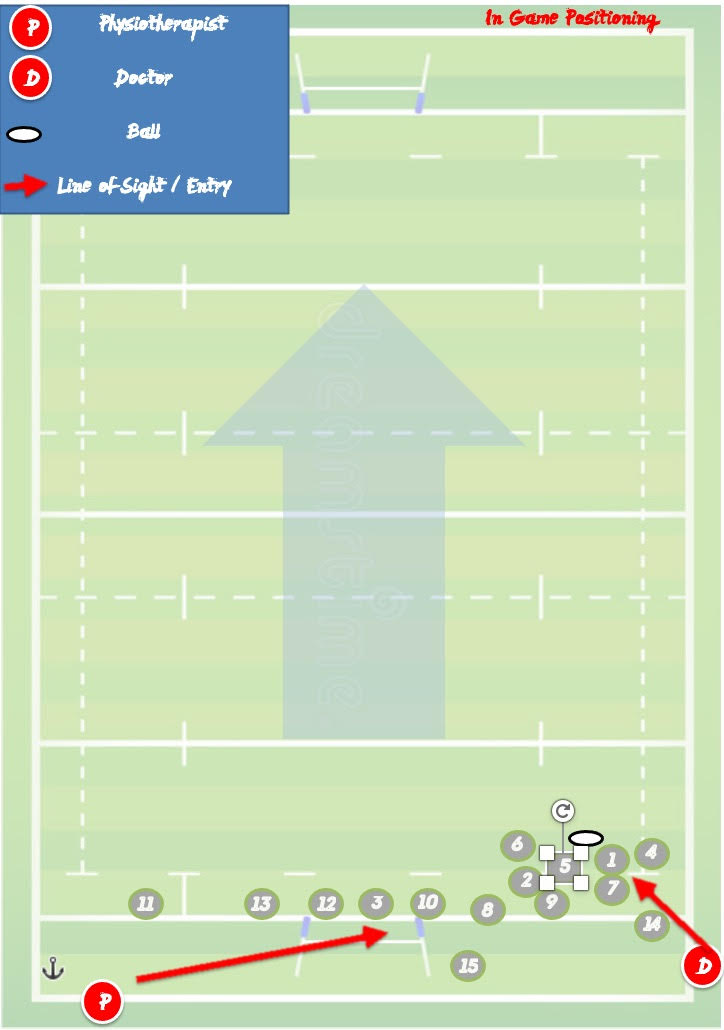 Authors and Affiliations:
Garrett Fintan Coughlan, Lead Physiotherapist, Connacht Rugby, The Sportsground, College Road, Galway, Ireland. garrett.coughlan@connachtrugby.ie @garrett_physio
Brian Green, Head Athletic Trainer/High Performance Pathway Officer, San Diego Legion Rugby Football Club 5998 Alcala Park San Diego, California 92110, USA  @briangreen36
Jonathan Hanson, Team Doctor, Glasgow Rugby, Scotstoun Stadium, 72 Danes Dr, Glasgow G14 9HD, United Kingdom. @sportsdocskye
References:
Fuller CW, Taylor A, Kemp SPT, et al, Rugby World Cup 2015: World Rugby injury surveillance study. BJSM 2017:51:51-57. doi: 10.1136/bjsports-2016-096275.
Williams S, Trewartha G, Kemp SPT, et al, How much rugby is too much? A seven-season prospective cohort study of match exposure and injury risk in professional rugby union players. Sports Med 2017:47:2395-2402. doi: 1007/s40279-017-0721-3.
PARANTHESES:
Coughlan GF, Friend A, Green BS et al, 2020, Can you hear me coach? A communication model for field sport games. BJSM Blog. Posted on May 14, 2020 by BMJ
The authors wish to acknowledge the assistance of Oisín O'Dálaigh (Video Analyst, Connacht Rugby) for his assistance with the videos and Nigel Carolan (Assistant Coach, Connacht Rugby) for his assistance with the moves in the figures accompanying this blog.
Camera sideline footage taken using Kaleser HD Spy Hidden Camera Glasses. The authors wish to acknowledge PRO14 Rugby and Connacht Rugby for use of the television footage.             
Authors:
Garrett Coughlan @garrett_physio has over 10 years experience working as a sports physiotherapist in professional club and international rugby. Currently, he is the Lead Physiotherapist with Connacht Rugby in Galway, Ireland. He completed his undergraduate and postgraduate studies at University College Dublin and went on to work with the Irish Rugby Football Union for five years prior to his current role. He has combined his clinical work with research over the past 15 years, primarily in the areas of lower limb rehabilitation and assessment, athlete profiling and concussion. Email: Garrett.coughlan@connachtrugby.ie
Brian Green's @briangreen36 sports physiotherapy and high-performance experience span over 20-years. He is the Head Athletic Trainer/High Performance Pathway Officer of the San Diego Legion Rugby Football Club. Before this, he was Head of Sports Medicine/Performance Manager for the USA Rugby Men's Sevens Program from 2012-2020. An exciting highlight during this time was joining the Team USA delegation for Rio 2016.  Recently, Brian was instrumental in developing several high-performance initiatives that focused on coaching development and off-field player mentorship. In 2004, Brian joined the Irish Rugby Football Union Senior Men's 15's team management. During this time, he expanded his rugby depth and breadth by engaging in several academic and clinical research projects in injury prevention, performance profiling, and analysis of high-performance structures which resulted in a Ph.D. from the University College Dublin. Brian is thrilled to be part of the upcoming World Ten's Series season.
Jonathan Hanson @sportsdocskye is a Consultant in Sport and Emergency medicine in NHS Fife in Scotland.  He was involved in the development of elite and grassroots pitch side emergency medical courses for World Rugby and the FA Premier League amongst others for over a decade, before moving on to look at human factors, pitch-side risk and error minimisation in elite sport.  He is an active team physician working in professional rugby and Olympic games with Team GB as well as having worked at the 2018 FIFA World Cup in Russia with England specifically working on team work, risk management and decision accuracy around on field head injury and immediate care incidents.
(Visited 5,494 times, 1 visits today)