Association of Chartered Physiotherapists in Sport and Exercise Medicine blog series
@PhysiosinSport
By Claire Treen @ClaireTreen
Britain's elite sporting culture accelerated in 2014, with women at the top of international sport. At the Sochi Winter Olympics Lizzy Yarnold won gold in the skeleton and snowboarder Jenny Jones picking up Great Britain's (GB) first ever medal in a snow event. Northern Ireland's Kelly Gallagher, with guide Chalotte Evans, took Britain's first gold at a Winter Paralympics, in the visually impaired downhill skiing. The England Women's Rugby team won the World Cup, and England Rugby contracted full time professional female players for the first time. Millions of pounds of investment, a grassroots programme and professionalization of Women's football are paying dividends, with the England Women's football team attracting nearly 50 000 to Wembley for November's international against Germany. Things have moved on from 1921, when the FA deemed football "quite unsuitable for females" (FA involvement in the women's game only re-emerged in the late 1960s)[1]. Athlete and mother of two, Jo Pavey won European Gold in the 10 000m, citing happiness and balance as key to her achieving her goal.
But how does this affect most women in Britain? Are they inspired? Do they exercise regularly? Are they even comfortable doing sport and exercise?
Consider these key statements from the Health Survey for England 2012[2]:
67% of men and 55% of women aged 16 or over met recommended aerobic activity levels
26% of women and 19% of men were classed as inactive, defined as less than 30 minutes/week of moderate physical activity, or 15 minutes/week of vigorous physical activity, or an equivalent combination of these.
22% of women between 16 and 24 years are classed as inactive (vs 8% of men)
Inactive women are the 'sitting ducks' facing the significant health risks outlined in Rory Heath's recent BJSM blog on sedentary behaviour. This is no less than the biggest public health problem of the 21st century.[3]
Sport England recently commissioned research into women aged 14 to 40. They found 2 million fewer women played sport regularly than men, but 75% of them would like to be more active. What's stopping them?
Sport England CEO Jennie Price says research found that alongside familiar themes such as time and money, one of the biggest barriers to exercise was fear of judgement. Fear of judgement for not being the right size, not being fit enough, not being skilled enough. Sport England are addressing it with an innovative, prominent social marketing campaign. Using real women and with tag lines like "Damn right I look hot," and the hashtag #thisgirlcan, it demands to be noticed.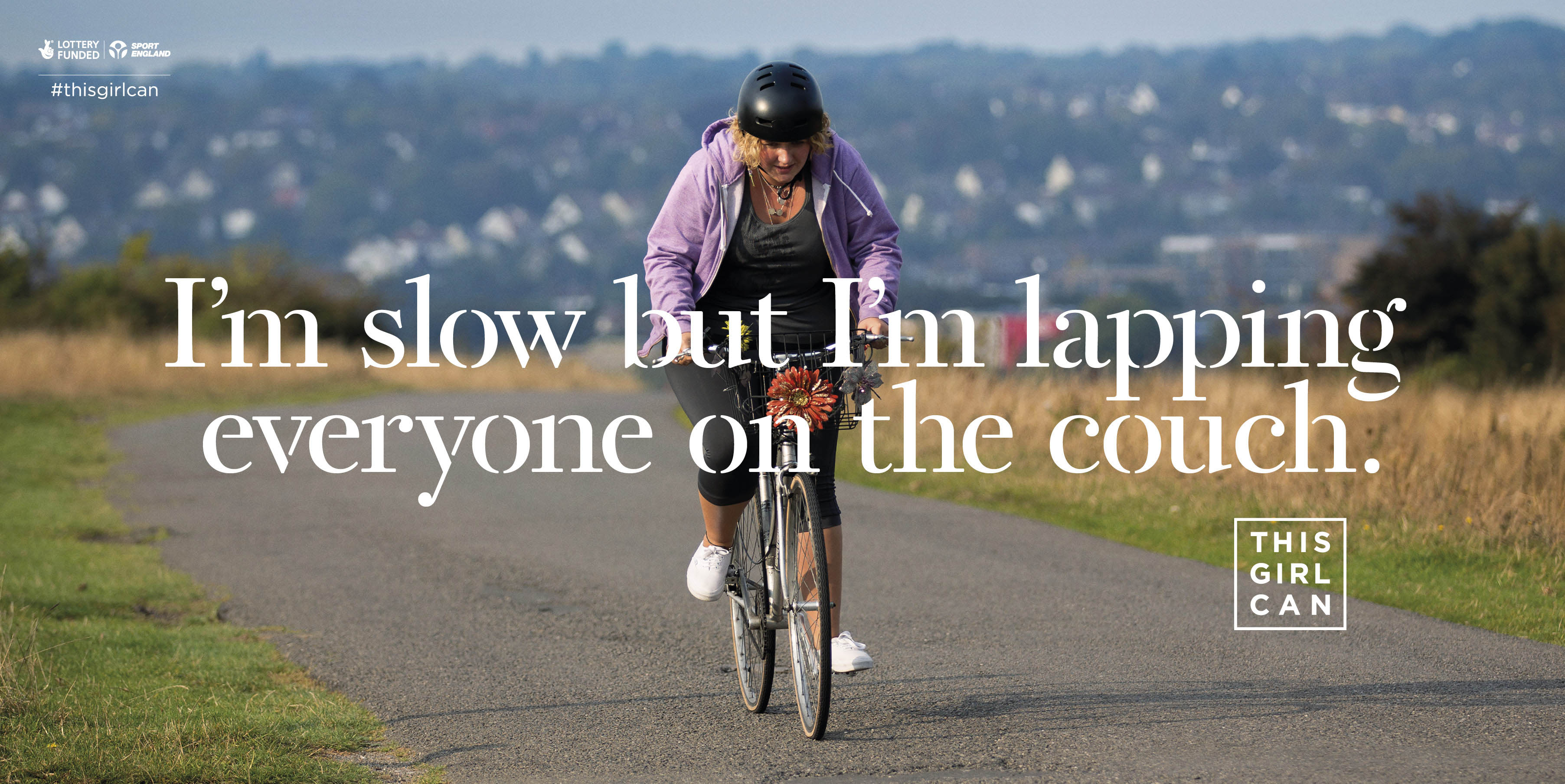 What can physios do?
In the most recent Frontline, CSP professional adviser Carley King states: "Exercise is one of the pillars of physiotherapy practice, and we are one of the key professions involved in the battle against sedentary behaviour…exploring barriers such as fear with patients and collaboratively looking at potential solutions can increase engagement with exercise."[4] Further, she notes that there are a vast array of barriers to exercise, and physios should be mindful of these when encouraging an increase in physical activity or prescribing exercises.
At the University of Bristol, Sport and Exercise Physios actively identified these issues and helped address issues facing female students, staff and women in Bristol. Examples of their diverse work are:
Working with the student's union on "Fit and Fabulous", which is a programme designed to provide a wide variety of activities for female students for minimal cost. Activities such as female only swimming sessions have helped young women be active and establish good patterns for life.
Helping provide exercise groups for women with particular needs, such as those from the University's Islamic society. Physios set up female only group exercise classes, without music, in a private room. Demonstrating sensitivity to religious and cultural needs helped break down barriers to exercise.
Contributing to unique running workshops in collaboration with RunBristol and Parkrun, and organising and delivering Women's Running Evenings alongside coaches and nutritionists. By working closely with other health and sport and exercise professionals and educating women on matters such as injury management and gait, they are giving them the skills to do sport comfortably and confidently, and helping them achieve their goals.
Helping uncover and manage delicate 'female issues', such as pelvic floor dysfunction and urinary incontinence (UI), a cause of withdrawal from sport and exercise.[5] UI is common, with prevalence varying between 10 and 55% in 15-64 year old women and is documented as a potential issue for high impact athletes. [6] Physios formed closer relationships with Women's Health Physios at St Michael's Hospital, (nearby NHS maternity and teaching hospital), thus helping patients to access specialist, free physio help without needing a GP referral. My MSc research examined the needs of women returning to physical activity and exercise postpartum. Women identified the need for accurate, research based and appropriate information on return to exercise post childbirth. They were fearful of doing the 'wrong thing', so education leaflets were created to address this. Women's need for help and support was also discussed, and whilst that needs to come from those closest to them, physios and health care professionals can provide encouragement.
Helping to increase patient awareness of what is available to women locally for little or no cost, for example, free swims for pregnant women in Bristol
Bristol Uni Physios showed great flexibility in adapting their skills across a wide range of clinical needs in a non-judgemental environment, working 1:1 with female Olympic medallists, elderly osteoporotic women attending a weekly balance class, and many in between. The importance of being able to work with women of all shapes, sizes and differing goals cannot be underestimated if we are to improve female sports participation levels. Just speaking with women and helping them overcome injury puts them in a position to recommence or continue doing sport. We should not be shy about letting them know how we can help!
As a University physio and manager, I advocated for women's sport and exercise in a predominantly male environment, which has been hugely challenging. Greatest successes in addressing social and cultural barriers, at all levels, came when I was not acting alone, but in collaboration with students, the student's union, medics, health care and exercise professionals, ACPSEM colleagues and mentors, coaches and academics. Beyond the clinic, we must continue open discussion and use social media to explore how we can help women minimise morbidity and mortality risks associated with inactivity. More research into why women are inactive and effective strategies to increase activity is needed.
In 2015, big money and the media spotlight is on women's sport. The Women's Tennis Association recently announced a 10 year, $525 million deal for television rights (the largest ever in women's sports), and Sky Sports will show every ball of England Women's Cricket teams Ashes defence. It's our professional responsibility to help ensure there is a 'trickle down' effect to all British women, and that 'legacy' becomes more than a buzzword. Will we, as physios, rise to the challenge?
***************************
Claire Treen is a Sport and Exercise Physiotherapist and honorary member of staff at University of Bristol www.bristol.ac.uk/sport/sportsmedicine. She is also the blog editor for the Association of Chartered Society of Physiotherapists in Sport and Exercise Medicine (ACSEM @physiosinsport) regular BJSM blog series. If you are a physio and would like to write a blog for ACPSEM, please email clairetreen@gmail.com.
[1] http://www.thefa.com/womens-girls-football/history
[2] http://www.hscic.gov.uk/catalogue/PUB13648/Obes-phys-acti-diet-eng-2014-rep.pdf
http://www.hscic.gov.uk/catalogue/PUB13218/HSE2012-Ch2-Phys-act-adults.pdf
[3] Blair, S. 2009. Physical inactivity: the biggest public health problem of the 21st century. Br J Sports Med 43: 1-2
[4] http://www.csp.org.uk/frontline/21/2
[5] Bo, K and Morkved, S. 2013. Effect of pelvic floor muscle training during pregnancy and after childbirth on prevention and treatment of urinary incontinence: a systematic review. British Journal of Sports Medicine; 48: 299-310.
[6] Bo, K. 2004. Urinary incontinence, pelvic floor, exercise and sport. Sports Medicine 34(7):451-464.
(Visited 782 times, 1 visits today)