22 May, 13 | by Karim Khan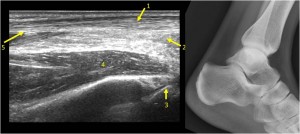 Image Quizes are based on a single patient and designed as educational tools for medical students and junior doctors. We hope that they will trigger your curiosity and provide a stimulus for future reading.
The new quizes show an MRI of the thigh, and a lateral x-ray of the ankle (with an ultrasound scan of the lower leg).
The thigh quiz was produced by Arthur Kievit (PhD fellow), and Gino Kerkhoffs (orthopedic surgeon), who are both affiliated to the Department of Orthopaedic Surgery at the Academic Medical Centre, Amsterdam. Dr Kievit and Dr Kerkhoffs have a keen interest in Sports Medicine and both work closely with a wide group of sports physicians in the Netherlands.
The other quiz (x-ray of the ankle and an ultrasound scan of the lower leg), was produced by Dr James Thing (Sports Physician in training), Dr James Sarkodieh (Radiology in training) and Dr Muaaze Ahmad (Consultant Radiologist) who work at the Royal London Hospital.
Follow this link to the newest quizzes
Dr Kievit, Dr Kerkhoffs and Dr Thing will prepare additional Image Quizes on a regular basis so keep an eye out for them!
If you would like to produce an Image Quiz, please contact me on bpluim@euronet.nl and I will send you the instructions.
Sincerely,
Babette Pluim, Deputy Editor BJSM