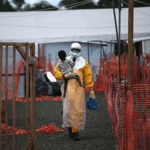 We were extremely proud to represent the UK and the NHS in the government's response to the Ebola epidemic in West Africa in 2014/5, and were honoured with medals for our involvement. This was not an individual achievement, but a point of national pride, recognising the humanitarian role that the UK played.
However, since then, the government that rewarded us for crossing borders to help patients is increasingly creating borders between us and our patients, culminating in the 70th anniversary of the NHS having the most restrictive and regressive charging regulations in NHS history. These regulations undermine the principles and values that inspired the work for which we were given medals, and we feel we can no longer keep our medals in good faith.
The Windrush scandal brought the effects of the government's "Hostile environment'" agenda onto the front pages. The denial of NHS care, which was always meant to be "free at the point of use" was a central injustice. We thought the underlying NHS charging regulations would be withdrawn, but they remain in place, continuing to act as a barrier to healthcare for many others.   
In particular, the most recent regulations, opposed by 193 organisations in a letter to the Secretary of State, but nevertheless enshrined into law in October 2017, are currently being rolled out in England. They build upon increasingly stringent changes to legislation relating to NHS entitlement and charging, particularly in 2014, and 2015, and now enforce a charge of 150% of the cost of the treatment to anybody unable to prove their immigration status. The charges apply to secondary care and a range of community services, and treatment must be withheld, unless deemed "urgent or immediately necessary", in which case charges are applied later.
Healthcare workers across the country are witnessing patients being denied or deterred from care with devastating consequences, including pregnant women and children. Many of the negative effects remain unseen, as people are deterred from seeking help due to charges, or for fear of arrest, detention, and deportation. Only recently have a few cases started to receive media attention, whether it be patients denied cancer care; refugees having chemotherapy stopped; home office decisions preventing life saving treatments for asylum seekers; others dying at home due to fear of charges; or pregnant women deterred from maternity care with potentially life-long consequences for themselves and their babies. These are the tip of the iceberg, as fear prevents consent for publishing stories, either in academia or the media.
In theory, exemptions exist for vulnerable groups, such as asylum seekers, refugees, victims of trafficking and modern day slavery. However, there is evidence that people in all of these categories have been denied or deterred from treatment. Also problematic are specific exemptions for infectious diseases, as patients come with symptoms, not diseases, and deterrence due to charging will frustrate early diagnosis and treatment, leading to potential public health problems.
The regulations are designed to deter those without legal status (undocumented migrants) from accessing healthcare, turning our hospitals into an extension of immigration enforcement. However, even if this were ever an acceptable aim, immigration status is fluid and can change overnight, and we know that our immigration system is seriously flawed, even deporting and detaining UK citizens, and with low asylum acceptance rates. Using this system to determine NHS treatment is unsafe, and should not fall onto the responsibility of a hospital.
Documents or not, access to healthcare is a human right, irrespective of the legal status of a patient. Many of our neighbours in Europe recognise this and provide free primary and secondary healthcare for undocumented migrants, especially pregnant women and children. France, for example, explicitly funds a programme dedicated to ensuring full health coverage of undocumented migrants (Aide Médicale de l'Etat). By contrast, The UK now funds a programme with the intention of detecting and denying care to undocumented migrants (unless they pay 150% costs), and is breaching international human rights law (CECSR, Art 12) including the rights of a child (UNCRC, Art 24).   
The grossly exaggerated and misleading concept of "health tourism" is a stated justification for the policies. However, estimates of this cost are between 0.00016% and 0.3% of the NHS budget according to government estimates, and (0.07% quoted by the King's Fund). Indeed when targeted pilots were carried out including hospitals which were perceived to have large numbers of "health tourists," only 1 in 180 patients were found to be chargeable (total sample 8,900). Many have argued that the regulations may actually cost more than they save, due to bureaucracy, missed preventive and secondary care leading to complications and greater costs with an increasing burden on emergency and primary care, and worsening public health from undiagnosed and untreated infectious diseases.   
We want the government to remove the hostile environment from the NHS. We're asking for the upfront charging regulations that came in to law in  October 2017 to be repealed, pregnant women and children to be exempt, and for the charging system to suspended pending an independent public health impact assessment with a particular focus on vulnerable groups.
Neal Russell is an NHS paediatric registrar, and ex-Ebola worker who worked Sierra Leone. 
Kevin Wing is an assistant professor of epidemiology at the London School of Hygiene and Tropical Medicine.
Gill Goldberg worked in Cameroon in a development role, then in South Sudan for MSF, before going to Sierra Leone during the Ebola outbreak. She is now a salaried GP working in London.
Mark Lee, is a paediatric registrar in the NHS and an ex-Ebola worker. He worked in Sierra Leone, and in a number of other humanitarian settings.
Darryl Menezes is a infectious diseases/general medical registrar, and an ex-Ebola worker. He worked in Sierra Leone, and is currently studying for a PhD in TB.
Harriet Burn, ST3 GP, NHS and Ex-Ebola worker. Harriet worked in Sierra Leone during the recent Ebola outbreak and a number of other humanitarian settings and currently works for the NHS in Devon.
Opinions are our own and do not represent those of any organisation.
Competing interests: None declared.