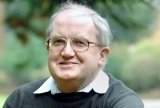 At the rear of the grand London buildings which house the BMA and the BMJ offices, there is a tranquil garden, sheltered by tall buildings and lovingly tended by Daniella Sikora. Over the last two weeks it has provided the backdrop to two early evening lecture sessions on gardening and health, forming part of the Chelsea Fringe programme.
I admit that I set out with mixed feelings. Although I've been a member of the Royal Horticultural Society on and off for years, I've never been to the Chelsea Flower Show. To me gardening means putting down roots, building a unique shared space over many years of trial and error, and exchanging plants with friends. Gardens as competitive showy things that appear one day and are gone a week later are not gardens at all in my book.
And the health aspect bothers me too. Gardens aren't a means to an end: they are a part of the meaning of life. Health matters because it allows you to garden, not the other way round. And if you are wealthy enough and settled enough to own a garden that needs regular attention, then you are already more likely to live a longer and healthier life than most of your fellow citizens.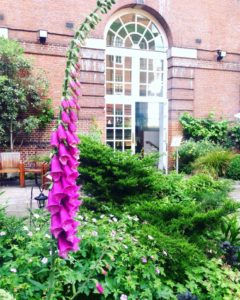 But my forebodings about lectures preaching a privileged activity to the masses were totally unfounded. Fiona Godlee started off by pointing out that the current BMA House garden (pictured) is in the same place that Charles Dickens had his garden when he wrote his great mid-period novels. Dickens was no gardener but he was a fanatical walker. The first lecture, by William Bird, a GP and director of Intelligent Health, was more about walking than gardening. Its main theme was connectedness with Nature and with other people as a source of wholeness and fun, and in his ceaseless promotion of these activities over two decades, he has come to use the H word less and less.
Of course, when trying to persuade health commissioners to fund such activities as forest walks for patients, or walking activity competitions among primary schools, a persuasive scientific pretext can come in handy. William has a large collection of studies of connectedness with Nature in relation to various surrogates such as inflammatory markers, myokines, and visceral fat distribution. But when it comes to actual people, the pull is the fun and connectedness, not the years of added life or lowered cardiovascular risk.
And that got me thinking about the statin debate. The most brilliant contribution this year is a paper by Judith Finegold et al in which the distribution of actual mortality benefit is all clustered at the far end of a blank area.
I once tried to design a simple Option Grid comparing the benefits of statins with those of increased activity or dietary change. This is almost a category error, because these belong to entirely different domains. Physical activity in natural spaces with other people (or a dog) is as unlike remembering to take a pill each night as anything can be. The first is a joy that makes you feel better at once. The other is a nightly reminder of mortality before you try to sleep.
In the second lecture, Ed Rosen and two of his team presented the achievements of the Lambeth GP Food Cooperative. The majority of people in Lambeth today live in small apartments. No use extolling the joys of gardening to them, it would seem. But Ed had the idea that most of the 45 GP surgeries in Lambeth have some spare space, indoors or out. And where there is space and light, you can grow food. And when people come together to grow food, they feel better and eat fresh produce, ran the argument. People came and it worked, and it's a great model for others; but as ever, funding is precarious.
Can we really make our cities into playgrounds for people to enjoy interacting with Nature, as William hopes? Can everybody join in gardening for fun or for food? It's a great vision, and one that Lambeth's greatest resident would approve of. When William Blake lived at 13 Hercules Buildings in 1793, a caller found him in the garden. He was reading Paradise Lost with his wife, both of them appropriately naked.
Further events in the near future:
The BMA Mind Garden Sat 18 June 2016  10 am-5 pm
Part of the London Squares Weekend, presented in collaboration with University College London and the Charles Dickens Museum London.
Health & Horticulture Conference 2016
Mon 4 July 9 am-5 pm
RHS Hampton Court Palace Flower Show
Free by application to scienceadmn@rhs.org.uk  places limited