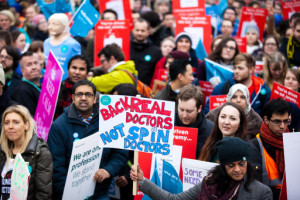 This week, junior doctors in England will be taking industrial action for the second time in as many months after failing to reach agreement with the government over their proposed new contract. The strike action will result in junior doctors offering emergency care only for 24 hours from 8am on Wednesday 10 February to 8am Thursday 11 February. The BMJ will be charting events as they unfold this week. If you have any strike-related pictures, musings or tweets to offer us, please send them to Gareth Iacobucci at giacobucci@bmj.com.
Friday 12 February
13.37 – The Health Service Journal is now reporting that 14 of the 20 NHS hospital chief executives who were included as signatories on David Dalton's letter to Jeremy Hunt backing the government's offer to junior doctors did not support the imposition of the contract. Debate continues to play out on social media as to the difference between deeming the offer to be fair one and supporting its imposition.
Some chief execs have moved to clarify their position via Twitter after being questioned on their stance.
To be clear, I supported the contract offer but not imposition.

— Miles Scott (@MilesScottNHS) February 11, 2016
@cpeedell I have not supported contract imposition. I have supported the view that the offer made is reasonable.

— Andrew Foster (@andrewkfoster) February 11, 2016
@andrewgardner01 @WinnMatthew @HSJEditor not supporting imposition. Supporting David who came up with a better offer than one on the table

— Prof Dr Stephen Dunn (@Stephen_P_Dunn) February 11, 2016
—
13.10 – "This is a disaster for everyone that cares about our NHS."
This is the damning verdict of The BMJ's esteemed columnist Margaret McCartney, who has written this column in response to yesterday's announcement.
—
09.15 – A very clear message from the BMA's Johann Malawana this morning following what he describes as "a tidal wave of calls" from junior doctors.
Tidal wave of calls from the profession in the last 24 hours is overwhelming. We will make the decisions necessary but action is inevitable

— johannmalawana (@johannmalawana) February 12, 2016
Thursday 11 February
16.50 – "What if you've got this one wrong?"
This is the question that intrepid junior doctor Dagan Lonsdale attempted to ask Jeremy Hunt this afternoon when he confronted the health secretary over his decision to impose a new contract. Sky News cameras captured the exchange in this video below, with Mr Hunt in no mood to stop and chat.
16.42 – The Royal College of Psychiatrists has also released a statement.
"We are concerned that imposition of a contract will exacerbate recruitment and retention issues currently experienced in the NHS, an area that needs greater focus and attention. Patients recognise that junior doctors are fundamental to excellent care, and we need to make sure they feel valued and supported.
"We need greater clarification regarding the nature of proposed changes to the current 24/7 health service provided by junior doctors amongst others. Major change will require a clear plan and substantial investment, and must always follow the evidence and focus on priorities."
—
15.51 – The responses to today's news continue to roll in. The Royal College of Physicians has issued this statement from its president Jane Dacre.
'The RCP continues to give its unwavering support to our trainees during this difficult time. We are deeply disappointed that the government and the BMA have been unable to reach an agreement over the junior doctors' contract, and that the Secretary of State has decided to impose the contract from 1 August.  The imposition of the contract is likely to damage junior doctors' morale even further, and do nothing for patient care, at a time when we most need to value, support and motivate our trainees. 
"Trainee physicians are the largest single group of junior doctors in the NHS, and are responsible for the majority of day-to-day care for very sick patients.  The RCP wrote to the Secretary of State before Christmas outlining the steps that could be taken outside of the contract negotiations to improve working and training conditions for junior doctors, and also wrote in January to NHS Trusts to ask them to better support doctors in training.  We are consulting our own trainees and pushing NHS Trusts to implement our recommendations. As I have said before, in order for our trainees to provide great care for patients in the future, they need to be supported now.'
A reminder that you can read Abi Rimmer's story with all the details of the contract imposition at BMJ.com and on BMJ Careers.
—
13.32 – BMJ Careers reporter Abi Rimmer has the full story on the government's decision to impose the new junior contract.
—
13.29 – What impact will the imposition have on recruitment and retention? Junior doctors have been offering their thoughts…
A junior doctor has just told Sky News that many junior doctors he knows already have jobs lined up abroad. pic.twitter.com/8QNRUw2OnX

— BuzzFeed UK Politics (@BuzzFeedUKPol) February 11, 2016
Impact of imposition of a #juniorcontract on psychiatry training will be catastrophic. Non-resident trainees will see pay slashed @rcpsych

— Andrew Collier (@DrACollier) February 11, 2016
Just received texts from both my parents telling me not to worry about disappointing them if I decide to leave medicine. #juniorcontract

— Max (@ToTheMaxStirk) February 11, 2016
13.02 – Johnny Marshall, the director of policy at the NHS Confederation and a GP, also expressed disappointment that an agreement could not be reached between the two sides.
He said, "An engaged clinical workforce is critical for the NHS to deliver the best care to patients. Following today's announcement it is important that non-pay related concerns raised by junior doctors particularly around training and morale are addressed. We therefore welcome Professor Dame Sue Bailey and the Academy of Medical Royal College's review into this area. We need to work closely with our clinical community to ensure we attract and retain the best staff in the NHS." 
—
12.55 – This statement comes from NHS Employers' chief executive Danny Mortimer, who says…
"I am saddened and hugely frustrated that an agreed deal has not been reached with the BMA. The NHS needs certainty on this contract and a continuation of a dispute would be harmful to patients, and the NHS. Over the last four years significant progress has been made to address concerns around safe working. I believe the new offer is fair and safe for doctors, and patients. 
"Junior doctors are an important part of the NHS's future so listening directly to their views must now be a priority as we move forward, and employers will accept the part they must play in this process." 
—
12.45 – The Royal College of General Practitioners (RCGP) has also responded.
In a statement, RCGP chair Maureen Baker said the College was "shocked and dismayed at the government's "wrong-headed" decision.
"The last few months have been incredibly tough for junior doctors, and have led to the lowest morale across our profession in a generation. Imposing a contract, in its current form, is asking junior doctors – the future of our NHS – to work under conditions in which they neither feel valued nor able to deliver safe patient care.
"The imposition of the contract will undoubtedly impair our efforts to recruit thousands of additional doctors into the NHS over the coming years in order to keep the health service sustainable – as many medical students are seeing this turmoil, not liking what they see, and turning away from medicine in the UK altogether.
"Doctors choose medicine because they genuinely want to care for their patients and contribute to the health service. It is evident that junior doctors do not think the proposed contract will allow them to do this.
"The College will continue to support our junior doctors."
—
12.38 – The BMA has issued this statement from junior doctor committee chair Johann Malawana in response to the imposition.
"The decision to impose a contract is a sign of total failure on the government's part. Instead of working with the BMA to reach an agreement that is in the best interests of patients, junior doctors and the NHS as a whole the government has walked away, rejecting a fair and affordable offer put forward by the BMA. Instead it wants to impose a flawed contract on a generation of junior doctors who have lost all trust in the health secretary.
"Junior doctors already work around the clock, seven days a week and they do so under their existing contract. If the government want more seven-day services then, quite simply, it needs more doctors, nurses and diagnostic staff, and the extra investment needed to deliver it. Rather than addressing these issues, the health secretary is ploughing ahead with proposals that are fundamentally unfair.
"This is clearly a political fight for the government rather than an attempt to come to a reasonable solution for all junior doctors. If it succeeds with its bullying approach of imposing a contract on junior doctors that has been roundly rejected by the profession it will no doubt seek to do the same for other NHS staff.
"It is notable that the rest of the UK has chosen a different, constructive path on junior doctors' contracts with only the health secretary in England choosing imposition over agreement.
"The government's shambolic handling of this process from start to finish has totally alienated a generation of junior doctors – the hospital doctors and GPs of the future, and there is a real risk that some will vote with their feet.
"Our message to the government is clear: junior doctors cannot and will not accept a contract that is bad for the future of patient care, the profession and the NHS as a whole, and we will consider all options open to us."
—
12.27 – Below is a key extract from Jeremy Hunt's speech in which he explains the terms of the new deal that the government will impose on junior doctors.
"The new contract will give additional pay to those working Saturday evenings from 5pm, nights from 9pm to 7am, and all day on Sunday. Plain time hours will now be extended from 7am to 5pm on Saturdays. However, I said the government was willing to be flexible on Saturday premium pay and we have been: those working 1 in 4 or more Saturdays will receive a pay premium of 30%, that is higher on average than that available to nurses, midwives, paramedics and most other clinical staff. It is also a higher premium than that available to fire officers, police officers or those in many other walks of life.
"Nonetheless it does represent a reduction compared to current rates, necessary to ensure hospitals can afford additional weekend rostering. So because we do not want take home pay to go down for junior doctors, after updated modelling I can tell the House these changes will allow an increase in basic salary of not 11% as previously thought but 13.5%. Three-quarters of doctors will see a take home pay rise and no trainee working within contracted hours will have their pay cut."
—
12.22 – The Department of Health has published the full text of the health secretary's speech to the commons in which he outlined the government's intention to impose the deal.
—
12.05 – As expected, the Health Secretary Jeremy Hunt has just announced that the government will impose a new contract on junior doctors in England. Watch the Commons session live here.
—
11.35 – NHS England's chief executive Simon Stevens has just issued this statement on the dispute.
The statement in full reads…
"Junior doctors play a critical role in the NHS, work incredibly hard in high pressure roles, and have a range of legitimate non-pay concerns about their training. These now have to be comprehensively addressed by hospitals, the medical royal colleges, and the national training bodies. But drawn out industrial action over contracts and pay would mean further disruption to patients who are relying on NHS care, with thousands more operations cancelled and check-ups delayed. That's why Sir David Dalton – one of the health service's most experienced and fair minded hospital leaders – was called in to negotiate a fair and workable settlement, and it's why it's incredibly disappointing that he has today reported that there is 'no realistic prospect of a negotiated agreement'. Under these highly regrettable and entirely avoidable circumstances, hospitals are rightly calling for an end to the uncertainty, and the implementation of the compromise package the Dalton team are recommending."
—
11.27 – NHS Employers has shared the full copy of a letter sent to all NHS chief executives from David Dalton concerning the junior doctors contract, alongside the letter that Dalton sent to the BMA.
In the letter to NHS chiefs, Dalton writes….
"I regrettably concluded that we must now have reached the end of the road in relation to the likelihood of achieving a negotiated settlement.
"This is a deeply disappointing position and I remain perplexed why the BMA negotiators have not been able to see that agreement is always found between two points of view. I have huge personal regret that my contribution has not been able to secure the settlement so longed for by everyone."
—
11.19 – Thank you to the junior doctors who are continuing to get in touch with us to share photos from the day of action yesterday. These images from Surrey went sent in by Holly Ni Raghallaigh, a urology registrar and BMA representative at St Peter's Hospital who was on the picket line until around 5pm.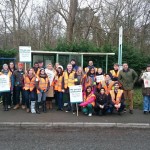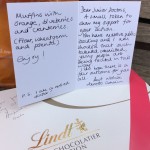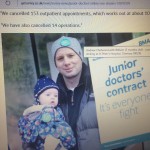 10.33 – The House of Commons is now expecting Jeremy Hunt to speak at 12.15 following the conclusion of Business Questions. You'll be able to watch the health secretary's statement via this live stream. 
—
10.08 – A copy of a letter sent from David Dalton to Jeremy Hunt – which appears to endorse imposing the contract – has been shared on social media (see below),
—
The key paragraph reads as follows, "…I therefore advise the government to do whatever it deems necessary to end uncertainty for the service and to make sure that a new contract is in place which is as close as possible to the final position put forward to the BMA yesterday." 
https://twitter.com/drhamedkhan/status/697721513273913344
10.01 – Yesterday, Tom Moberly and Abi Rimmer from BMJ Careers went to picket lines at Northwick Park Hospital and University Hospital Lewisham to talk to junior doctors and their supporters. These interviews are now available to listen to here.
—
09.40 – It now appears certain that the government will seek to impose the controversial new deal on junior doctors.
As The Guardian reports, the health secretary Jeremy Hunt is due to make a statement in the House of Commons around 11:15 am, in which he will outline his intentions regarding the contract.
—
08:27 – As the 24 hour strike ends, the BBC reports  that the BMA has rejected the government's "final take-it-or-leave-it" offer made to settle the dispute.
You can read the full letter to the health secretary from the chair of the BMA junior doctors' committee Johann Malawana here.
This was sent in response to final offer made by David Dalton, the chief executive of Salford hospital who was brought in by the government to try and negotiate a deal with the BMA.
Wednesday 10 February
17.00 – What is becoming clear though is that the government is bracing itself to impose the controversial deal despite the anger among junior doctors.
A Number 10 source, quoted by Rowena Mason in The Guardian, said: "We think it is a very reasonable deal… As we've said all the way along, we are not going to remove that option [of imposition] from the table and give a veto to the BMA. We've certainly gone the extra mile in trying to get a deal and are very disappointed there is a further strike today."
—
16.53 – The health secretary has claimed that the 43% of junior doctors that turned out for work today provided evidence that the turnout for this strike is lower than for last month's industrial action. But it's not immediately clear how this has been calculated, given that NHS England said 47% of the junior doctors that were due to strike on 12 January went to work.
—
16.41 – NHS Providers, the organisation representing NHS trusts and foundation trusts, has issued this statement on the strike from its chief executive Chris Hopson.
"Our members are saying that this does now need to reach a conclusion. The ideal conclusion would be for employers to make a final, fair and reasonable offer and for the BMA to accept it. if the BMA doesn't accept it, our members are saying that the secretary of state has to find a way to bring this to a conclusion. Four years later and three thousand operations cancelled today, our members are saying that, to run their trusts effectively, we can't carry on like this. For them, if the BMA won't accept a fair and reasonable offer, then it would be legitimate and sensible for the secretary of state to consider imposition."
It's fair to say that this final sentence has not been well received by some doctors.
@ChrisCEOHopson @parthaskar @NHSProviders how do u legitimise imposing unsafe contract in #safestaffing crisis & admit cheap workforce aim?

— Dr Ben White (@drbenwhite) February 10, 2016
So @ChrisCEOHopson of @NHSProviders supports imposition. If this happens and rota gaps worsen in FTs, he should resign #JuniorDoctorsStrike

— Clive Peedell (@cpeedell) February 10, 2016
16.25 – And the winner of the Best Use Of A BMA Badge award is…
#JuniorDoctorsStrike #notsafenotfair #HuntMustGo pic.twitter.com/JxHSY8izFO

— Diane Murray (@didimurray) February 10, 2016
16.17 – These two pictures below come from the picket line in Cambridge, courtesy of Mareike Thompson.
The first shows junior doctors teaching CPR at the market square Cambridge, just as their colleagues did in Manchester.  The second displays an 18m long open letter to the government which was signed by members of public and professionals in support of junior doctors.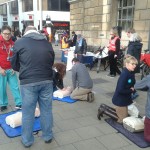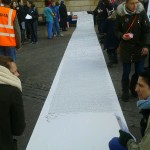 15.54 – The BBC has written more on the popularity of the #IAmTheDoctorWho hashtag used by junior doctors during the day of action.
—
15.44 – Junior doctor Harriet Nerva has penned this blog for the Guardian outlining why she opted to take industrial action today.
She writes, "It is clear now how the government plans to staff a seven-day service with a five-day workforce already stretched to breaking point – a return to the unsafe hours of the past, with everything this means for patient safety. I am not misled by the BMA. I must do no harm. I must strike today."  
—
15.25 – The Department of Health has also reproduced some quotes given to the BBC by the health secretary Jeremy Hunt today.
During the interview, Hunt said, "There has been no rejection [from him] of any proposals and plans that would deal with this weekend effect that is of such concern to patients and the public."
—
15.06 – NHS England has sent an update on the industrial action by junior doctors. It reads as follows…
—
NHS trusts have reported today that 43 per cent[1] of junior doctors (out of a possible 26,000 working on a typical day) have reported for duty on the day shift.
Combining junior doctors, other doctors and consultants, the data shows 72 per cent of the total trust workforce in work today.
Over the weekend, NHS England said it was estimated that the following elective procedures have been cancelled as a result of the industrial action:
Inpatient – 1150, including 1036 on day of action (10 February)
Day case – 1734, including 1634 on day of action (10 February)[1]
Dr Anne Rainsberry, national incident director for NHS England, said, "It is deeply regrettable that this strike has disrupted care for thousands of patients at the most pressurised time of year and we apologise to anyone affected.  It's a tough day but the NHS is pulling out all the stops, with senior doctors and nurses often stepping in to provide cover. 
"We are actively monitoring the situation across the country and the impact of the action is broadly in line with what we were expecting. NHS trusts are now working hard to reschedule cancelled tests, appointments and operations as soon as is possible.
"We will continue to work closely with hospitals and other NHS providers across the country to ensure that contingency plans are in place and that they can safely provide the urgent and emergency services needed.
"If people need medical help during the industrial action and it's not an emergency they should consider NHS Choices, visit their local pharmacy – or call their GP or NHS 111 for more serious matters. If their condition is an emergency or life-threatening they should call 999 as usual or go to A&E".
Notes
[1] This is not saying that 43% have chosen to work despite having a strike mandate as a proportion of the 43% would have been rostered to emergency services and therefore have turned up for duty.
[1] This is based on information collected prior to the strike (on 2/3 February) asking about the effect of the strike across a number of days pre and post-strike in addition to the day of the strike (between 3 and 17 February).
—
14.59 – The BMJ's own Diana Katz has sent in this picture of junior doctors taken near Euston station in central London.
"Just spotted these junior doctors near Euston on my lunchtime run (any excuse to stop!) and had a quick chat with them. They had just had a delivery of complimentary hot food from a local cafe  to sustain them and were delighted, both with that and the overwhelming support they were getting from the public."
14.39 – The author JK Rowling – who is married to a doctor – has shown her support for junior doctors with this message, which has led to 1,400 re-tweets so far. *Insert comical Harry Potter reference here*
Speaking as a doctor's wife: pic.twitter.com/ZuEsBRlrFz

— J.K. Rowling (@jk_rowling) February 10, 2016
14.30 – Earlier, the health secretary Jeremy Hunt said 43% of junior doctors were at work today. However, NHS England has now clarified that this percentage includes emergency care doctors who didn't intend to strike.
@NHSEngland confirms 43% of junior doctors are in work – but this includes emergency care doctors who never planned on going on strike

— Jane Kirby (@JanekirbyPA) February 10, 2016
14.23 – Another poll – this time from Sky News – finds that almost three quarters of 1,380 people surveyed by the broadcaster supported today's action.
Almost three quarters of people polled by Sky News support today's #JuniorDoctorsStrike https://t.co/mGY5y7LVMN pic.twitter.com/05hmqlSKIE

— Sky News (@SkyNews) February 10, 2016
14.09 – This image below was sent in via the BMJ's doc2doc site by contributor John D, who was on the picket line in Lancaster today.
John writes…
"I busied myself distributing support stickers and leaflets to the traffic passing by as they stopped at the traffic lights and to passengers on the buses at the hospital stop. Well over half said that they supported the juniors' action day.
"Of course the traffic flowed in between and the honks and thumbs-up from drivers were continuous.  If the government dared a referendum on this they would lose by a landslide.
13.55 – Pictures being tweeted here from picket lines in Preston, Sheffield and Cambridgeshire.
Strong support from junior doctors at Royal Preston Hospital. A safe #JuniorDoctorsStrike @TheBMA pic.twitter.com/vkK5odeorO

— North Western JDC (@NWJDC) February 10, 2016
Solidarity with #JuniorDoctorsStrike from Sheffield pic.twitter.com/7RAIAXCMlj

— Jen Slater (@jenslater_) February 10, 2016
#Juniordoctors in #Cambridge show 'fighting spirit' as thousands go on strike across country https://t.co/Oz9PatCvOY #JuniorDoctorsStrike

— Peter Edwards (@oldfirehazard) February 10, 2016
13.33 – A nice report in The Guardian details the story of a group of junior doctors in Manchester who offered free CPR lessons to the public during the strike action today.
The idea was the brainchild of Bernadette Lomas, a junior doctor at Manchester Royal infirmary who, said, "The primary aim was to give something positive back into our community, using our skills and knowledge to benefit those around us, in the knowledge that some of the public would be experiencing disruption and inconvenience due to the strikes. We also wanted to provide junior doctors with a positive outlet for the day, affirming that they have life-saving abilities which can be easily passed on in the community."
#juniordoctors up and running @homecafe_M20 #positiveaction on #juniordocstrike pic.twitter.com/1PtU7fKtRh

— Bernadette Lomas (@BmcLomas) February 10, 2016
13.14 – As the government and BMA continue their war of words, junior doctors continue to send us pictures from the picket lines they've been occupying today, including these from Kirsty Challen outside Salford Royal hospital.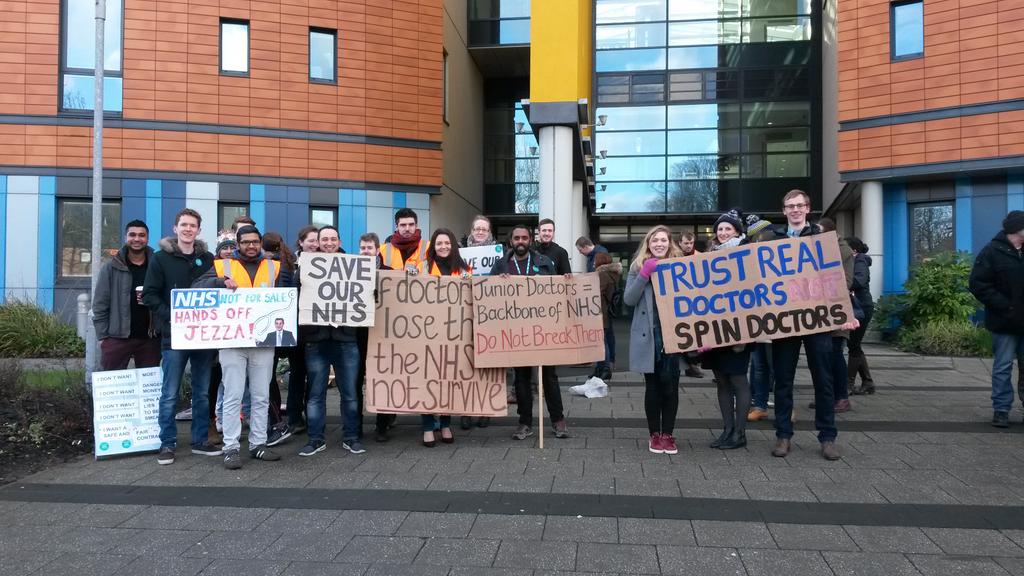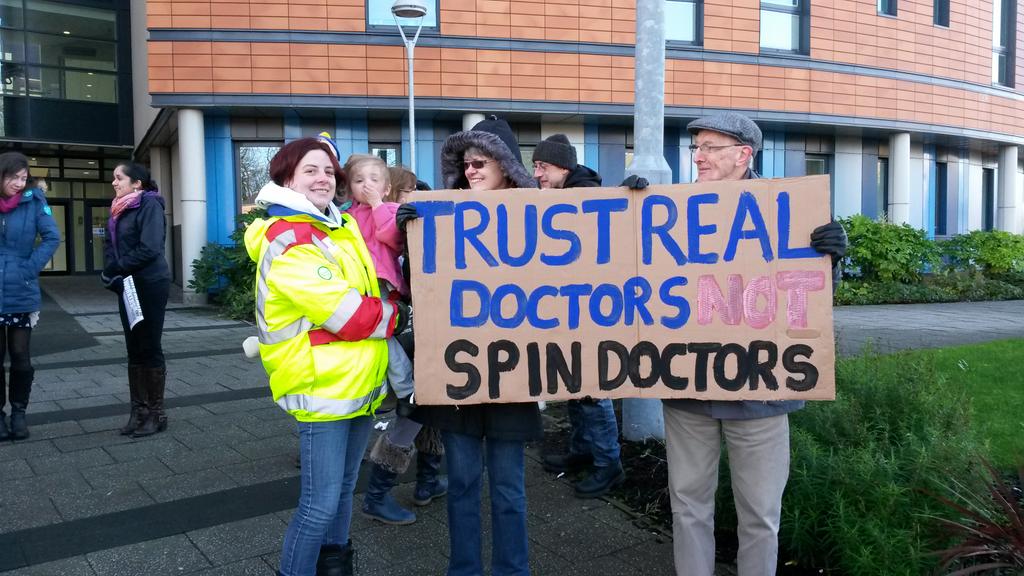 13.00 – The Department of Health has also given a statement on the strike.
A DH spokesperson said, "This strike is completely unnecessary.  It is very disappointing that tens of thousands of patients and NHS staff have been inconvenienced by the BMA.
"We have now agreed the vast majority of the contract detail with the BMA but it's a great shame they have broken the agreement we made at ACAS to discuss the outstanding issue of Saturday working and pay for unsocial hours."
—
12.55 – The BMA has released a statement following today's action from the junior doctors' committee chair Johann Malawana.
The statement in full reads…
"With thousands of junior doctors attending more than 160 pickets and 'meet the doctor' events across England, today's action is a resounding rejection of the government's threat to impose an unfair contract, in which junior doctors have no confidence.
"We deeply regret the disruption caused to patients, but this is a fight for the long-term delivery of high quality patient care, for junior doctors' working lives and for ability of the NHS to rise to the enormous challenges facing it.
"Junior doctors already work around the clock, seven days a week and they do so under their existing contract. If the government want more seven-day services then, quite simply, they need more doctors, nurses and diagnostic staff, and the extra investment needed to deliver it.
"Rather than addressing these issues, Jeremy Hunt has rejected a fair and affordable proposal put forward by the BMA and is instead ploughing ahead with proposals that could see many junior doctors voting with their feet. That is why today's action has the support not only of 98% of those junior doctors who voted for it, but the majority of the public, who blame the government for backing junior doctors into a corner, leaving them with no option."
—
12.27 – Prime Minister's Questions passes without a mention of the junior doctor contract, slight surprise that the Labour leader Jeremy Corbyn chose not to press the PM David Cameron on the government's handling of the dispute.
—
12.21 – The public continues to show support for junior doctors.
Public bring cards, chocs & words of support to picket lines! #JuniorDoctorsStrike #notsafenotfair #timetolisten pic.twitter.com/EzzeOuIS62

— Sumeet Hindocha (@shindocha87) February 10, 2016
12.07 – The junior doctors' strike may well receive a mention or two in today's Prime Minister's Questions. Follow the action courtesy of the live stream here.
—
11.58 – Junior doctors channel Abba in harmonious attack on Hunt.
#JuniorDoctorsStrike the talented docs on the frontlines. Amazing. pic.twitter.com/MHQns5mE2T

— johannmalawana (@johannmalawana) February 10, 2016
11.45 – A fresh angle on the potential impact of the government imposing a contract on junior doctors comes courtesy of the British Association of Oral and Maxillofacial Surgeons (BAOMS), which warns that proposed changes could force many to abandon their lengthy training as facial surgeons, and leave the UK without their skills in the future.
In a statement, Patrick Magennis, an oral and maxillofacial surgeon in Liverpool, said…
"Doctors are asking whether it's worth becoming an oral and maxillofacial surgeon. Our trainees are sacrificing an inordinate amount of time and are self-funding their commitment to become a maxillofacial surgeon. They love the work, but feel undervalued and will suffer even greater financial hardship under the proposed new contract arrangements. I fear that the general malaise facing junior doctors today could result in the loss of many talented young facial surgeons from their essential role as part of A&E major trauma teams."
11.33 – Nicely done. Do we have a Doctor Robert in the house..?
Rockstar #juniordoctors at #royalmarsden

Fighting for our #NHS#JuniorDoctorsStrike @frankieboyle pls RT pic.twitter.com/a3gt2CY3xk

— Aislinn M-D (@aislinnmacklin) February 10, 2016
11.20 – These pictures below are just in from BMJ Careers editor Tom Moberly, who has been at Northwick Park hospital in north west London.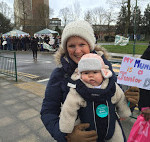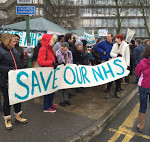 11.10 – The NHS has produced this advice for patients during today's strike which hospitals are circulating via their social media accounts.
Information and advice for patients during today's #JuniorDoctorsStrike https://t.co/Bfjixdf39m pic.twitter.com/1QPeeelA5d

— Royal Free London (@RoyalFreeNHS) February 10, 2016
11.06 – We have a new entrant in The Great Industrial Action Bake Off…some tasty looking Welsh Cakes delivered by a kind-hearted member of the public in Swindon.
Public show support through Welsh cakes for the #JuniorDoctorsStrike #swindon @swindonadver pic.twitter.com/QAxdntmrW0

— Eve Buckland (@Eve_Buckland) February 10, 2016
10.54 – As predicted, social media is active, with #JuniorDoctorsStrike currently the number one trending topic in the UK on Twitter.
10.48 – Picket-liners flexing their vocal chords at Maudsley hospital in south London.
#JuniorDoctorsStrike #WearYourNHS @MaudsleyNHS pic.twitter.com/J5rocbcLZF

— Mudasir Firdosi (@drmfirdosi) February 10, 2016
10.44 – NHS Employers has issued a statement in response to today's strike action.
Danny Mortimer, the organisation's chief executive said…
"It is extremely disappointing there will be industrial action. We have listened and worked hard to address the BMA's concerns. We now need to see from the BMA the will to also compromise, with a focus on resolution – rather than strike action.
"Patients should not suffer over a dispute about pay. We will continue to want to talk with the BMA to agree a contract that is fair and safe for doctors and patients."   
10:32 – There's more than 150 picket lines across England. If you want to find your nearest one, the BMA has produced this helpful map.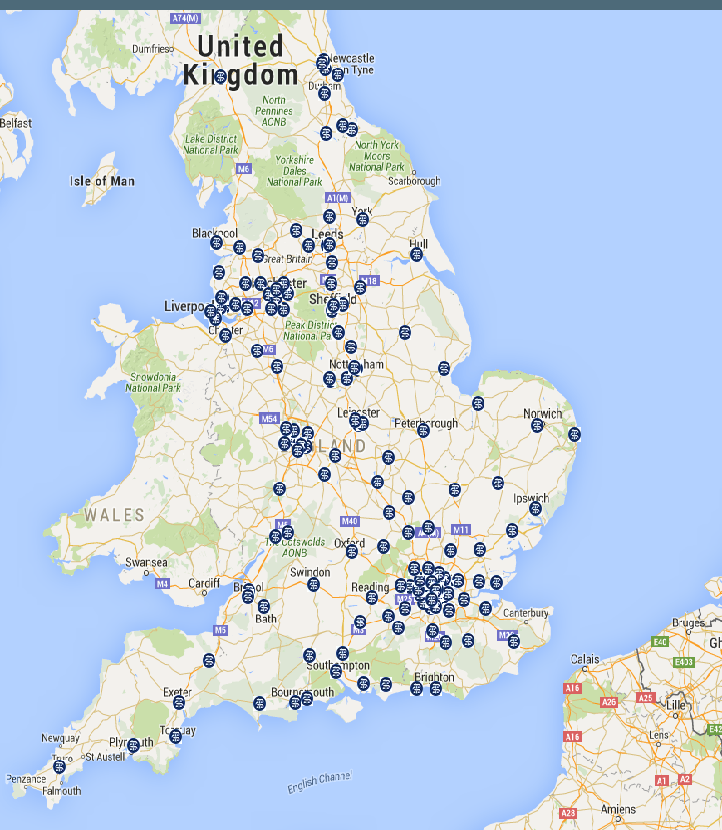 10.24 – A reminder here of the results from the Ipsos MORI poll showing strong public support for junior doctors (some helpful quantitative data alongside the more qualitative honking of car horns).
Public support stable at 66% ahead of tomorrow's #JuniorDoctorsStrike, our @HSJnews poll: https://t.co/NsWb0Clz58 pic.twitter.com/t75hm6pQ6l

— Ipsos MORI (@IpsosMORI) February 9, 2016
10.12 – A nice shot here of junior doctors outside Whipps Cross hospital in north east London.
Back fighting for a safe contract that protects our patients @ WhippsX #JuniorDoctorsStrike @TheBMA @NHSBartsHealth pic.twitter.com/bzGLBKGtXy

— Daniel McGuinness (@dannymcg) February 10, 2016
10.06 – Tangible support. Either that or impatient London drivers.
Lots of honks & toots for #juniordoctors outside St Thomas' Hospital this morning

— Rob Finch (@FinchWrites) February 10, 2016
09.58 – Junior doctors also out in force in Leeds this morning.
#notsafenotfair #SaveOurNHS #JuniorDoctorsStrike #juniorcontract @TheBMA @deb_goode @Dejenjen @ubong96 @amyvbaggott pic.twitter.com/DF50t2ItZO

— Joanna Bulman (@BulmanJoanna) February 10, 2016
09.47 – Pleased to report that Abi Rimmer has arrived at Lewisham hospital, from where she has tweeted this picture of doctors on the picket line.
#JuniorDoctorsStrike at Lewisham hospital pic.twitter.com/AKnOUN1ovZ

— Abi Rimmer (@Abi_Rimmer) February 10, 2016
09.44 – Some food for thought here for the government courtesy of The Independent, which reports that an online survey of more than 1000 junior doctors has shown that nearly 90% would consider resigning from the NHS if the government follows through on its threat to impose a new contract on them. The paper says that the poll (which it has seen exclusively) was conducted via an online junior doctor network, independent of the BMA.
—
09.32 – On the 12 Jan day of action we had biscuits at the Royal London…today we have mini rolls at the Royal Bolton. Where next on the conveyor belt of sweet tooth solidarity…?
Stocked with mini rolls and coffee, the doctors plan to have a presence here for most of today #JuniorDoctorsStrike pic.twitter.com/GwlWskVfnl

— Liam Thorp (@LiamThorpECHO) February 10, 2016
09.22 – The day of action received plenty of coverage on the BBC's flagship Today programme this morning, including interviews with junior doctors and NHS bosses. You can listen again here.
—
09.17 – More picket line pictures here from Manchester…
Solidarity with the #JuniorDoctorsStrike in Manchester #notsafenotfair #HuntMustGo pic.twitter.com/2NVJDSedey

— FREE EDUCATION MCR (@FreeEdMCR) February 10, 2016
…and from Sunderland.
#JuniorDoctorsStrike Sunderland representing pic.twitter.com/iL7hX7xECC

— Paula Bradley (@PTBr8) February 10, 2016
09.02 – Meanwhile, BMJ Careers reporter Abi Rimmer is on her way to Lewisham with an urgent message for junior doctors.
The bus is late the bus is late. Guys don't stop striking until I get there #JuniorDoctorsStrike

— Abi Rimmer (@Abi_Rimmer) February 10, 2016
09.00 – Doctors from Bath and from King's College Hospital in south London are also on picket lines this morning.
#JuniorDoctorsStrike already 70+ @Bath_Doctors here showing Mr Hunt we're putting patients before profits,we ❤️ #NHS pic.twitter.com/Lb1L7KwCOf

— Dr Alex Gates (@dr_alex_gates) February 10, 2016
http://twitter.com/Unjum4Streatham/status/697342324561616896/photo/1
08.50 – Pictures are coming in from picket lines across the country, including this one of doctors from Royal London hospital in east London.
#NSSN proud to support #JuniorDoctorsStrike @TheBMA Royal London picket #notsafenotfair #DefendTheNHS pic.twitter.com/LxU0JbI9P2

— NSSN (@NSSN_AntiCuts) February 10, 2016
08.20 – Social media will again play a big part in documenting today's events, as it did during the previous day of action in January. Some junior doctors have been posting tweets and pictures using the hashtag #iamthedoctorwho. This idea – which apparently has nothing to do with Peter Capaldi – is explained nicely below.
https://twitter.com/ChrisDYork/status/697332926539788288
#IAmTheDoctorWho gives your baby a helping hand at the start of life #JuniorDoctorsStrike pic.twitter.com/GWdd5CsGMB

— Sarah Hallett (@DrSarahHal) February 10, 2016
@MeetTheDrs I like the idea – Duncan Steele on JDCF #IAmTheDoctorWho puts you on life support at your darkest hour.. pic.twitter.com/SbUGr0iPYa

— Esther Godfrey (@godfrey_esther) February 8, 2016
08.00 – The 24 hours of strike action has begun, with junior doctors across England offering emergency care only from now until 8am tomorrow morning. The BMJ will posting updates here throughout the day.
Tuesday 9 February
17.07 – For those junior doctors planning to take part in the strike action tomorrow, the BMA has published some helpful advice notes here.
—
15.40 – A new poll conducted by Ipsos MORI for the Health Service Journal (HSJ) has suggested that the public blames the government more than the junior doctors' for the profession's industrial action continuing into a second month. Almost two thirds of respondents (64%) thought that "the government is more at fault for the dispute lasting this long" than junior doctors. Some 13% said "junior doctors are more at fault for the dispute lasting this long," while 18% said both sides were "equally at fault".
—
15.20 – The BMA has also posted this video message on the eve of action from junior doctors' committee chair Johann Malawana, who says the medical profession stands united.
15.15 – This is the latest from the BMA:
As things stand, no further movement has been made by Govt & industrial action planned for tomorrow will go ahead https://t.co/6YPhsLd9hf

— The BMA (@TheBMA) February 9, 2016
13.36 – Sarah Wollaston, MP and former doctor has tweeted that she hopes a resolution to the dispute can be found so that we can focus on the wider issues of working conditions and morale.
hope a resolution can be found to this dispute & to focus on wider issues to improve working conditions & morale https://t.co/J8MonYXs8k

— Sarah Wollaston MP (@sarahwollaston) February 9, 2016
13.20 – Nick Triggle, BBC health correspondent has tweeted that the BMA might be prepared to accept a smaller rise in basic pay in return for Saturdays not being classed as a normal working day:
BMA proposed smaller rise in basic pay in return for Saturdays not being treated as normal working day in #Juniordoctorcontract

— Nick Triggle (@NickTriggle) February 9, 2016
12.24 – Health Secretary Jeremy Hunt refused to provide a yes or no answer to a question during health questions in the House of Commons on whether he rejected a cost-neutral deal proposed by the BMA on the junior doctors' contract that would have avoided tomorrow's industrial action.
The question was posed by Labour MP and shadow health minister Justin Madders, who said that The Independent newspaper had reported that both the NHS Confederation and Department of Health "saw this as a solution" and that "the one person who would not agree was the health secretary." Hunt was asked to answer simply yes or no to the question.
Hunt dodged the question and replied: "The only reason that we don't have a solution on the junior doctors is because in December on the one outstanding issue, which is about pay on Saturdays, the BMA said they would negotiate but last month they said they refused to negotiate. That is the only outstanding issue.
If they are prepared to negotiate and be flexible on that so are we."
The BBC reports that it understands that the proposal put forward by the BMA would have seen doctors' basic pay rise by about half the 11% offered by ministers in return for Saturday not to be treated as a normal working day. It also reports that the BMA argued it would have been cost neutral, meaning the government would not pay any more than the £5bn currently spent on junior doctor salaries.
—
12.20 – Almost 3,000 operations have been cancelled ahead of tomorrow's industrial action by junior doctors. Jeremy Hunt said during health questions in the House of Commons: "Significant progress has been made in our negotiations with the BMA on a new contract for junior doctors but agreement has not been reached on the issue of Saturday pay despite previous assurances from the BMA that they would negotiate on this point so regrettably 2884 operations have been cancelled ahead of tomorrow's industrial action which will affect all non-urgent services. "I urge the BMA to put the interests of patients first and reconsider their refusal to negotiate."
—
11.30 – Edward Davies of The Health Foundation believes only humility from both sides will lead to resolution in this dispute.
Lots around on "intellectual contest". These terms seem massively unhelpful. Resolution will need humility from both https://t.co/bq0VnAJtBj

— Edward Davies (@EdwardDaviesCSJ) February 9, 2016
11.05 – The London Evening Standard reports on forecasts from NHS bosses that the strike tomorrow will lead to more than 600 operations being cancelled in hospitals across the capital. As a reminder, the government said yesterday that 2,844 operations had been cancelled so far this week because of the proposed action.
Despite the disruptions, some members of the public are declaring support for the strike via social media.
Dear @alancampbellmp pls read below. As my MP pls represent my support of #JuniorDoctorsStrike I hv emailed u too. https://t.co/6d5Hv0V2Q8

— Wendy E (@Erriwend) February 9, 2016
10.40 – Another blog here from a junior doctor offering a different perspective to that of Henry Murphy yesterday. Hoong-Wei Gan is a clinical research fellow and ST6 in paediatric endocrinology…as well as an NHS neurosurgical patient. He argues that the battle for a safe and fair junior doctors' contract is primarily about patients and is therefore one worth fighting. "Let's not forget who we are fighting for, because we should be treating our patients as one of our own," he says.
—
09.15 – An interesting story from Charlie Cooper in The Independent this morning, which claims that Jeremy Hunt personally vetoed a deal to end the dispute with junior doctors. The story quotes "sources close to the BMA", who say that a proposal which addressed the issues of evening and Saturday pay was blocked despite support from NHS Employers – which viewed it as an opportunity to resolve the dispute.  The Department of Health has denied the claims, saying that the BMA "has continuously refused to discuss unsocial hours pay."
—
09.00 – The BMJ's columnist David Oliver has written a response to the health secretary Jeremy Hunt following the minister's rather inflammatory interview with Andrew Marr on Sunday. In this unequivocal piece published on thebmj.com, Oliver argues, "Junior doctors are an intellectual match for party spin machines, though perhaps without the same low cunning."
Monday 8 February
16.30 – Jeremy Hunt did not appear in the Commons to answer the urgent question from Heidi Alexander, much to the incredulity of his opposite number. Instead, the health secretary sent his junior minister Ben Gummer into bat to face questions from the chamber. The change of personnel did not signal a change in the rhetoric though, with Gummer accusing The BMA of lying to its members and disclosing that 2,844 operations have already been cancelled this week because of the proposed action. An agreement seems a very long way off.
—
15.00 – Labour's shadow health secretary Heidi Alexander is due to ask an urgent question on junior doctors' contract negotiations in the House of Commons at 3.30pm this afternoon. You can follow the action here.
—
14.30 – Whilst many junior doctors are determined to keep up the pressure on the government, some are feeling battle weary. Henry Murphy, a CT2 in ITU at the Chelsea and Westminster Hospital, is one of those latter few.
In this blog, Murphy explains why he will be going to work on Wednesday despite his opposition to the new contract that the government wants juniors to adopt. "No amount of striking, tweeting, self-flagellation, public support, or finger wagging will stop him from his intent of annihilating the NHS," he laments. "I resign myself to Jeremy's plan. I give up."
13.45 –
The BMA has been handing out strike kits for Wednesday's strike:
Thanks to all who have picked up their #JuniorDoctorsStrike kit for Wednesday. Plenty more here at BMA House today pic.twitter.com/YOpodyP5Na

— The BMA (@TheBMA) February 8, 2016
Sunday 7 February 
The prospect of a last minute deal to call off the strike became more distant after the health secretary launched a broadside at the BMA during an appearance on the Andrew Marr Show.
In the interview that will have done little to thaw relations, Hunt accused the BMA of spreading "spreading misinformation" and behaving in a "totally irresponsible way" by encouraging grievance among its members.
The association later issued a statement in response, with the chairman of the BMA's junior doctor committee Johann Malawana, saying that Hunt himself that had "scared patients and the public" by misrepresenting data published in The BMJ about hospital death rates at weekends. The same point has of course been made repeatedly by The BMJ's editor Fiona Godlee.
—
Against this tumultuous backdrop, the Scottish government has stealthily identified an opportunity by launching a campaign to recruit junior doctors from England, as they bid to take advantage of the ongoing row between the profession and ministers south of the border.
As junior doctors in England are preparing to strike, Scottish National Party (SNP) ministers have approved a new recruitment drive to attract doctors to medical training in Scotland, with the help of this promotional video.
The campaign, which will employ the Twitter hashtag #juniordocscot and place adverts in medical journals, will target disgruntled English doctors who remain locked in dispute with their health secretary over a proposed new contract which will not apply to doctors working in Scotland.
In a barely disguised dig at the Westminster government, Scotland's Health Secretary Shona Robison emphasised the appeal of Scotland to junior doctors, pointedly adding, "… as a Government we continue to maintain strong, positive relationships with the profession and enjoy a collaborative working relationship."
Think on Mr Hunt.