Authors:  Francesco Recchia, Chit K Leung, Edwin C Chin, Daniel Y Fong, David Montero, Calvin P Cheng, Suk Yu Yau, Parco M Siu 
In this blog we explain the findings from our recent review published in BJSM on the use of exercise, antidepressants and/or their combination for combating symptoms of non-severe depression in adults. 
Why is this study important?
Depression is a leading cause of disability worldwide and is estimated to affect over 320 million people (1). Depression can have debilitating effects on both mental and physical health, and can severely affect mood, interpersonal relationships and quality of life (2). 
Second-generation antidepressants are the standalone treatment for depression, however many depressed patients, especially those with non-severe depression, are hesitant to initiate antidepressant treatment. Some of the reasons for refusing treatment include high costs, adverse effects, social stigmatization and the belief that the treatment will not be effective (3). 
Lately, physical exercise has gained attention as a potential treatment alternative that is cheaper, safer and more accessible than antidepressants. However, it is unclear whether exercise can have similar benefits on depressive symptoms compared to antidepressants. 
This study is important because it compares the effects of exercise to the effects of a conventional clinical treatment for depression. The results will inform clinical practice guidelines about the potential of exercise to improve symptoms of non-severe depression.
How did the study go about this?
We conducted an extensive literature review and searched for studies on depressed individuals who were randomly allocated to an exercise, antidepressants, or exercise plus antidepressants intervention and that assessed symptoms of depression before and after the intervention. We then extracted relevant data from the included studies and compared the extent to which each of the treatment approaches alleviated the depressive symptoms of participants. We made use of recognized reporting guidelines (PRISMA, CINeMA) and conducted a number of statistical analyses to ensure that our results were accurate and were rigorously obtained. 
What did the study find?
Overall, we found evidence from 21 studies on over 2,500 participants that were randomized to an exercise, antidepressant or exercise plus antidepressant intervention, or to a non-interventional control condition.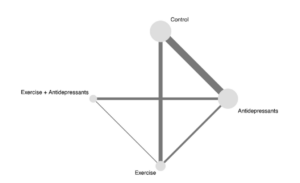 When compared to controls, studies of exercise, antidepressants and exercise plus antidepressants showed greater alleviations of depressive symptoms. However, when compared to one another, none of the three treatments was superior to the other. 
We also found that participants who were assigned to an exercise intervention were more likely to drop out from the study than participants who took antidepressants, although this was based on a lower number of studies. 
What are the key take-home points?
Physical exercise performed on its own or in combination with antidepressant treatment can alleviate symptoms of depression to a similar extent as antidepressants alone. Our results support the adoption of exercise as an alternative treatment for non-severe depression in adults. Clinicians should consider recommending exercise to individuals who show signs of depression of mild or moderate severity.  
References
World Health Organization.

Depression and other common mental disorders: global




health estimates

. Geneva: World Health Organization, 2017.

Kessler RC. The costs of depression.

Psychiatr Clin North Am

2012;35:1–14. 

Sansone RA, Sansone LA. Antidepressant adherence: are patients taking their




medications?

Innov Clin Neurosci

2012;9:41–6.
(Visited 3,950 times, 1 visits today)