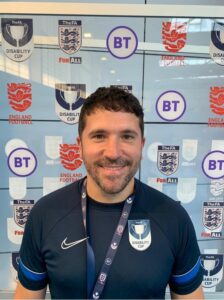 Name: 
Osman Ahmed 
Where do they work:
Like many in the SEM industry, I wear a few hats. I have a clinical role as a Musculoskeletal Physiotherapist at University Hospitals Dorset NHS Foundation Trust (in Poole, England), and I also work clinically for the Football Association (FA) with the England Cerebral Palsy Football squad. I have additional roles within the FA as Para Classification Lead and as a tutor on the FA's Advanced Trauma and Medical Management in Football Course, and in July 2022 I started the new role of Para Physiotherapy Lead at the FA. I hold the position of Visiting Senior Lecturer at the University of Portsmouth (England), and several voluntary governance positions within Para/disability football federations. I am also an Associate Editor at the British Journal of Sports Medicine and BMJ Open Sport & Exercise Medicine. 
Brief career path/journey: 
I graduated from the University of Nottingham with a BSc (Hons) in Physiotherapy, before working at Poole Hospital as a junior (now called a Band 5) Physiotherapist alongside a role at the FA working with the England Amputee Football team. After a few years of clinical work including a year of locuming I went to the University of Otago, New Zealand where I did a PGDip in Sports Physiotherapy. I absolutely loved being in NZ and was lucky enough to return there in 2008 (after working at the Beijing Paralympics) to undertake my PhD on the topic of concussion in sport. After my PhD, I combined work in the NHS and FA before working as a Lecturer/Senior Lecturer at Bournemouth University teaching on the Physiotherapy and Sports Therapy undergrad programmes. In 2020 I returned back to clinical practice full-time and am really enjoying being hands-on with patients again! 
Personal interests/passions: 
Outside of work I am a big AFC Bournemouth fan and I am very happy to be able to watch us back in the Premier League this season. Most of my time at the moment is taken up with my young/growing family, and in my spare time I like working in my garden and playing with my cat (Hunter). 
Personal Career or Sports Mantra:
«Treat your first like your last, your last like your first» (not mine- stolen from Jay-Z)
What attracted you to the specialty you now work in? 
I fell into Para sport by coincidence and consider myself very privileged to work in this area. I'll admit that I didn't know a lot about Para sport when I first started working in the area, but pretty soon fell in love with the area and hope to be able to work with Para athletes for many years to come. 
What was the best decision you ever made?
Probably to push myself out of my comfort zone and go to New Zealand to undertake postgraduate studies and research. I had fantastic supervisors there and an equally fantastic group of postgrads studying with me at the same time (Ram Club- you know who you are). 
What was the biggest risk you ever took? How do you feel about it now?
I suppose leaving academia after 5 years to return to clinical practice could be seen as a risk, but I definitely have no regrets. I had invested nearly 5 years into an academic career, but as clinicians we are fortunate that we always have our original skills to turn back to and no shortage of jobs for us to work in. I am grateful for my time in academia but am very excited about all the doors that have opened for me since then.   
What 3 things are you most thankful for in your medical career?
Being able to make a genuine difference to the lives of the patients and athletes I work with. 

Meeting a lot of very good people who I have been able to undertake research with for many years. 

Having the honour of being able to travel to Paralympic Games and World/European Championships to work clinically, and to international conferences to present research. 
What is your greatest strength?
I like to think I'm a good listener and have always been able to relate to the patients that I have worked with. I think that this aspect of listening to people's stories has been partly what has drawn me to be a qualitative researcher, and to the work I've done with the British Journal of Sports Medicine in their "Patient Voices" series. 
What is the most challenging project you have ever undertaken? 
Definitely writing my PhD thesis! I returned to the UK from New Zealand to help care for my terminally ill Dad and then after he passed away, I had to write up my thesis from distance. Writing 100,000 words of this and sending drafts back to my supervisors at Otago wasn't easy at all and this was a real grind. I was motivated to finish my PhD in his memory, and this is something I will always be proud of. 
What advice would you give to a younger version of yourself – say between the age of 25-30 years-old? 
That's a tough one- during that time I was living in NZ and doing my PhD, and so I probably would have told myself to maybe do a bit more snowboarding and surfing when I was out there! I think that once you have several years of experience under your belt you will be in more of a position to know what sort of areas you are most interested in, and then it's a case of focusing your energy and time into those avenues. There are only so many hours in the day and it's really important to have a life outside of work, and so using your work time effectively to progress your career in the direction you want is essential. 
What tips would you give to students/junior doctors to improve their career prospects?
I don't think you can underestimate the importance of hard work, but this needs to be channelled in the right way. Doing a million clinical hours won't make you a better practitioner, but thinking/reflecting/evolving your practice based on evidence-based research will. From my perspective, postgraduate study and research has opened up many different career opportunities for me and I think this is worth considering too as a younger professional.
(Visited 249 times, 1 visits today)