The impact of COVID on sleep & mental health
Coping with COVID in the NBA
A significant consideration by the performance staff heading into the NBA Bubble was the potential accumulative increase in player stress and anxiety associated with adhering to the daily NBA Coronavirus disease (COVID-19) protocols,1 2 environmental transition into the Bubble (quarantine and isolation),3 coupled with training and competition demands. The impact of such cumulative stress and anxiety negatively affects players mental health,4 5 resulting in significant sleep-related issues6 with detrimental effects on player health, recovery and performance.7 The National Basketball Players Association (NBPA) highlighted that the uncertainty of the situation the impact of COVID-19 on the players and staff,  likely to result in a range of emotions such as "anxiety, fear, uncertainty, confusion, hypervigilance, depression, an increased sense of vulnerability, boredom, and a heightened awareness of the needs for self-care".8 In response, the NBA expanded their mental health guidelines by adopting new rules that required all teams to have at least one mental health professional on their full-time staff for 2019-2020 season.1
Sleep strategies used in the NBA bubble
A typical NBA season faces many unique sleep challenges,7 and the importance of sleep on mental health is unquestionable9 with clear association of many if not all mental health problems with sleep-related issues. Additionally, the importance of sleep in the context of the NBA is increasingly recognised by players as an essential element of their preparation.10 11 Thus utilizing sleep strategies in the Bubble would benefit both sleep and mental health as well as performance. The NBA Bubble was unique in eliminating travel entirely. Thus, the bubble served as a real-life experiment with many general managers commenting on how well rested their players appeared to be. To a certain extent, sleep inside the bubble was comparable to sleeping in the Olympic village which comes with its unique set of challenges.12  One main challenge was getting used to the change in pace from a normal travel-congested schedule to no travel, as well as other issues such as proximity to other teams' members (competitors), loneliness, lack of companionship, feeling isolated and trapped, all of which would increase anxiety.  Indeed, for any athlete, particularly NBA rookies, the similarities of such an experience to the first-time Olympian, living in the Olympic Village can be an intimidating prospect.12 Thus, a list of sleep strategies were formulated with the goal of promoting sleep and mental health.  Once teams arrived at the bubble, they completed a 48 hours quarantine period and these initial hours served as a way for teams coming from other times zones to the east coast to assist with circadian adjustment. The sleep strategies advised during the NBA bubble are outlined in Table 1. Key to the successful implementation, sleep strategies were simple, easy to understand and not erroneous for player to adapt.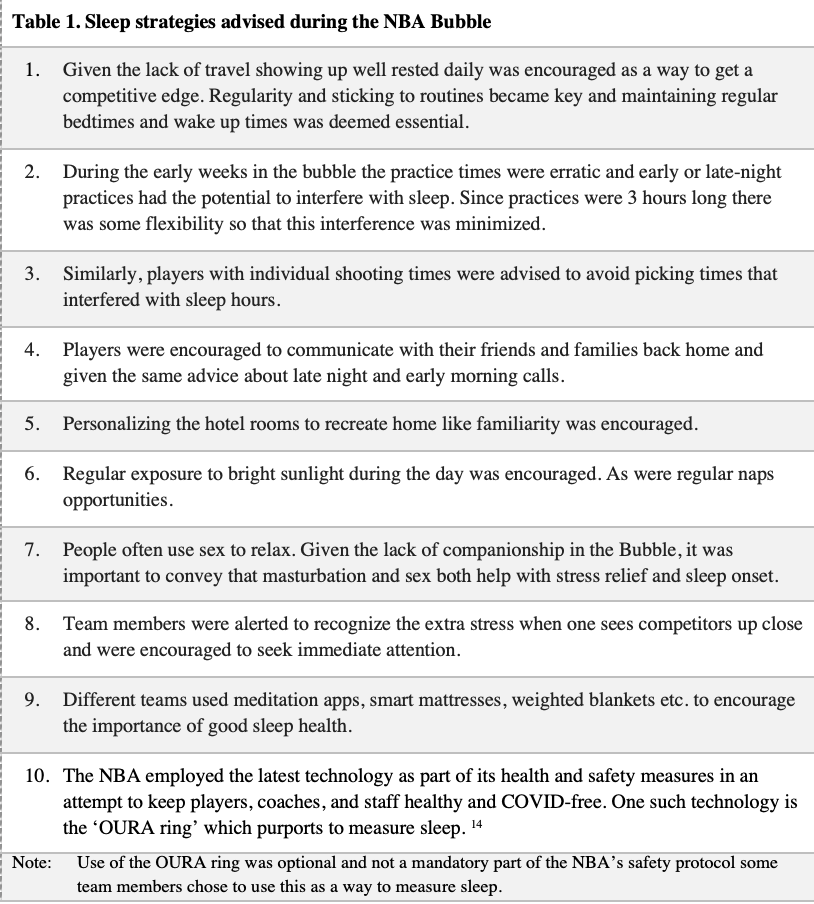 Authors and Affiliations:
Stephen P. Bird, Ph.D.
Associate Professor, Sport and Exercise, School of Health and Wellbeing, University of Southern Queensland, Ipswich QLD Australia
Athlete Health and Performance Lead, Basketball New Zealand, Wellington New Zealand
https://orcid.org/0000-0002-5607-3829
Meeta Singh, MD
Service Chief and Section Head Henry Ford Sleep Disorders Center Detroit, MI USA
Jonathan Charest, Ph.D.
Department of Psychology, University Laval, Québec City, Quebec, Canada
Centre for Sleep & Human Performance, Calgary, Alberta, Canada
Thomas Huyghe, Ph.D. (c)
Universidad Católica de Murcia, Murcia,Spain
Julio Calleja-Gonzalez, Ph.D.
Department of Physical Education and Sport, University of the Basque Country, Vitoria, Spain
https://orcid.org/0000-0003-2575-7168
Competing Interests: None for every author
References:
Shama E. NBA adopts new rules requiring teams to add full-time mental health staff for 2019-2020 season 2019 [updated Sept 20. Available from: https://www.cnbc.com/2019/09/19/nba-now-requires-teams-to-add-full-time-mental-health-staff.html accessed Oct 8 2020.
Woike D. NBA unveils elaborate COVID-19 battle plan for season's return: Los Angeles Times; 2020 [updated June 17. Available from: https://www.latimes.com/sports/story/2020-06-17/nba-unveils-health-plan-for-combating-covid-19 accessed Oct 12 2020.
Brooks SK, Webster RK, Smith LE, et al. The psychological impact of quarantine and how to reduce it: rapid review of the evidence. Lancet (1474-547X (Electronic))
Reardon CL, Hainline B, Aron CM, et al. Mental health in elite athletes: International Olympic Committee consensus statement (2019). Br J Sports Med 2019;53(11):667-99. doi: 10.1136/bjsports-2019-100715
Edwards C, Singh M. Anxiety and insomnia in athletes during the COVID era: Part 1 – Foundation and Facts. British Journal of Sports Medicine Blog: British Journal of Sports Medicine [Blog], 2020.
Reardon CL, Hainline B, Aron CM, et al. Infographic. Sleep disorders in athletes. Br J Sports Med 2020;54(3):188-89. doi: 10.1136/bjsports-2019-101107
Singh M, Bird SP, Charest J, et al. Urgent wake up call for the National Basketball Association. Journal of Clinical Sleep Medicine 2021;17(2):243-48. doi: https://doi.org/10.5664/jcsm.8938
Medina M. How NBA players are handling mental health issue during coronavirus crisis 2020 [updated Dec 31. Available from: https://www.usatoday.com/story/sports/nba/2020/03/26/coronavirus-how-nba-players-handling-mental-health-during-hiatus/5076589002/ accessed Nov 3 2020.
Pigeon WR, Bishop TM, Krueger KM. Insomnia as a precipitating factor in new onset mental illness: A systematic review of recent findings. Current Psychiatry Reports 2017;19(8):44. doi: 10.1007/s11920-017-0802-x
Connley C. LeBron James reveals the nighttime routine that helps him perform 'at the highest level' 2018 [updated Dec 23. Available from: https://www.cnbc.com/2018/12/21/lebron-james-reveals-the-nighttime-routine-that-sets-him-up-for-success.html accessed Oct 8 2020.
Maheu A-E, Needham A. Four NBA players on how sleep enhances their ability on the court 2018 [updated Jun 6. Available from: https://thriveglobal.com/stories/nba-players-on-sleep/ accessed Oct 8 2020.
Milne CJ, Shaw MTM. Travelling to China for the Beijing 2008 Olympic Games. Br J Sports Med 2008;42(5):321-26. doi: 10.1136/bjsm.2007.038794
Holmes B. NBA exec: 'It's the dirty little secret that everybody knows about': ESPN; 2019 [updated Oct 14. Available from: https://www.espn.com.au/nba/story/_/id/27767289/dirty-little-secret-everybody-knows-about accessed May 5 2020.
de Zambotti M, Rosas L, Colrain IM, et al. The sleep of the ring: Comparison of the ŌURA sleep tracker against polysomnography. Behavioral Sleep Medicine 2019;17(2):124-36. doi: 10.1080/15402002.2017.1300587
(Visited 1,588 times, 1 visits today)