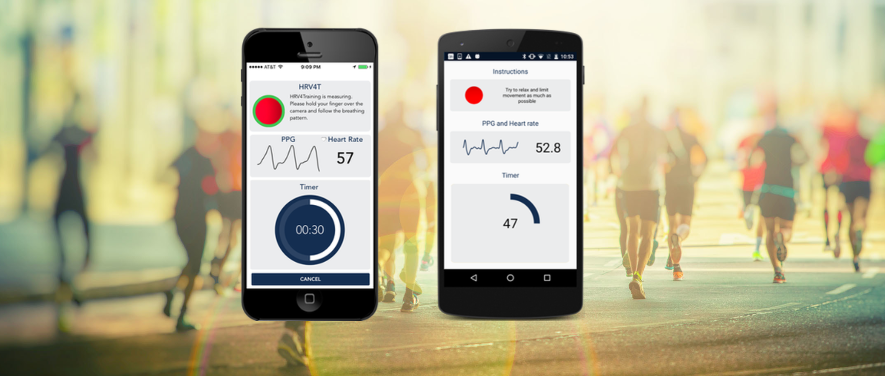 HRV4Training is a scientifically validated mobile App designed for Heart Rate and Heart Rate Variability (HRV) assessment using photoplethysmography technology (1). HRV4Training allows monitoring daily variations and weekly trends of HRV, providing feedback related to training status and readiness. Furthermore, integrating other variables, such as training load and heart rate, by means of other GPS-related apps (i.e.: Strava or TrainingPeaks), it automatically estimates VO2max and lactate threshold. Interestingly, it also allows recordings related to quality of recovery such as sleep quantity and quality, alcohol ingestion, soreness, session RPE and mental tiredness among others, which are also introduced as a part of the algorithm to determine the above mentioned training status, but also fatigue and injury risk. Thus, this app can help: 1) to determine training status, 2) to individualise the training load and 3) to identify potential injury risk factors in athletes. In summary, HRV4Training is a simple, valid, and user-friendly pocket-lab of great interest in the context of sport performance and health, which ​provides advanced data analytics on the relation between physiological parameters, training and performance (2).
USE IN CLINICAL PRACTICE
Daily HRV measurements have been proven as a powerful tool to manage training load but also to avoid overtraining (3). A reduction in HRV has been linked to a higher sympathetic tone related with a maladaptive process associated to a poorly tolerated and excessive training load (4). Therefore, using HR4Training we can accurately monitor training-related physiological adaptations integrating internal and external load together with recovery-related variables that are key for athlete's performance. An unlimited number of trials can be stored, allowing longitudinal comparisons. This is valuable information to prevent training-related injuries and/or overtraining due to long-lasting high levels of fatigue.  This type of assessment may be also used in different clinical settings, such as for cardiac rehabilitation exercise-based programmes, to monitor the effects and prognosis related to the training interventions. Therefore, athletes, coaches, patients and physicians could quantitatively monitor progress and obtain or provide feedback without complex and expensive equipment.
PROS
Scientifically validated compared to ECG data.
Ability to export data as .CSV file.
Store unlimited trials.
On-field measurement.
Fast and easy analysis.
Low cost and user friendly.
CONS
Extensive measures are needed to reliably estimate HRV daily variations and weekly trends. HRV over the last week is used to determine your baseline(at least 4 days of measurements are required), while the past 2 months of data are used to determine your normal HRV values.
VO2max and lactate threshold estimation needs load monitoring for at least 16 training sessions.
 Authors and Affiliations:
 Gonzalo Márquez1,*, Salvador Romero-Arenas2 & David Colomer-Poveda3
1Facultad de Ciencias del Deporte y la Actividad Física, Universidad de A Coruña, Spain.
2Facultad de Deporte. Universidad Católica de Murcia, Spain.
3Facultad de Ciencias del Deporte y la Actividad Física, Universidad Isabel I, Spain.
No competing interests declared
REFERENCES
Plews DJ, Scott B, Altini M, Wood M, Kilding AE, Laursen PB. Comparison of Heart-Rate-Variability Recording With Smartphone Photoplethysmography, Polar H7 Chest Strap, and Electrocardiography. Int J Sports Physiol Perform. 2017 Nov 1;12(10):1324-1328. doi: 10.1123/ijspp.2016-0668.
Altini M, Amft O. Estimating Running Performance Combining Non-invasive Physiological Measurements and Training Patterns in Free-Living. Annu Int Conf IEEE Eng Med Biol Soc. 2018 Jul;2018:2845-2848. doi: 10.1109/EMBC.2018.8512924.
Bellenger CR, Fuller JT, Thomson RL, Davison K, Robertson EY, Buckley JD. Monitoring Athletic Training Status Through Autonomic Heart Rate Regulation: A Systematic Review and Meta-Analysis. Sports Med. 2016;46(10):1461-86. doi: 10.1007/s40279-016-0484-2.
Mourot L, Bouhaddi M, Perrey S, Cappelle S, Henriet MT, Wolf JP, Rouillon JD, Regnard J. Decrease in heart rate variability with overtraining: assessment by the Poincaré plot analysis. Clin Physiol Funct Imaging. 2004 Jan;24(1):10-8. doi: 10.1046/j.1475-0961.2003.00523.x.
(Visited 4,462 times, 1 visits today)