In September 2019, I had the privilege of attending "Medicine X: CHANGE" held at Stanford University, Palo Alto, USA (Image 1). Dr Larry Chu is the key driver of this event and makes sure this conference series differs from others in terms of the depth and scope of patient involvement- patients are involved in every aspect of the conference.
As well as being on the planning committee of the conference, patients at Medicine X: CHANGE host their own sessions; deliver keynote talks; are key members of panel sessions; and are in attendance as active audience members. Effort is made to ensure this isn't tokenism and the visibility/presence of patients at a medical conference makes it very distinct. I had the pleasure of sitting next to a very nice man called Jeff for most of the first day there. A Californian, who had Chronic Obstructive Pulmonary Disease (COPD), and was attached to his nasal specs and portable cannister throughout the day. It was very refreshing to be able to hear Jeff's thoughts regarding the various sessions and the event as a whole- rather than through the lens of a clinician/researcher (which is usually the case in SEM conferences).
The concept of "Everyone Included" is a key aspect of the Stanford Medicine X conference series (Image 2), and it was demonstrated by sign language interpreters on the main stage throughout the conference. There was also a wellness room (for people who wanted time-out from the sessions) and each day also started with an open mic session where participants were invited up to share messages. People used this opportunity to do things such as: thank presenters from the day before (I really liked the fact that medical professionals were thanking patients here!); share a little about ideas they have for research or improving care; or just offer their services to other people and projects.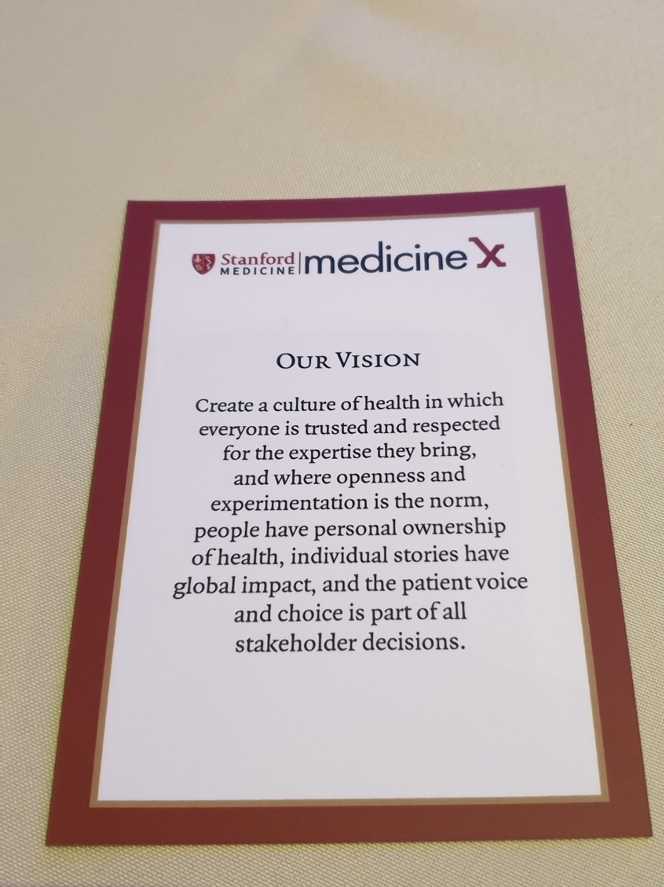 Other neat aspects that jumped out at me from this conference include:
The goal for the conference: The focus of the conference was to bring about "CHANGE" in the treatment of COPD, which was stated to the be the 3rd biggest cause of death in the USA (but only ranks at 165th in terms of research funding). This was boosted by the presence of Grace Ann Koppel (wife of the former TV show host Ted Koppel), who has COPD herself. As part of this, interested conference participants engaged in steps to with the aim to boost the recognition/awareness of COPD in the USA.
The "ignite" sessions: Short and sharp, these were 5-minute talks from people on the main stage in a "TED Talk" type format. In keeping with the rest of the conference, these came from a mix of individuals (patients, clinicians, researchers, and industry partners);
The interactivity: I attended a great session on burnout, where the audience was split into tables of clinicians, patients, and researchers. During the session each group then all talked through what burnout meant to them with regards to healthcare and how it can be prevented.
The focus of each session: When submitting abstracts for the conference, each speaker was asked to state the ILOs (intended learning outcomes) for their talk. This was something that helped to keep the presenters on track, as it meant that the focus was on what the participants would learn from the talk (rather than what the speaker wanted to talk about).
Part of my desire to attend Medicine X came from my role as co-lead for the BJSM Patient Voices series. On the 2nd day of the conference I presented the work that BJSM has done to date to increase patient involvement in SEM. As part of this, one of our Patient Voice contributors Martin Sinclair recorded a short video piece and talked about why he as an athlete felt grateful for the opportunity to share his story in the BJSM.
I also reinforced that in SEM, the people we have a duty of care towards are not always our "patients" per se, and in some cases are athletes or players. This stimulated a discussion about the baby steps we have taken at BJSM to date with clinicians, patients and researchers who all have had extensive experience in this area. Even the nuances on the terminology was an interesting discussion point- for many patients, the term "patient engagement" seemed to be controversial. As one patient pointed out: "I live with my condition- if that's not already being engaged then what is?".
As is the case with any good conference, I left with a definite buzz. It was great to see that SEM is keeping up with other areas of healthcare and medicine in terms of patient involvement, and that SEM as a profession is not being left behind in this respect. As well as BJSM's Patient Voices series, JOSPT has also flagged the importance of patient involvement in research. Next year's Isokinetic conference (in Lyon in October 2020) has the "Player's Voice" as the theme for the event, and hopefully will provide a springboard for a what a patient/athlete-centred SEM conference should be. Patient/athlete involvement in SEM research is only in its infancy, however, in the coming years it will hopefully be the norm to involve our patients and athletes at all stages of our research endeavours.
Conflict of interest:
Osman Ahmed is a Senior Associate Editor for the British Journal of Sports Medicine, where he co-leads the "Patient Voices" series with Dr Tracy Blake (@tracyablake).
Author:
Dr Osman Ahmed1,2 is a lecturer in Physiotherapy at Bournemouth University, England and a physiotherapist to the Football Association. He is the associate editor of the "Patient Voices" series in BJSM.
Faculty of Health and Social Sciences, Bournemouth University, Bournemouth, England.
The FA Centre for Disability Football Research, St Georges Park, Burton-Upon-Trent, Staffordshire, England.
(Visited 432 times, 1 visits today)