Start with their story – Dr Louise Tulloh
In 1977, Dr George Engel introduced the medical world to the biopsychosocial model to better understand disease. Expanding upon the reductionist biomedical model of disease that was popular at the time, Engel argued that psychological and social factors influence biological functioning and play a role in health and illness. In the decades since, we have come to further understand that behaviours, thoughts and feelings influence our physical state.
We sport and exercise medicine clinicians sometimes fall into the trap of solely focusing on a patient's musculoskeletal problem as a source of their pain. But a patient's problem will not simply be solved by addressing musculoskeletal pathology alone. In 2019, this seems obvious. So why are we still failing to move beyond this reductionist view of treatment?
This week's podcast:
On this week's podcast, we are excited to be joined again by Dr Louise Tulloh (@DrLouiseTulloh)–the President of The Australasian College of Sport and Exercise Physicians (ACSEP). She dives into the biopsychosocial realm of patient management in sport and exercise medicine. Dr Tulloh has been practicing sport and exercise medicine in Sydney for over 20 years. She prioritises a holistic approach to patient management and believes that all clinicians should explore their patients' psychosocial stressors from every angle.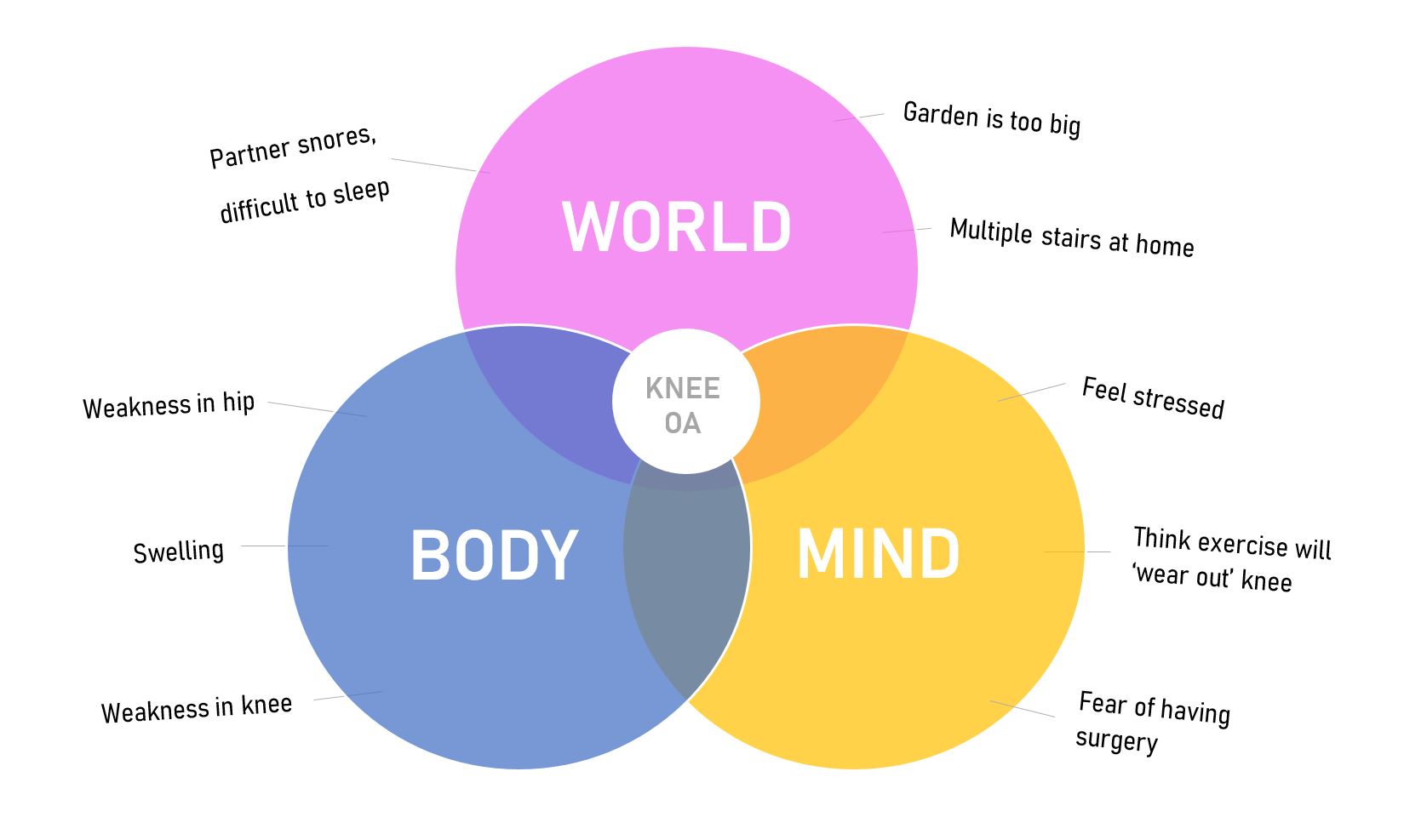 Not sure where to start? Dr Tulloh recommends asking patients the following three questions:

In this 20-minute podcast with Daniel Friedman (@ddfriedman), Dr Tulloh discusses:
Why we should all take a more biopsychosocial approach in sport and exercise medicine
How to explore a patient's individual psychosocial factors contributing to their health
How to ask about a patient's motivation to get better
Tips for shared decision making
How to discuss weight loss with patients
What makes a patient 'complex'
Want more?
To find out more about Dr Tulloh or ACSEP:
Twitter @DrLouiseTulloh / @ACSEPpresident / @ACSEP_
Website: https://www.acsep.org.au/
ACSEP's 2020 Annual Conference 2020 (Feb 7-9) in Canberra, Australia is a great opportunity for further career development. Register now! https://www.acsep.org.au/page/events/conference-2020
Infographic with @MarFloresCortes : Biopsychosocial factors are involved in the experience of musculoskeletal pain. Great contribution from @jpcaneiro et al. with strategies to manage musculoskeletal pain regardless of body region. @BJSM_BMJ https://t.co/869Tc1Jw1W pic.twitter.com/EHoTnjRiM1

— Javier Martinez-Calderon (@MtnezCalderonJ) October 22, 2019
Resources
Pain
Noigroup  – multimedia, books, courses. Here is a link to Lorimer Moseley's BJSM podcast:
Curable – app, online community, podcasts
Orebro Musculoskeletal Screening Questionnaire – identifying 'yellow' flags\
Mindfulness meditation
Smiling Mind – App
Headspace – App
Calm – App
Breathing
ReachOut Breathe – App
Upskilling for clinicians
Motivational interviewing
Mindfulness-based Stress Reduction (MSBR)
Acceptance and Commitment Therapy (ACT)
(Visited 4,274 times, 1 visits today)