By Nejat Hassen
For over five years, BJSM has been a knowledge gateway as I progressed through my Kinesiology degree. Having only recently discovered the excellent podcasts I go the chance to share my top 10 from the last year. It's just my (level 5!) opinion. BJSM encourages diverse opinions–from those with various levels of experience. Here are 5 of my top 10 podcasts in no particular order.
#1 How many pushups can you do? Assessing cardiovascular risk
Did you hear? Doing 40 push-ups in a minute will make you live forever!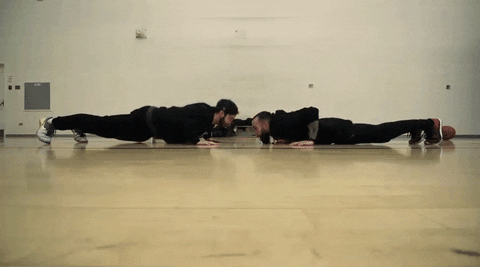 Well, not really, but Harvard researchers recently identified a correlation between the number of push-ups one can perform and the risk for cardiovascular disease.
This seems like a great assessment tool – no need for heavy equipment or dedicated lab space. However, clickbait titles like this one can be misleading without any context. In this podcast, Dr. Alex Hutchinson unpacks the truth behind this headline.
People are complex. Our different genetics, abilities, and lifestyles would require multiple methods to assess all facets of health. Long distance runners may not have the upper body strength to perform 40 push-ups, however we know that they have some of the best VO2 max scores. Are those athletes really at risk for cardiovascular disease?
Push-up tests and other assessment tools are great motivators to improve physical activity and set fitness goals. If someone improves their physical activity, does it really matter how they did it? No single test will identify your overall health score, but it sure is a fun way to keep active.
Now, who's up for a push-up contest? 
#2 Knowledge Translation
Did you know it takes an average of 17 years for research to be implemented into practice?
Healthcare providers can't be expected to implement research findings into their busy practices if the information presented is too lengthy, jargon-heavy, or just downright inaccessible. Effective knowledge translation is one way to mitigate this issue.
Clinicians are using non-traditional knowledge dissemination techniques such as  social media. This means information is at the tip of our fingers. Instagram and Twitter have become the favoured form of knowledge sharing.
But as Peter Parker learns, "with great power comes great responsibility"(sic). In this podcast, Dr. Sandro Demaio discusses the need to reframe information into multiple, culturally-sensitive formats to improve access and uptake. Imagine if a clinician were to recommend steak to a vegetarian patient!
Communication can be improved. Creative ways to translate knowledge keep audiences engaged. So how does the BJSM do it? Check us out on the following platforms:
#3 Busting nutrition myths
Does red meat really cause cancer? Is juicing a better way to consume fruits? Nutrition myths are plentiful in the world of health and wellbeing, but some should be taken with a grain of salt.
In this podcast, Dr. Zoe Harcombe debunks some common food myths. According to Dr. Harcombe, the Mediterranean diet we are recommended to consume is not the authentic diet. She argues the study from which it was derived had serious methodology flaws and was retracted from publication. So why do we still adhere to the Mediterranean way of eating when we know the evidence supporting it is subpar?
Producing effective eating guidelines for population health has proven problematic. The recommended five fruits per day suggestion from the UK EatWell Guide is not evidence-based and is a figure influenced by industry interests. Plagued by similar issues, the Canada Food Guide strived to combat industry influences in the newly revised publication. Recommendations are no longer numerated and instead provide recipes to encourage a well-balanced diet.
With so many confounding variables affecting nutrition research, it's no wonder myths are plentiful!
If you want to learn more about the argument to prioritize dietary fat guidelines, check out Dr. Harcombe's presentation at the Low Carb Breckenridge 2016 Conference.
Editors note: We like to point out that this topic can prove controversial and encourage readers to review multiple sources of information on this topic.
#4 Sham Surgery for Shoulder Impingement
Shoulder pain is a big deal.
For over 40 years, arthroscopic subacromial decompression surgery has been the golden treatment for persistent shoulder pain. But is surgery really required?
In this podcast, Dr. Teppo Järvinen discusses his findings after comparing the effects of conservative physiotherapy vs sham surgery vs decompression surgery. Spoiler alert! All three treatment phases had similar improvement levels. So should patients forgo decompression surgery?
Questions raised include ethical concerns over unnecessary surgery. What happened to "first, do no harm"? More and more of the common MSK surgeries are being questioned, with conservative evidence-based physiotherapy programs being considered in some cases at least as effective to long-term outcomes.
Clinicians have a responsibility to utilize treatments that offer the least invasive solution. I am not raining on surgery's parade; in fact it is the field of medicine I admire most. But I wouldn't want to worry about the risks and side effects of my upcoming surgery when I don't have to. Would you?
For more on the study check out this BMJ article.
#5 Assessing concussion – as easy as ABC
"Concussed or not concussed?", that is the question.
Take it from me, concussions are no fun to go through. Athletes of all levels can sustain head or neck injuries that dramatically affect the course of their physical and mental health. I was "out" for two and a half weeks after my karate concussion–no studying, no driving, and definitely no scrolling through my phone (the bright lights were awful).
Professional sport is plagued with concussions. In 2018, the National Football League reported 214 concussions – that compares with 57 ACL tears.
Professional athletes benefit from expert medical teams who attend players' injuries. Sports leagues and team physicians implement protocols for systematic, thorough assessments. In this podcast, Dr. Jim Bovard, team physician for the Vancouver Canucks and Vancouver Whitecaps, explains his own concussion protocol for quick on-field assessments. Here is a visual diagram outlining Dr. Bovard's procedure. Hopefully, it can provide some guidance for those with less support.
For more information on the culture of concussions and league politics, check out one of my favourite documentaries League of Denial.
Come back next week for part 2 of my favourite podcasts from the last year. Tag @BJSM_BMJ or #BJSMPodcasts in your tweets. What are your faves? And as the podcast tagline goes…"I hope you have a physically active day!" (BJSM app is great for listening to BJSM podcasts–very easy and you can listen offline once you have downloaded the file).
***
Nejat Hassen is a Master's student at the School of Population and Public Health at the University of British Columbia. She has a keen interest in exercise medicine and rheumatology and practices SEM as a registered kinesiologist and karate instructor. She is currently a Research Assistant at the Centre for Hip Health and Mobility and considers herself a BJSM enthusiast.
(Visited 1,024 times, 1 visits today)