APP REVIEW
NAME OF THE MOBILE APP
OurPath
CATEGORY OF THE MOBILE APP
Health and Fitness
PLATFORM
Mobile app is compatible with Apple phones running iOS 9.3+ and Android phones running Android 4.4+. The platform is also accessible via web browser.
COST:
3 month programme:
Tech package:               £180
NoTech package:           £90
Continued access after 3 month programme £10 per month.
NHS Referrals are available from primary care and community nursing teams in 50 CCGs, with no cost to the user.
ABOUT THE APP:
Users complete a 3 month programme with up to ten other participants. A health coach who is either a qualified nutritionist or registered dietician provides personal advice. Nutritional guidance during the programme focuses on building meals around proteins, healthy fats and vegetables with an emphasis on making sustainable changes. Users are encouraged to increase their physical activity levels and undertake strength based exercises with targets informed by personal tracking.
Both the tech and no tech subscriptions include a nutrition guide and recipe book. The tech option also features a wireless scale and activity tracker.

USE IN CLINICAL PRACTICE:
The evidence base for the OurPath intervention is strongest for individuals who are overweight, obese, pre-diabetic or have type 2 diabetes mellitus (T2DM).
A pilot study in Northwest London involving 430 patients investigated three behavioural change programmes.1 OurPath was found to have good uptake (>70%) and completion rates (>50%) among patients far higher than existing face-to-face diabetes structured education programmes. Those who completed the programme experienced a significant improvement in T2DM-associated clinical indicators (weight, BMI, HbA1c, blood pressure).
OurPath is currently being evaluated alongside four other digital interventions by National Health Service England (NHSE) to assess the reduction in HbA1c and weight (for people with non diabetic hyperglycaemia) and reduction in weight (for those who are overweight or obese) at 12 months.2  Results from the trials will be reported in 2020.
In summary, individuals who are overweight, obese, prediabetic or have T2DM are likely to gain benefit from the OurPath programme. For individuals outside these groups the evidence is less clear cut. Local commissioning groups feel the intervention is cost effective but individuals looking to self fund may be influenced by the high cost.
PROS:
Access to health coach and support group
Simple easy to use interface
GDPR compliant
Dedicated support line
Emerging evidence base
Multilingual support available for seven languages
CONS:
High cost
Requires a degree of tech literacy
Not available in all CCGs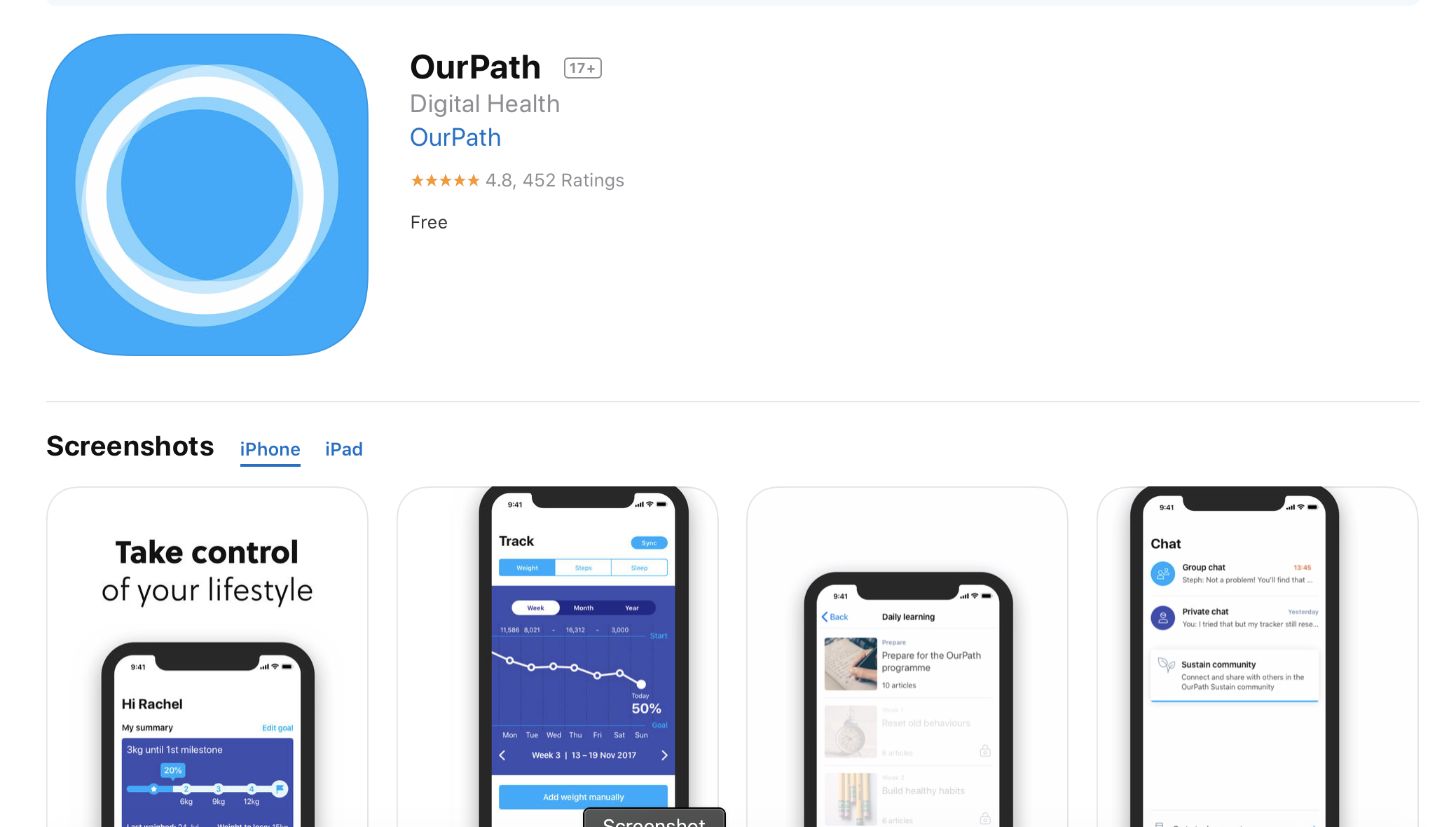 ***
Dr Lewis Raiman @LewisRaiman is a GP Trainee on The Royal Free Training Scheme currently working in diabetes and endocrinology. Email: l.raiman@nhs.net
Competing interests: 
None declared
References
(Visited 1,929 times, 1 visits today)