日本のスポーツ理学療法- #東京2020
Japan Sports PT – Road to #Tokyo2020
Dr Mario Bizzini @SportfisioSwiss reporting from Japan 
Jan 16
This January, I visited Japan to see what's happening in the sports Physical Therapy (PT) world in the lead up to the 2020 Tokyo Summer Olympic Games. After landing in Tokyo, I made the trip north to Sapporo, on the island of Hokkaido. Home to more than 2 million people, Sapporo is the fifth biggest city in Japan, and was the home of the 1972 Winter Olympic Games – the first Asian Winter Games ever. The ski jumping hill at Okurayama, which still hosts a World Cup competition every year, offers a magnificent view of Sapporo, and at the bottom of the hill visitors can relive the excitement of the Games at the Sapporo Olympic Museum. ほんとにすばらしいですね!
Jan 17
The next morning we travelled to Eniwa (26 km south of Sapporo) to present about return to sport at the Hokkaido College of Medical Sports. The college is part of the JIKEI Group, which has 68 professional training colleges located in major cities throughout Japan. I sat alongside students from the Physical Therapy, Athletic Training, Acupuncture and Judo Therapy Schools, each representing one of many different education pathways. While judo therapy and acupuncture are considered traditional professions in Japan, (sport) physical therapy is a "young profession" – but is growing at a rapid rate. Last December (8-9 Dec, 2018), over 1000 sports PTs attended The 5th Congress of Japanese Society of Sports Physical Therapy (an International Federation of Sports Physical Therapy Member Organisation) in Tokyo.
Jan 18
On the following day, I had the privilege of meeting A/Prof Mina Samukawa, PhD, PT, who teaches at the PT School at Hokkaido University. She is one of the most profiled sports PTs in Japan, having worked at several Winter and Summer Olympics. Mina has also worked and studied in Whistler and Edmonton, Canada. Her excellent English is something rarely seen among other Japanese PTs, which creates a major barrier for communication with international PTs and staying up to date with the latest scientific research. Communication will be one of the biggest challenges for Japanese PTs working at the Tokyo Summer Olympics Games, and particularly for those involved in the polyclinic at the Olympic Village. Dr. Marie-Elaine Grant (IOC Medical Commission, Physiotherapy) and Dr. Masaki Katayose (Sapporo Medical University, Head Physiotherapist for the 2020 Tokyo Organising Committee for the Olympic Games) are working hard in the lead up to this global event.
Before leaving Hokkaido, Mina joined us on the slopes at Mount Teine (which was a venue during the 1972 Sapporo Winter Olympic Games) for what ended being a perfect powder day!
Jan 19-20
We returned to Tokyo to present about sports injury prevention at the Tokyo College of Medical Sports (JIKEI Group), home of long-time friend Dr. Mitsunori Tsumaki (Athletic Trainer, Acupuncturist). I would like to extend kudos to the College, who have been instrumental in promoting and disseminating quality sports PT education in both prevention and rehabilitation of sports injuries. A big shout out goes to Sports PT Keigo Nakajima (@k5nakaji) who is leading the way! がんばって!
It was also a great pleasure to catch up with Prof. Toru Fukubayashi (former Waseda University, currently Tokyo Ariake University), another long-time friend and living legend who is one of Japan's internationally renowned sports medicine physicians. Throughout his career, Toru has made important contributions to ACL research and has demonstrated strong leadership in prioritising sports injury prevention in Japan and overseas.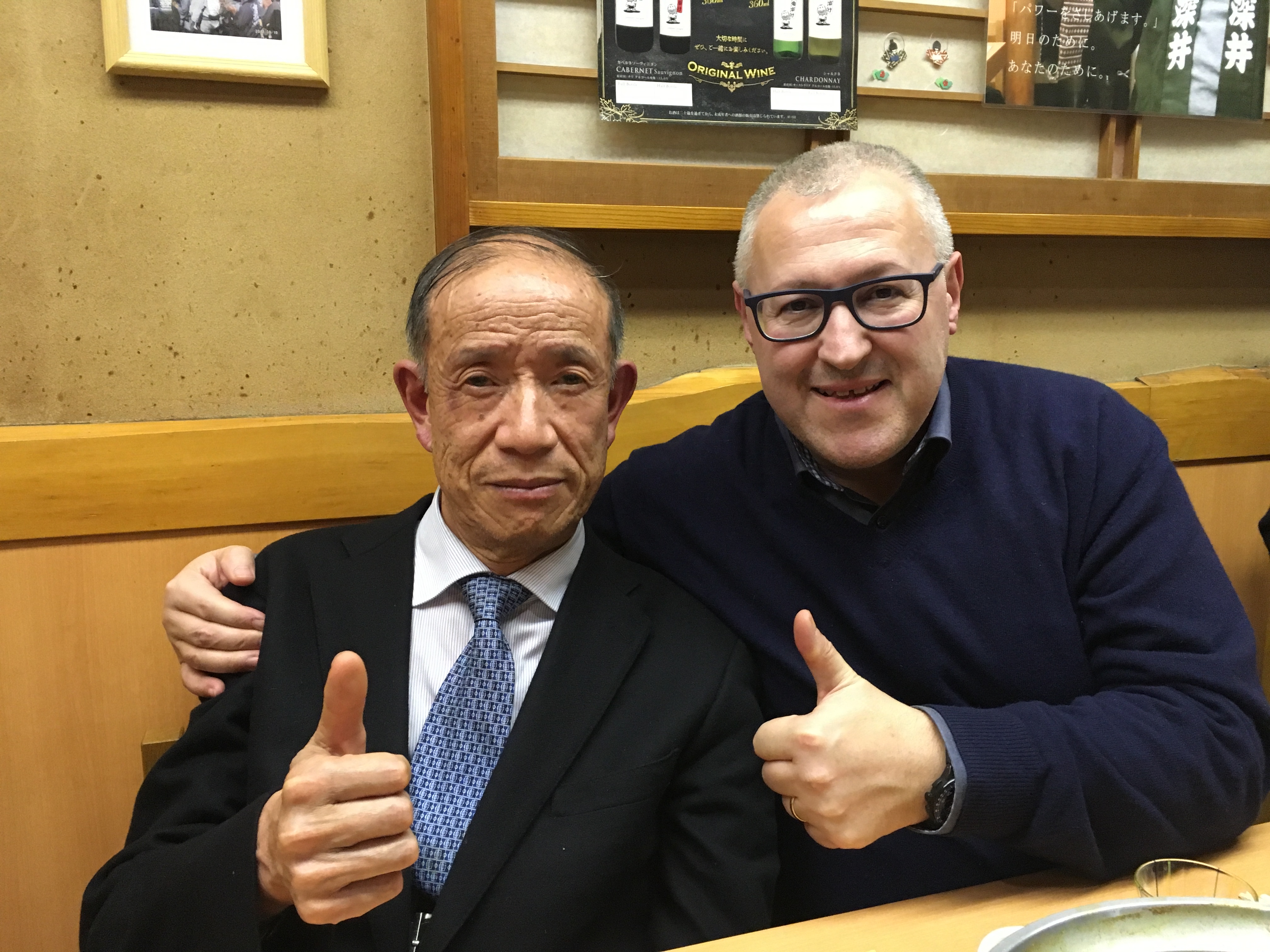 On my last day in Tokyo, I was invited to the afternoon session ("the 16:00-18:00 幕内 Makuuchi bouts") of the first Tokyo Grand Sumo Tournament of 2019 at the 両国国技館 Ryōgoku Kokugikan (the National Sumo Stadium). As cited in the official leaflet of this event: "A sacred ritual spanning 1500 years, sumo is much more than Japan's de facto national sport. Burly wrestlers still grapple today in a tradition that has remained unchanged since the Edo period". It was an unforgettable two hours of Sumo, in THE temple of the sport!
There are six annual Sumo tournaments (Tokyo x3, Osaka, Nagoya, Fukuoka) in Japan… but in 2020, Tokyo will also showcase THE number one sporting event in the world: the Olympic Games (the second Summer Olympics, after Tokyo 1960)! The preparations ahead of the 2020 Summer Olympics venues are well underway, in typical organised Japanese fashion, and many stadiums around the Tokyo bay area are nearly completed. Japanese sports PTs are also hard at work preparing for the Games – which offers a unique opportunity for international exchanges among PTs and within the greater sports and exercise medicine community.
We here at BJSM would like to wish Mina, Masaki and all Japanese sports PT colleagues all the best for their "Road to #Tokyo2020", and look forward to further promoting and supporting all the upcoming talented clinicians coming from this amazing country!
ありがとうございました
"Arigatou Gozaimashita"– Thank you, my friends
Mario Bizzini
BJSM Deputy Editor
Vice-President Swiss Sports PT Association (SSPA)
Former Executive Board Member (2009-2017) of the International Federation of Sports Physical Therapy (IFSPT)
(Visited 1,660 times, 1 visits today)