This was first seen here on the BJSM Website. 
Following the success of our Pain e-journal, the BJSM digital team has curated a special Return to Play edition.
This follows on from our July 2016 virtual conference (Return to Play Virtual 2016). Our aim is to present quality updates on a host of areas including ACL rehabilitation, Achilles rupture and concussion. Once again we utilise the benefits of going online to link in external content. Some supplementary material from YouTube and the ever popular @YLMSportScience infographics have been included to enhance your learning experience.
There is a whole host of FREE to access BJSM content including the 2016 Consensus on Return to Play.
Readers are reminded to make use of the BJSM App, which allows users to see all of the latest podcasts, blogs and other BJSM content in one easily accessible package.
Please share your thoughts with us on social media if you enjoy these themed online editions with a specific topic in focus. As ever we are open to suggestions on how we can best serve the Sports Medicine community. Use #BJSMOnlineEdition to join the discussion on Facebook, Twitter or Instagram.
We hope you enjoy a physically active day,
Your BJSM online editors.
***
BJSM Online: Return to Play (Sport) Edition
Consensus Paper – 2016 Consensus statement on return to sport from the First World Congress in Sports Physical Therapy, Bern
Clare L Ardern, Philip Glasgow, Anthony Schneiders, Erik Witvrouw, Benjamin Clarsen, Ann Cools, Boris Gojanovic, Steffan Griffin, Karim M Khan, Håvard Moksnes, Stephen A Mutch, Nicola Phillips, Gustaaf Reurink, Robin Sadler, Karin Grävare Silbernagel, Kristian Thorborg, Arnlaug Wangensteen, Kevin E Wilk, Mario Bizzini
https://bjsm.bmj.com/content/50/14/853
PODCAST- Dr Clare Ardern shares the latest on Return to Play – World Congress Consensus Statement
Dr Clare Ardern is a sports physiotherapy researcher at Linkoping University in Sweden and soon to be Editor in Chief of the Journal of Orthopaedic and Sports Physical Therapy discusses the Consensus Statement on Return to Play.

Original – Connective tissue injury in calf muscle tears and return to play: MRI correlation
Ashutosh Prakash, Tom Entwisle, Michal Schneider, Peter Brukner, David Connell
https://bjsm.bmj.com/content/52/14/929
Review –Return to play post-Achilles tendon rupture: a systematic review and meta-analysis of rate and measures of return to play
Jennifer A Zellers, Michael R Carmont, Karin Grävare Silbernagel
https://bjsm.bmj.com/content/50/21/1325
EXTERNAL – Case Report – Journal of Orthopaedic & Sports Physical Therapy
Considerations in the Diagnosis and Accelerated Return to Sport of a Professional Basketball Player with a Triceps Surae Injury
Philip A. Anloague, Donald S. Strack
https://www.jospt.org/doi/full/10.2519/jospt.2018.7192
YouTube– Craig Purdam – Return to competition in athletes with tendinopathy
Craig Purdam presents at the Swiss Sportfisio conference 2017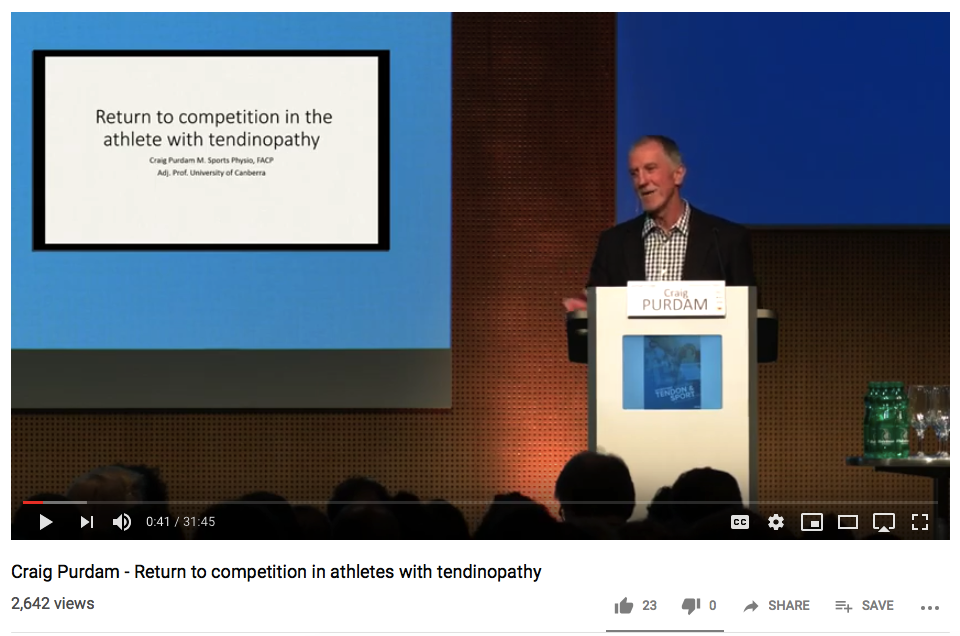 Editorial – Return to play in elite sport: a shared decision-making process
Paul Dijkstra, Noel Pollock, Robin Chakraverty, et al.
https://bjsm.bmj.com/content/early/2018/07/07/bjsports-2018-099567
INFOGRAPHIC – 4 KEY HABITS OF ATHLETE-CENTRED RETURN TO SPORT
@YLMSportScience
Original – Return to play criteria after hamstring muscle injury in professional football: a Delphi consensus study
Mattia Zambaldi, Ian Beasley, Alison Rushton
https://bjsm.bmj.com/content/51/16/1221
Original- Return to pivoting sport after ACL reconstruction: association with osteoarthritis and knee function at the 15-year follow-up
Britt Elin Øiestad, Inger Holm, May Arna Risberg
https://bjsm.bmj.com/content/52/18/1199
Editorial– Upgraded hardware ─ What about the software? Brain updates for return to play following ACL reconstruction
Dustin R Grooms, Gregory D Myer
https://bjsm.bmj.com/content/51/5/418
PODCAST– "I can't return to play" – When fear of re-injury dominates after ACL reconstruction
Adam Gledhill(@Gleds13) Senior Lecturer in Sport and Exercise Therapy on the psychology of return to play after ACL reconstruction

INFOGRAPHIC– RETHINKING THE REHABILITATION OF ANTERIOR CRUCIATE LIGAMENT INJURIES: A CALL FOR A MORE COMPLEX APPROACH
@YLMSportScience
Review – Return to sport after hip surgery for femoroacetabular impingement: a systematic review
Nicola C Casartelli, Michael Leunig, Nicola A Maffiuletti, Mario Bizzini
https://bjsm.bmj.com/content/49/12/819
EXTERNAL – Original –American Journal of Sports Medicine
Return to Sport and Performance After Hip Arthroscopy for Femoroacetabular Impingement in 18- to 30-Year-Old Athletes: A Cross-sectional Cohort Study of 189 Athletes
Lasse Ishøi, Kristian Thorborg, Otto Kraemer, et al.
https://journals.sagepub.com/doi/10.1177/0363546518789070
Research letter – High or low return to sport rates following hip arthroscopy is a matter of definition?
Tobias Wörner, Kristian Thorborg, Anders Stålman, et al.
https://bjsm.bmj.com/content/52/22/1475
PODCAST – Professor Graham Smith, Society of Sports Therapists: Return to play and more!
Professor Smith discusses topics such as, readiness to return to play or competition, training load and the contribution of new data in the training-injury field.
Editorial – Return to play: the challenge of balancing research and practice
Alan McCall, Colin Lewin, Gary O'Driscoll, Erik Witvrouw, Clare Ardern
https://bjsm.bmj.com/content/51/9/702
Review- What factors must be considered in 'return to school' following concussion and what strategies or accommodations should be followed? A systematic review
Laura K Purcell, Gavin A Davis, Gerard A Gioia
https://bjsm.bmj.com/content/early/2018/03/02/bjsports-2017-097853
BLOG – Return to Learn (RTL) and Return to Sport (RTS) Protocols for Youth Athletes and Our Proposed Coordinated Return Protocol
https://blogs.bmj.com/bjsm/2018/05/11/return-to-learn-rtl-and-return-to-sport-rts-protocols-for-youth-athletes-and-our-proposed-coordinated-return-protocol/
INFOGRAPHIC – CONSENSUS STATEMENT ON CONCUSSION IN SPORT: GRADUATED RETURN-TO-SPORT STRATEGY
@YLMSportScience
External – Review – Current Reviews in Musculoskeletal Medicine
Return to Throwing after Shoulder or Elbow Injury
Terrance A. Sgroi, John M. Zajac
https://link.springer.com/article/10.1007%2Fs12178-018-9454-7
PODCAST – To risk, or not to risk: the return to play dilemma
Prof. Roald Bahr member of the IOC medical committee, Head of the Aspetar Sports Injury & Illness Prevention Programme and Chair of the Oslo Sports Trauma Research Center discusses the dilemma of return to play.

(Visited 2,448 times, 1 visits today)