It's back! We're thrilled to announce the return of the hugely popular annual cover competition! You can win great prizes by engaging with the social media polls over the next three weeks. Follow us on our Facebook and Twitter (@BJSM_BMJ) pages to like, share and comment on your favourite cover. The most engagement on one cover combined wins! And don't forget to use the hashtag #BJSMCoverComp2018.
All those who take part will enter a draw for prizes which includes a free conference registration and a copy of Brukner & Khan's Clinical Sports Medicine.
Today we reveal the first set of covers which were featured between January 2017 and October 2017.
Happy Voting!
January 2017 – Our Issue 1 cover highlighted the injury rates at the most recent Youth Winter Olympic Games. For those interested in OPEN access to the original article 'Sports injuries and illnesses in the Lillehammer 2016 Youth Olympic Winter Games'  follow this link: https://bjsm.bmj.com/content/51/1/29
June 2017 – The extremely influential consensus statement on Concussion in Sport featured this excellent design of the brain and brainstem neural pathways. For OPEN access to the consensus statement: https://bjsm.bmj.com/content/51/11/838
February 2017 – brought us the image of a young volleyball player mid-match and the fading Californian sunset in the background. Aimed at highlighting the American Medical Society for Sports Medicine conference. This edition featured an important discussion on the health of youth athletes in sport: https://bjsm.bmj.com/content/51/3/141
October 2017 – suddenly we got a dose of rhythm with two dancers captured mid performance. The VSG (Vereniging voor Sportgeneeskunde/Dutch Sports Medicine Association) used the edition to highlight how Salsa and other forms of dance can impact health – https://bjsm.bmj.com/content/51/19/1381
September 2017 – The last cover for the 'semi-final' stage of this year's cover competition featured another example from the glut of striking landscapes in Switzerland. The Swiss Sports Medicine Conference took center stage. The edition also featured OPEN access to a systematic review on treatments for shoulder impingement: https://bjsm.bmj.com/content/51/18/1340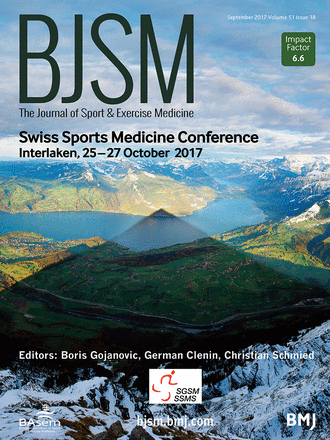 So there you have your line-up. For those artistic fans out there please do comment and share your thoughts with us here at BJSM. We are always happy to hear about which visuals are most appealing to our readers.
Don't forget to follow the progress at #BJSMCoverComp2018!
(Visited 271 times, 1 visits today)