By Daniel Friedman @ddfriedman
APP REVIEW
NAME OF THE MOBILE APPLICATION
UBC Radiology Teaching App
CREATORS
Dr. Kathryn Darras (Project Lead) and Dr. Matthew Toom (Technical Lead)
CATEGORY OF THE MOBILE APPLICATION
Medical
PLATFORM
iOS (requires iOS 8.0 or later; compatible with iPhone, iPad and iPod touch), Android
COST
Free
ABOUT THE APP
Based on the undergraduate radiology curriculum at the University of British Columbia (UBC) in Canada, this app has been created to help medical students and medical professionals improve their radiology knowledge and skills for clinical practice. The app aims to increase users' confidence in identifying normal and abnormal anatomic structures, ordering the most appropriate imaging and other tests, and recognising common pathology.
The app content has been organised into two levels of difficulty, based on the user's stage of medical training: pre-clinical or clinical. The pre-clinical years focus on identifying normal anatomy and acquiring basic approaches to common radiological studies (chest and abdominal radiographs and CT head), while the clinical years teach users appropriate imaging criteria and how to recognise key pathology.
From the main menu, users can select:
Anatomy quiz– to test their knowledge of normal anatomy by identifying structures on CT slices and x-ray films; can choose from abdomen/pelvis, chest, musculoskeletal, neurology or spine images for a 'full quiz' of >40 questions or a 'mini quiz' of 10 random questions.
Figure 1. Anatomy quiz menu and example
Ultrasound quiz – to test their skills at identifying normal anatomy on ultrasound images; 'full quiz' of >90 questions or a 'mini quiz' of 10 random questions.
Which test?– to improve their skills at determining which imaging study is most appropriate to order given a specific clinical scenario; 'full quiz' of 70 questions or a 'mini quiz' of 10 questions. 
Clinical cases– to work through over >60 realistic clinical cases in which users are presented with a patient scenario and relevant radiographic images. Users can then sequentially reveal differential diagnoses, the final diagnosis, imaging findings and 'clinical pearls'. The titles (diagnoses) of the clinical cases can be voluntarily hidden for increased difficulty.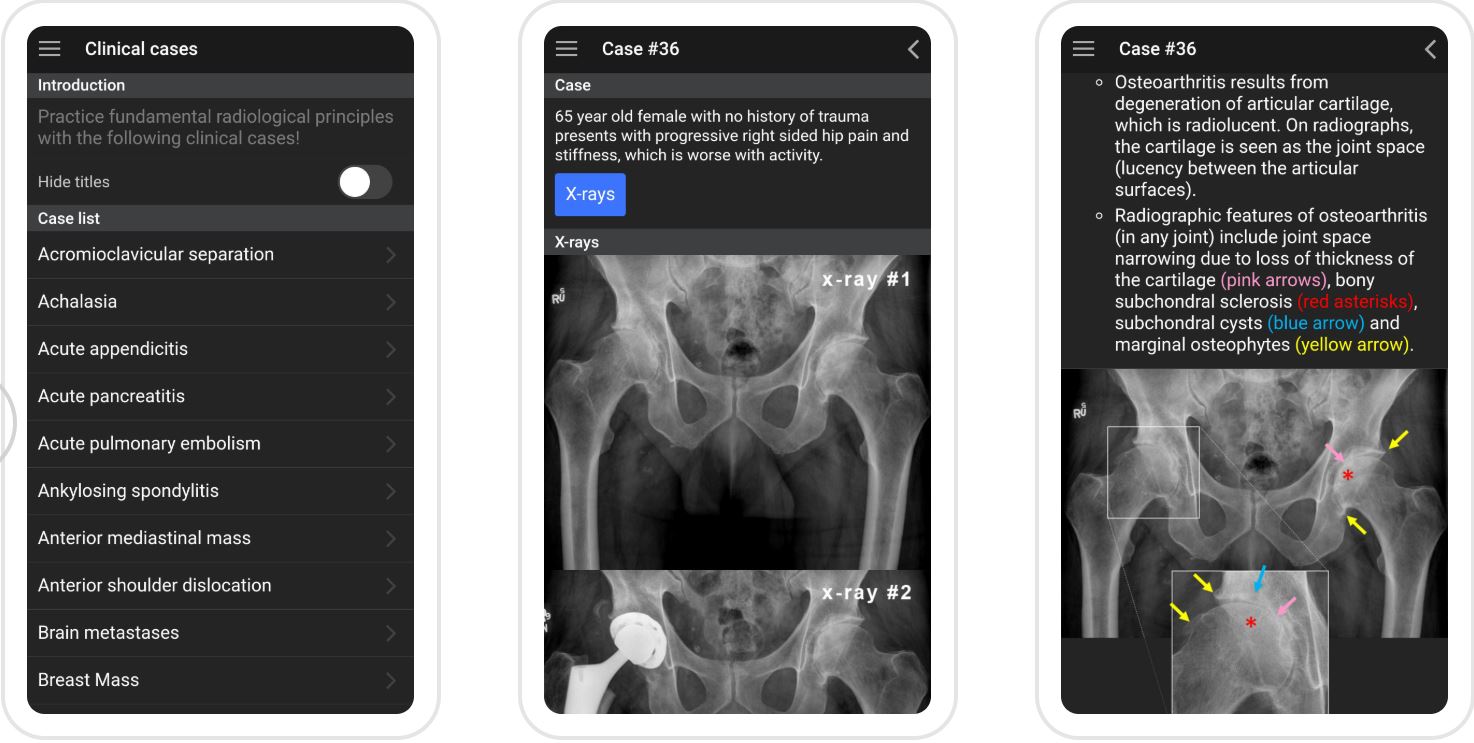 Figure 2. Clinical cases list and example
USE IN CLINICAL PRACTICE
Although created primarily for training purposes, the app can double as a convenient pocket guide for approaching radiographic images for students and can supplement more comprehensive educational resources. The app can also be used as a reference tool for common radiographs, normal anatomy, and imaging criteria for quick access on the wards or when seeing patients in the clinic.
The app can follow students from their first day of medical school until graduation, and then into their residency as junior clinicians.
PROS:
Free, with no required in-app purchases.
Simple, easy to use and user-friendly interface.
Can be used offline; no internet connection or additional downloads are required.
It is the first open-access app in the world designed as a curriculum for medical students, as well as the first app to be based on UBC coursework.
The questions and answers are based on up to date imaging criteria; the app's learning objectives are based on the undergraduate radiology objectives developed by the major radiology societies including the Alliance of Medical Student Educators in Radiology (Association of University Radiologists), European Society of Radiology and the Canadian Association of Radiology.
Provides access to more than 60 real-life clinical cases and 500 anatomy questions.
CONS:
No option for users to track history of scores of completed quizzes; quiz scores reset every time
Only allowed one attempt at each quiz question when completing the quiz
While there are many quizzes, the question bank is limited, and it is not clear how often they are updated
'Approaches' are limited to three common radiological imaging types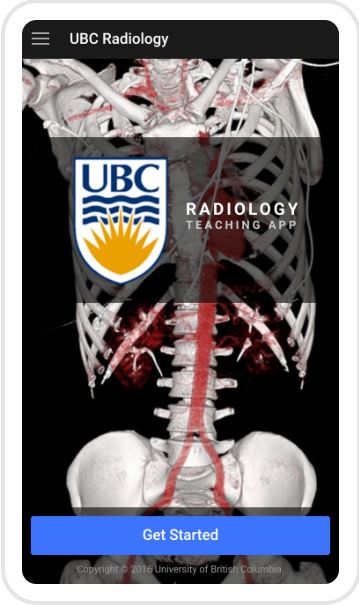 Figure 3. Launch screen
***
Daniel Friedman @ddfriedman is a final year medical student at Monash University in Melbourne, Australia. He is currently based in Vancouver, working for the BJSM as an associate editor, and has previous experience working for the WHO, focusing on the prevention of noncommunicable diseases and the promotion of active healthy lifestyles. Daniel's interests span physical activity and public health, injury prevention, and nutrition. Email: ddfriedman@gmail.com.
Competing interests
None
References
None
(Visited 838 times, 1 visits today)