By Afxentios Kekelekis @afxentios
Knee osteoarthritis (OA) is a leading cause for knee pain and disability worldwide.1Approximately 25% of people aged over 60 years experience knee pain from degenerative knee disease.2
Risk factors for knee OA are multifactorial and include age, previous knee injury, female gender, obesity, diabetes, sedentary life, and psychosocial agents.1The most traditionally accepted treatment options include watchful waiting, weight loss if overweight, a variety of interventions guided by physiotherapists, strengthening exercises, paracetamol, oral or topical pain medications such as NSAIDs, Platelet-Rich Plasma injections, intra-articular corticosteroids and hyaluronic acid injections, glucosamine and chondroitin, arthroscopic knee surgery, knee replacement or osteotomy.2
The OA Research Society International (OARSI) updated their evidence-based consensus recommendations for the treatment of OA of the hip and Knee.3  Figure 1 provides a summary of the appropriate treatments voted from the experts of the OARSI group.
Treatment pathways for knee OA: a proposal 
According to experts, surgery is indicated when conservative treatment fails. Despite this, I question whether we have sufficient directions to know when surgery is the best option. What criteria do we use to determine whether we should operate or not? Are we following evidence-based recommendations? What are the recommended therapeutic pathways to treat knee OA? How can we choose the appropriate treatment plan for the patient? What are the indications for each treatment pathway (pharmaceutical, non-pharmaceutical or surgery)?
We know that physiotherapists are key to help prevent and treat knee OA. I believe a consensus statement on treatment pathways for knee OA (from the physiotherapist's perspective) is required. Simple and clear steps are needed to effectively improve outcomes for patients with knee OA. A pathway is proposed in Figure 2.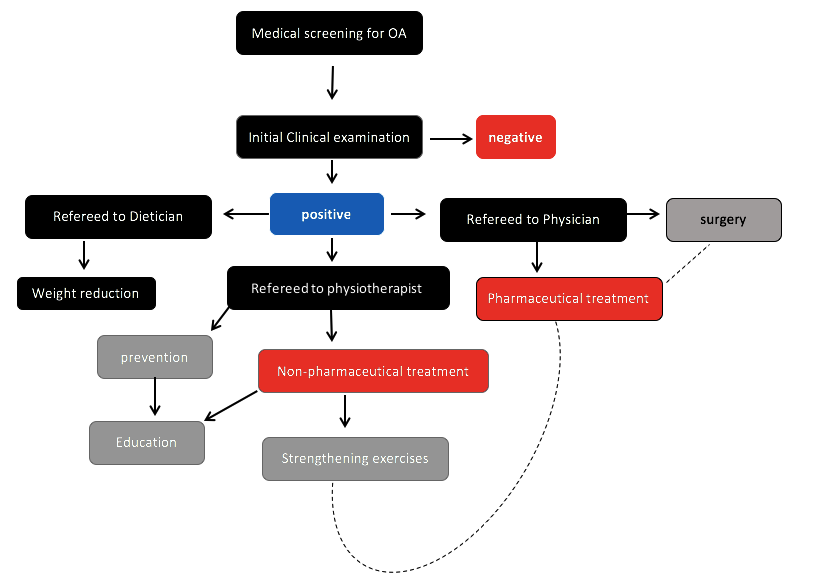 So, why does treatment fail?
Insufficient and unrealistic treatment plan: the 'arthritis model' is an overweight female in middle 50s, with previous knee pathology and VAS 5 to 6 seeking pain relief but unable to cope with exercise. These patients are most likely to fail since their treatment plan is limited to NSAIDs and injections, rather than being prescribed exercise
Late start of the treatment: many patients do not seek medical advice during the early stage of their disease, limited information on their condition and misjudgment lessens their change of a better outcome
Therapeutic protocols: a 'copy-paste' or standardized therapeutic approach is ineffective since the etiology of knee OA is multifactorial
Despite the strong quality of guidelines, there is weak adherence to the recommendations
Patient education is not widely practiced
More education is needed on the importance of screening patients with OA. In contrast to other chronic medical conditions such as diabetes or heart disease, patients with knee OA seek medical care when symptoms have persisted, or at a later stage when health care providers have limited therapeutic tools to provide sufficient relief and functionality.
Tips for successful outcomes
Early diagnosis is essential
Prevention, prevention, prevention: OA is a chronic condition and should be treated in early stages. A simple but effective combination of an exercise plan that includes aerobic and resistance exercises customised to the needs of the individual is the key. Regular visits to specialists every 6 months is essential.
The exercise plan should be based on the individual's medical condition (level of degeneration): sex, age, level of arthritis, BMI and previous knee injury history are important elements that also determine a successful exercise plan. The treatment plan should be based on balanced intensity (not an excess of workload) and with enough time for recovery in between the sessions.
A patient's feedback is essential: some exercises may not be suitable for some patients.
Maintain a healthy body weight: the patient should understand why maintaining a low body weight is beneficial for the knee joint. The effect of excess body weight on knee OA must be explained.
Controlling pain threshold and knee functionality: record keeping is essential in order to control the level of knee functionality. This is incredibly helpful when patients are under psychological stress, experience a pain attack or feel hopeless.
From a physiotherapist's perspective, a physiotherapist should have:

A solid background on the pathology of arthritis
Excellent MSK examination skills
Knowledge of evidence-based treatments
Knowledge of exercise prescription for special populations
Strong communication skills
***
Afxentios Kekelekis, PT, MSc is SEM, @afxentios. Associated Lecturer at TEI of Crete, Sport Physiotherapist, researcher in risk factors for muscle injuries in football,  interested in knee osteoarthritis and exercise physiology.
Competing interests
None declared
References
Briani RV, Ferreira AS, Pazzinatto MF. What interventions can improve quality of life or psychosocial factors of individuals with knee osteoarthritis? A systematic review with meta-analysis of primary outcomes from randomised controlled trials.Br J Sport Med

2018;0: 1-10. Doi: 10.1136/bjsports-2017-098099

Siemieniuk RC, Harris IA, Agoritsas T et al. Arthroscopic surgery for degenerative knee arthritis and mental tears: a clinical practice guideline.

Br J Sports Med

2018;52: 313.
McAlindon TE, Bannuru RR, Sullivan MC et al. OARSI guidelines for the non-surgical management of knee osteoarthritis. Osteoarthritis and Cartilage2014;(22) 363-388
(Visited 5,013 times, 1 visits today)