Swiss Junior Doctors and Undergraduate Perspective on Sport and Exercise Medicine Blog Series
By Anne Cornevin @anne_cornevin
When I first heard about the Isokinetic Football Medicine Outcomes conference I was surprised by the size of the event. The 2017 conference hosted 2500 attendees from 90 countries with more than 197 leading experts – all at the Camp Nou Stadium in Barcelona. Imagine! A stadium with a capacity of 100,000 people adapted for a 3-day conference with keynotes, workshops, poster presentations and even a best case report contest. Doctors, physiotherapists and other professionals flew in from all over the world for this event. Now, imagine being a young, curious student in the middle of all that. Quite overwhelming isn't it? But also very exciting and rewarding. Not only have I had the pleasure to attend an event of such stature, but I also had the opportunity to interview Mr. Mike Davison, Managing Director of the Isokinetic Centre in London, who gave me a 360° insider's view of the conference. I'm excited to share the interview with you here on the BJSM Blog!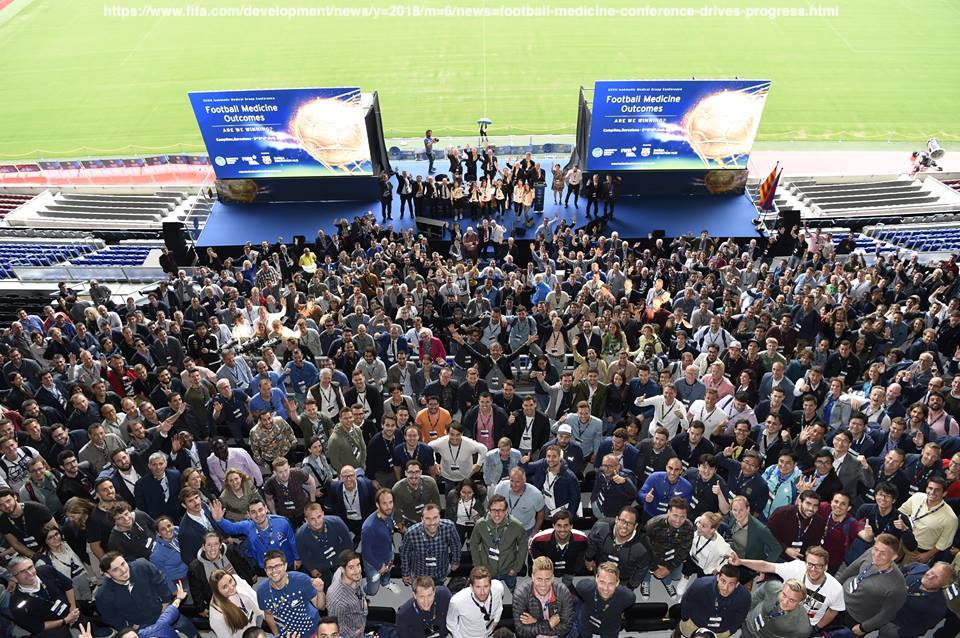 Could you give us a retrospective of the Isokinetic conferences?
Isokinetic is a medical group of eight sports medicine and rehab centres, seven in Italy and one in London, which I am honored to manage. The first conference took place in 1992 in Lake Garda and hosted only 27 delegates! During the first years, the conference was hosted all around Italy and grew nationally. The focus was on education and innovation implementation. In the 2000s the conference hosted a growing number of international speakers. About 200 delegates from around the word participated, however, lectures were still given in Italian with simultaneous translations in English, Spanish and French. In 2013, it was decided to organize the conference in English and in London with an ever growing number of delegates from around the world. Last year, we held the conference for the first time in Barcelona.
What do you think about students attending this conference?
Students can get three things out of such conferences. First, they expose themselves to a higher level of education. They may not understand everything, but it gives them a basic understanding and allows them to identify leading scientists as potential role models. Secondly, they can expand their network by meeting people from around the world in similar age groups and with similar ambitions. Lastly, attending such an event enables students to differentiate themselves, which is very important nowadays, as employers are looking for people that show curiosity to expand their knowledge through these organised sports medicine educational events.
In my opinion, the students are the blood and the atmosphere of the conference.
Tell me more about this year's theme "Are We Winning?".
Self-awareness is essential for human beings. It is important to be able to look into the mirror and have a true reflection of yourself and not just a perceived one. Facts are facts, and facts are friendly. So, last year we talked about the future of football medicine, free from any constraints (1). This year, we wanted to ask ourselves if we are proud of the work done in the past few years, and answer the question: is there anything of the past years we can learn from? It is a kind of reflective and retrospective exercise.
What will be next year's theme?
The 2019 theme will be "Football medicine meets the universe of sports". The word universe is interesting because it is about space, exploration, but it also makes us think about taking it to another level. The world of football medicine now needs to say "Let's benchmark ourselves against the rest of the world and let's work out what we actually are and see if we can spread positive messages between each other."
What I personally will remember from this event is the importance of communication. To keep things evolving, there has to be a communication circle between athletes, coaches and health professionals. But what is communication without a sense of criticism? The goal of sharing knowledge is also to improve what we already have, to make it better. Thus, it is undeniable that we need advance the professionals's point of view, but also consider young learners who also provide a fresh look on what is done and what needs to be done to improve sports and exercise medicine. Therefore, I encourage other students to start as early as possible, to be curious, to meet professionals, to attend such events and to form opinions through engaging in discussions with professionals in the sports medicine field.
***
Anne Cornevin (@anne_cornevin) is a 4th year medical student at the University of Geneva (Switzerland) and also a member of Students and Junior Doctors SSGSM/SSMS. As a sport lover and previous artistic gymnast, she aspires to contribute to the promotion of Sports & Exercise Medicine as a medical speciality. Email: cornevin.anne@gmail.com
If you would like to contribute to the "Swiss Junior Doctors and Undergraduate Perspective on Sport and Exercice Medicine" Blog Series please email justin.carrard@gmail.com for further information.
References:
Garnett C. BJSM Blog2017. Available from: https://blogs.bmj.com/bjsm/2017/06/07/highlights-2017-future-football-medicine-conference/.
(Visited 621 times, 1 visits today)