Sport and Exercise Medicine: The UK trainee perspective – A BJSM blog series
By Philippa Turner and Chris Speers
The 2017 Summer Universiade aka World University Games, organized by The International University Sports Federation (FISU), was recently held in Chinese Taipei from the 19th – 30th August.
This biennial event is widely recognised as the second largest multisport Games in the world after the Olympics. It is World Class in scale and standard, with over 10,000 participants from 160+ countries.
We worked as trainee doctors at this event with high level athletes and coaches. It was a rare opportunity to gain a wide range of "hands-on" practice, at a international, multi-sport event, under the supervision of appropriately qualified SEM professionals. Below we share highlights from our experience.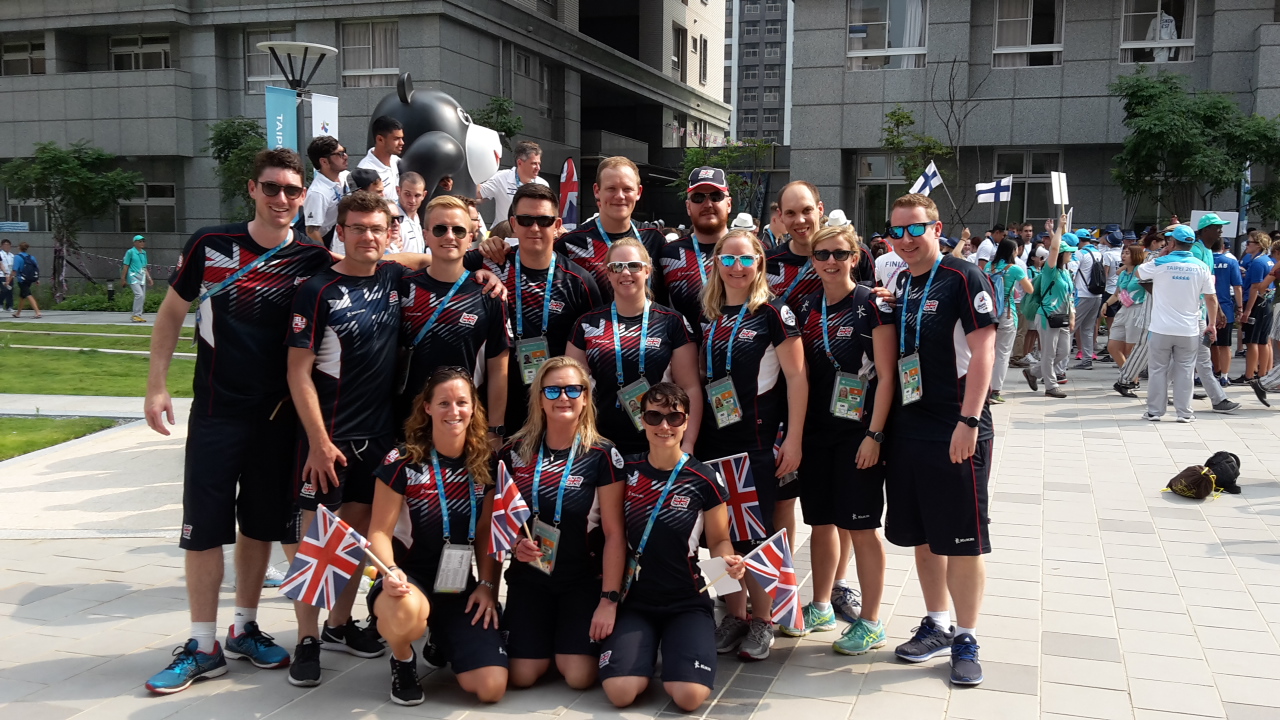 Structure of medical services
Similar to the set-up at an Olympics, the organising committee provide a 24 hour Polyclinic within the Athletes' Village with Accident & Emergency facilities, pharmacy, laboratories, Outpatient clinics (including General Medicine, General Surgery, Gyaenecology, Orthopaedics, Rehabilitation, Ophthalmology, ENT and Dental) and imaging (Ultrasound and Xray). There was also an overnight acute medical unit for patient observation. For this edition of the Games, Western Medicine and Chinese Medicine was practiced (personal preference based, of course)!
There were medical services at all venues for immediate care and local hospitals were available for use if required. Each venue had a fully equipped athlete medical station, staffed by a local doctor, two nurses and two emergency medical technicians.
The GBR medical team
The GBR Medical team was made up of four doctors, led by a SEM Consultant, and ten physiotherapists from a wide sporting background, including a mix of new team members and those with previous World University, Commonwealth or Olympic Games experience.
To aid continuity of care, each sport had a nominated physiotherapist and doctor who they could go to for any illness or injury inquiries, although 24 hour on-call was available. Team GBR set up their own Medical and Physiotherapy Clinic, housed within the GBR HQ building in the residential area of the Athletes Village. This included a 5-bed open-plan treatment area, confidential consultation room, rehab & ice-bath space and staff office. The environment within HQ at the World University Games is perfect for learning from experienced practitioners. It also provides opportunities to work with a range of individual and team sports, some of which are difficult to gain experience in back in the UK.
During the initial phases of the medical HQ set up and lead up to the competition we saw first hand the logistics behind setting up such an environment. Important issues addressed included: venue and hospital visits, athlete 1:1's, drug and equipment inventory and allocation of medical support for each competition through a risk assessment process.
We also saw a wide spectrum of sports medicine presentations during the Games, ranging from gastroenteritis, fractures, dislocations, cardiac screening issues and heat-related illness. Further, we were involved in a case requiring an emergency retroactive TUE application, as well as Anti-Doping processes. These experiences facilitated our practice and development of a wide range of skills during the Games. Excellent communication and team working skills were particularly critical. It was also vital to be adaptable and resourceful, and develop strong management, leadership and conflict resolution skills.   
A major highlight was working closely with a great group of hugely experienced health professionals and HQ staff as part of a 'Team within a Team.' We put Sports Medicine theory into practice within a unique and positive learning environment.
We highly recommend that other SEM trainees to apply for this, or similar opportunities in the future.
More about the athletes of team GB
Fifty-six members of Team GB at London 2012 competed for Great Britain at a World University Games, including medalists Beth Tweddle, Gemma Gibbons, Michael Jamieson and Lutalo Muhammed, followed up by 38 members at Rio 2016 including Danny Willet and Jessica Ennis-Hill.
The Summer Universiade consists of 13 compulsory disciplines and up to 3 optional sports chosen by the host country. Team GBR took 111 athletes and a total delegation of 163 to Taipei, with representation across Men's & Women's Waterpolo, Women's Football, Tennis, Table Tennis, Archery, Rhythmic Gymnastics, Athletics, Swimming, Taekwondo, Weightlifting and Golf.
******************
Philippa Turner is an ST6 in Sport & Exercise Medicine in the East Midlands Deanery. She has been the SAC Trainee Representative for the last year. Philippa currently works with the England Disability Cricket Squads and England Women's Cricket Senior Academy. Previously Philippa has worked at numerous BUCS event.
Chris Speers is an ST6 in Sport & Exercise Medicine in the West Midlands Deanery. He currently works with Aston Villa Men's Academy and has previously worked at Bristol Rugby Club as well as numerous BUCS events.
Farrah Jawad is an ST6 in Sport and Exercise Medicine in the London Deanery and coordinates the BJSM Trainee Perspective blog.
(Visited 556 times, 1 visits today)