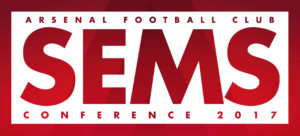 Early Bird Booking Deadline – 31 January 2017 
Senior SEMS practitioner or student – a day not to be missed!!
Building on the great success of previous Arsenal FC SEMS conferences, Dr Gary O'Driscoll, Arsenal FC Medical Director, and Mr Colin Lewin, Head of Medical Services, are delighted to confirm the 2017 high level, interdisciplinary, FSEM accredited Conference will take place at Emirates Stadium. Again this year, the speakers have international reputations that will ensure high quality, current, and interactive presentations.
Comments from 2016 conference attendees: "An excellent meeting, many new ideas and methods to implement."; "A very enjoyable meeting and lots of information gained looking forward to the next meeting."; "The usual high quality, well organised, interesting meeting – thank you!"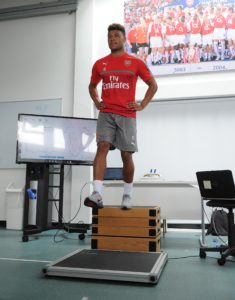 Open to all medical and scientific healthcare professionals working across sports, presentations are aimed at SEM Faculty Fellows, senior doctors, physiotherapists and professional healthcare staff working with elite sportspersons. The conference presentations will focus on various aspects of screening in elite sport with presentations on cardiac, concussion, hip, groin and knee screening.
The full schedule and on-line registration are available at: www.arsenal.com/semsconference
To access the conference app please search "Arsenal FC SEMS Conference." This will help you find out about extra content, who is attending and details of our exhibitors. Any queries, please contact scurthoys@arsenal.co.uk
Confirmed speakers:
Professor Roald Bahr, Norwegian School of Sports Sciences, Chair, Oslo Sports Trauma Research Center, Norway
Dr Michael Collins, Director of the UPMC Sports Medicine Concussion programme at University of Pittsburgh, USA
Professor Fares Haddad, Consultant Orthopaedic Surgeon, UCH The Princess Grace and The Wellington Hospital, UK
Mr Adam Meakins, Specialist Sports physiotherapist and Strength and conditioning coach, UK
Andrea Mosler, Senior Sports Physiotherapist at Aspetar Orthopaedic and Sports Medicine, Qatar
Dr Gary O'Driscoll, Medical Director at Arsenal Football Club, UK
Mr Des Ryan, Head of Sports Medicine and Youth Athletic Development at Arsenal Football Club, UK
Professor Sanjay Sharma, Professor of clinical Cardiology at St Georges University of London, UK
A limited number of early bird SEMS PG Student discounts (£90) and full BASEM member discounts (£135) remain. The early bird delegate fee of £150 ends on 31 January 2017, followed by the standard fee of £175. This fee includes attendance at all sessions, FSEM accreditation, attendance certificate, refreshments, hot lunch, a guided tour of Emirates Stadium (subject to availability), a post event flash drive (with Speaker PowerPoint presentations sessions uploaded) and a link to video taken of all presentations and discussion.
All at Arsenal FC Medical Department look forward to seeing you at Emirates Stadium in March.
(Visited 441 times, 1 visits today)