By Fiona Wilson
Crossingtheline (crossingthelinesport.com) is an exciting new initiative launched by a group of ex international athletes, led by Gearoid Towey (four time Olympian and World Champion rower). Its purpose is to provide a platform and resource to support athletes in retirement. Boxing legend Sugar Ray Leonard famously quoted, "Nothing could satisfy me outside the ring… there is nothing in life that can compare to becoming a world champion, having your hand raised in that moment of glory, with thousands, millions of people cheering you on." Mental health issues in athletes have raised their head in the media recently as more athletes are being frank in describing their problems. However, perhaps a greater matter is mental and physical health concerns in those who are retired; or indeed those forced to retire precisely because of such problems.
Inaugural Crossingtheline Summit
I had the pleasure of leading the medical panel at the inaugural summit of Crossingtheline in May 2016; held in Dublin. The meeting was very athlete-focused with an emphasis on providing a forum for discussion around athlete retirement. Delegates were an unusual and interesting mix of athletes, physios, team managers, coaches, doctors, psychologists and any others who were involved in sport. The greatest asset of the summit was the choice of speakers from a diverse group of sports; some with catastrophic tales to report regarding their sporting experience and their subsequent retirement.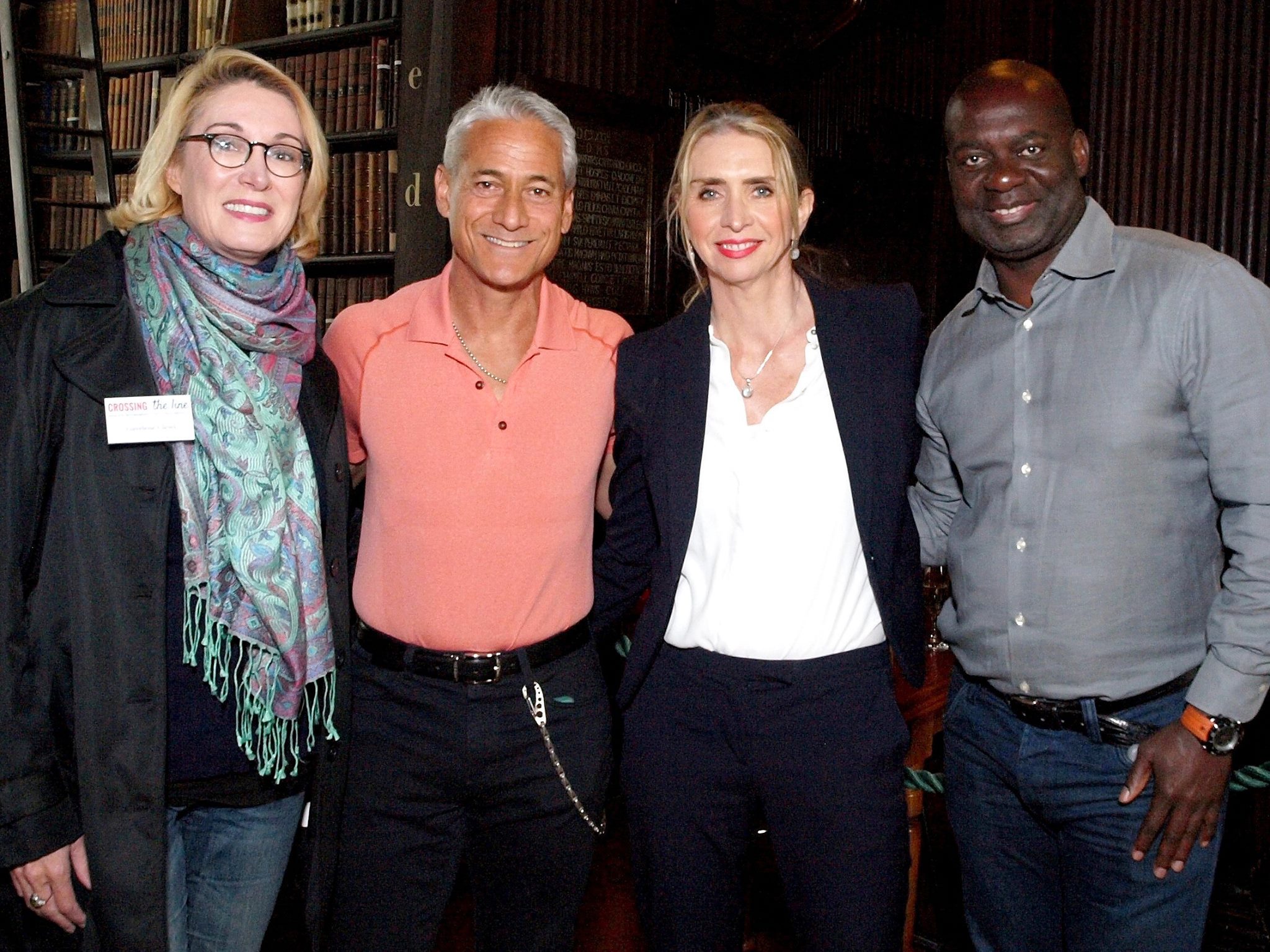 Greg Louganis (diver and four time Olympian and 5x medallist) described his inner torment of coping with (poorly managed) mental illness, dealing with being a gay athlete in an environment hostile to diversity but most significantly his story around living with HIV. Many of us will remember him hitting his head on the diving board in front of billions of TV viewers at the 1988 Olympics; he went on to win a gold medal. What we were unaware of was that he had a 'secret' HIV diagnosis and as he bled into the pool he knew the significance of his troubling secret; he would not have been admitted into South Korea for the Games if he had made his diagnosis evident. His subsequent years have been troubled by mental and financial troubles. He now has made progress in all areas, is an amazing example of living well with HIV, is married to a supportive partner and is an advocate for providing support for athletes, particularly as they transition into retirement.
As many of us who watched the 100m final of the Seoul Olympics, and its subsequent fallout as the winner Ben Johnson tested positive for doping, I had a clear opinion that dopers get what they deserve. It was actually a humbling experience to meet Ben Johnson and listen to his story. As clinicians we learn not to judge patients; smokers, obese, addicts etc. Yet we have a very different opinion of athletes. Those who have been immersed in doping cultures tell us that we need to try and understand athletes' motivation if we really want to deal with what has become a seemingly unsolvable problem. Ben Johnson reported that he found himself in a culture where doping was normal, where he had tested positive previously and had his results 'covered up' by his sponsors and where he was convinced this was normal and a level playing field for all. He was blackmailed by his coach and significantly for him, tested positive for a substance at Seoul that he says he wasn't taking. He doesn't deny doping, but just not that substance. A very powerful part of the summit was a one-on-one interview of Ben Johnson by a journalist who has been a zealot in his rally against doping in cycling; Paul Kimmage. The general discussion before was that "Kimmage will give him a really tough time". He didn't. He let him tell his story as he argued that we need to accept that doping in sport is an epidemic, which will be better explained by understanding motivation. Kimmage presented the analogy that "Ben, what you are describing is that you have been stopped by the cops for speeding and as he is writing out your ticket, you watch other cars speeding by"
Niall Quinn, ex-Irish football international, Arsenal and Manchester City player and subsequent successful chairman of Sunderland also made a strong contribution to the summit. He frankly described his battle with depression upon retirement describing it as a 'death within your life'. He reported the sobering statistic that almost half of Premier League footballers visit bankruptcy and 33% are divorced within three years of retirement. Yet there is limited support for these individuals. He has launched an initiative call 'Catch a Falling Star', now linking with Crossingtheline to support athletes with financial, medical and psychological advice.
Battle Wounds
My input was to host a panel discussing 'battle wounds'. A particular interest of mine is that athletes are a vulnerable group of patients, sometimes because of their celebrity status but often because they have become a commodity that can be replaced when it's broken. Brendan de Gallai (ex-lead dancer with Riverdance) discussed the fear of injury as a dancer. "You would be replaced by the understudy who might do a better job than you for one night as they are fresh and then you are in jeopardy". John Carter, ex-professional rugby player (and now a psychotherapist with an interest in the athlete experience) described his history of six shoulder surgeries (same shoulder) which ultimately failed, leading to retirement. He reported a lack of empathy and inclusion in treatment decision-making and the feeling of being a product. This is no reflection on the clinicians managing him but perhaps the way sport has become. We don't treat athletes how we treat other patients; we rush to operate sometimes and we have quite a patriarchal approach. Hands up, I have done this myself.
When we give a patient bad news, we have been provided with training. Palliative care and certain areas of medicine are excellent at this. Yet when we tell an athlete that they must retire because of injury, we have a limited body of knowledge to guide us. The athlete is about to have the very thing that defines them as a person removed and will experience a 'kind of death' yet we are somewhat flippant about its effects. This is becoming more common in the professional era and in some cases is based on what 'might' happen as in the case of TBI or ECG screening where the decision is not palpable to the athlete. Gaylene Clews (psychologist and ex-world number one triathlete) discussed the neuroscience behind the athletes' response to both injury and retirement being akin to withdrawal from addiction and that this is very poorly understood. Indeed, we do have a problem with addiction in this population, not just to alcohol, gambling and other well-reported aspects but tragically to prescription pain medication in an effort to deal with chronic injury. Addiction to such medication has been described as reaching concerning levels with a number cases in the USA in retired footballers recently captured in the media (see crossingtheline.com for media report).
Support for all athletes
I will continue to advocate for support not just for the superstar athlete as a vulnerable person but even more so for when they fall off the radar and are now immersed back into everyday life. Sports medicine support should be available beyond retirement providing the quality of support we afforded these humans when they were everyone's heroes. A number of sporting bodies are now recognising this issue and athletes should be encouraged to seek support, particularly from retired players unions. The next summit is planned in April 2017, Dublin.
Crossing the line can be found at crossingthelinesport.com
***************************
Fiona Wilson is an Assistant Professor in the School of Medicine, Trinity College Dublin and a Chartered Physiotherapist. Former lead physiotherapist to Rowing Ireland. Presently a clinician and researching measurement in sports medicine, low back pain and exercise in chronic disease.
(Visited 839 times, 1 visits today)