Sport and Exercise Medicine: The UK trainee perspective

 

– A BJSM blog series
By Farrah Jawad
I had the unique opportunity to take part as Team Doctor, alongside Dr Mike Loosemore, Consultant in Sport and Exercise Medicine, at the The Vth Commonwealth Youth Games took place from 5th – 11th September, 2015 in Apia, Samoa.  Samoa is a small country in the Pacific Islands with a population of around 187,000 – a little more than the population of Brighton.  The Games took place over two sporting complexes, the Tuanaimato and Apia Park Sports Complexes, which hosted aquatics, archery, athletics, boxing, lawn bowls, rugby sevens, squash, tennis and weightlifting. Team England arrived with a total of 60 athletes plus coaching and support staff.
Preparation
As preparation, we had to consider both the medical and environmental risks we might encounter.  Samoa currently has an outbreak of Dengue fever, a mosquito-borne illness which can result in a range of symptoms from a flu-like illness to a severe haemorrhagic state.  As there is currently no vaccine available, the best way to prevent being bitten by the affected mosquito is to use insect repellent with DEET and wear long sleeves and trousers (the latter a challenge in the Samoan heat).  Chikungunya is a similar mosquito-borne illness that can result in flu-like symptoms and chronic joint pains.  Prevention is similar, by covering up where possible and using insect repellent with DEET.  We advised athletes and staff to each bring around 3 bottles of DEET with them.  We kept some spare bottles of DEET and sunscreen by the front door of the Team England accommodation to allow athletes to use these on their way out each day.
Another challenge was the heat. We advised Team Leaders and athletes to use sunscreen and seek shade where possible, and to keep well hydrated.
We took medical equipment with us to cover a variety of potential scenarios and took some medications from the UK as well as sourcing some from a local Samoan pharmacy. We advised Team Members to bring their own personal supply of any of their own usual medications, plus paracetamol, loperamide, antihistamines and a few others, in addition to their insect repellent with DEET and sunscreen.
On the ground in Samoa
The HQ staff and medical team arrived days before the Games commenced to prepare for the athletes' arrival a few days later.  During that time, I went to all the venues to establish what medical facilities and personnel were available.  The Samoan doctors and nurses were friendly and accommodating and happy to show me the medical setup.  I also traveled to the local hospital to meet some A&E staff to see the facilities and what resources were available.
In an effort to give back to the local community that was so welcoming, Louise Bell, our Chef de Mission, organised a trip for the team to two local schools, Loto Taumafai and Aoga Fiamalamalama (schools for children and young people with special educational needs) to play games and demonstrate different sports. Team England donated some sport equipment, team kit and puzzles to the schools.
Overall it was a great experience for me to learn more about how a large multi-sport Games is run, consider the medical situations that may arise, and respond to them in the most effective manner possible.
The Vth Commonwealth Youth Games allowed our young athletes to go to the other side of the world and experience a multisport competition and culture in a country quite different to that of their home.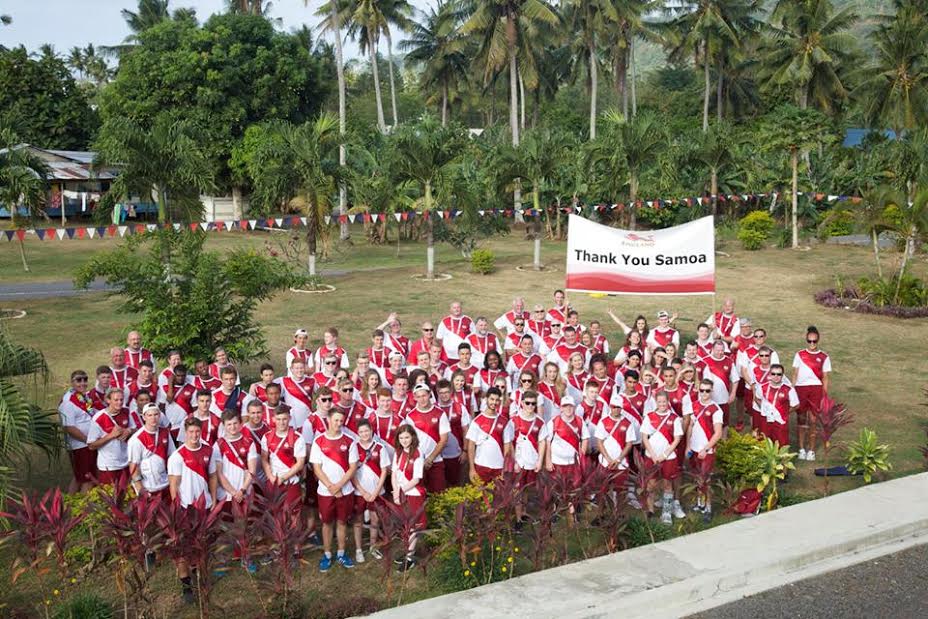 Team England won a total of 12 gold, 16 silver and 16 bronze medals over the five days, finishing third place overall in the medals table – very well done, Team England!
**********************************************
Farrah Jawad is an ST5 doctor in Sport and Exercise Medicine in London.  She co-ordinates the BJSM Trainee Perspective blog.
(Visited 1,134 times, 1 visits today)