Wimbledon is well underway, cricket season is in full flow, football season is commencing and 20 national rugby squads are preparing to compete in the 2015 Rugby World Cup – needless to say it is another exciting summer of sport.
With the home Rugby World Cup tournament fewer than three months away, the 50-man England squad are in boot camp at Pennyhill Park, then on to high altitude training in the Rocky Mountains, with the aim of being the fittest team in the tournament by the time the action kicks off in September.
The squad will be pushing themselves to their limits, while their medical teams will be working hard to minimise injuries. Perfect timing then for the Fortius International Sports Injury Conference (FISIC) which coincides with a brief interlude in play before the Quarter Finals, and gives team medical personnel a unique opportunity to participate in a world-class, multidisciplinary congress.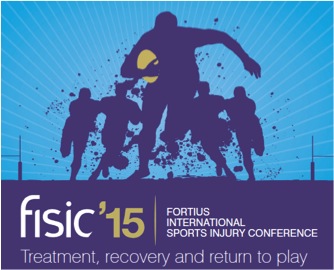 The full two-day conference, which takes place on October 13th-14th in central London, offers a unique multi-disciplinary approach, and a strong international faculty including many leading experts in Sports Orthopaedics, Elite Sports and Sports Exercise Medicine.
The theme of FISIC '15 is Treatment, Recovery and Return to Play, and the programme covers a wide range of key issues and hot topics in sports injury treatment and recovery, as well as specialist sessions from the World Rugby faculty and joint specific presentations.
All sessions will have a multidisciplinary element but are named plenary, surgical, MDT or GP according to their primary target audience. Speakers will emphasise themes of "from science to clinical practice", "optimising recovery" and "clinical excellence".
The surgical sessions will involve a series of short lectures with approximately half the session time allowed for debate and discussion. Although some of the MDT sessions will follow this format, others may involve lengthier talks but will still allow ample time for debate.
Some of the programme highlights for Sports Exercise Medicine professionals
The Future of Cell Therapies – Fact or Fiction: covering the current status of stem cell therapies in cartilage repair, bone marrow aspirate and cell therapies, and the PRP debate
Bone Health: covering the biology of bone repair; Bone health in the female athlete; Vitamin D deficiency, supplements & use as a hormone to enhance injury recovery; medical treatments to aid bone repair, and the use of exogen.
Dr Bob Cantu, Dr Caroline Finch, Dr Jon Patricios and Dr Willie Stewart from the World Rugby advisory board discuss the science of concussion, how to recognise and remove it, including management of the difficult case and what we know of the potential long-term consequences.
The science of muscle injuries & repair going on to Acute injuries: Best medical management for successful RTP; imaging acute lower limb muscle injuries: Predicting return to play; best management & optimising RTP following contusion injuries & myositis ossificans; chronic recurrent tears and return to function; surgical indications for hamstring injury.
World Rugby leads a session on player anthropometrics, the demands and current trends in injury in Professional 15 a side Rugby, Community & age-group rugby; skills needed to work pitch-side in rugby union and how practitioners can reduce the risk of injury to a team.
A session on return to play covering: the psychology and nutritional aspects of return to play; RTP post max-fax injuries; the environment needed to facilitate smooth RTP; objective criteria for safe return to play.
A session on disability sport will cover sports science and coaching in sports medicine; performance physiotherapy for disability sport; the athlete/ paralympian perspective; complexity of sports psych in disability sport; Athlete classification and ethical issues in disability sport
The Adolescent Athlete: will cover spinal pain in adolescent sports, strength and conditioning training; apophysitis and soft tissue injuries; CL tears and reconstruction in children & adolescents; Osteochondritis Dissecans and imaging the Adolescent Athlete.
There will also be a wide range of joint specific sessions including: Knee sessions on the Meniscus, Cruciates, Patellofemoral Syndromes In Sport; Foot & ankle sessions on Mid Portion Tendinopathies, Insertional Tendinopathies, The difficult mid- season foot injuries, Ankle & Midfoot Injuries, Ankle Instabilities; Shoulder and elbow sessions on Gleno humeral instability, Spectrum of Shoulder Injuries, Elbow Instability, dislocations, MCL, biceps and triceps injuries and tendonitis; as well as specialist Spine, Hip and Groin and Wrist and Hand sessions
CPD points have been applied for and it's expected that there will be 6 points for each day of the conference.
You can find out more on the conference website, www.fisic.co.uk.
(Visited 293 times, 1 visits today)