Association of Chartered Physiotherapists in Sport and Exercise Medicine blog series @PhysiosinSport
By Kate Markland, Clinic Director, The Markland Clinic @MarklandClinic
The anterior cruciate ligament (ACL) is one of the most commonly disrupted knee ligaments with a high incidence amongst young athletes and the physically active. To address this, we recently examined whether the "Prevention Injury and Enhance Performance" (PEP) 15- minute exercise program can reduce ACL injury risk factors and increase jump height.
Background
Female athletes have an almost staggering 7-fold increased risk of an ACL injury compared to males. ACL tear is often associated with injuries to the articular cartilage, the menisci and other ligaments: this will accelerate the onset of arthritis. Although the injury is treated with surgery and long-term rehab, the high costs associated with the management of ACL injury, both personally for the athlete and from a financial standpoint, means that prevention is a crucial priority.
Participants
The study consisted of 33 participants which included:
A men's basketball team consisting of 9 players all aged 16-18,
A women's netball team consisting of 10 players age 16-18 and;
A women's netball team with 14 players ages 14-18.
Baseline assessment
We used the landing error scoring system (LESS) which evaluates 17 jump-landing characteristics that may predispose an individual to lower extremity injuries. A high LESS score was associated with a higher risk of sustaining non-contact ACL injury.
We made an initial drop jump landing video assessment: athletes jumped off a 30cm step and then asked to immediately jump again. To monitor the jumps, two video cameras recorded the landing form the front and from the side. We also assessed the basketball players' jump height; each athlete jumped as high as possible three times on each leg, and we recorded the highest jump on each leg.
Intervention
Within one week, we explained the purpose of the programme to the players, emphasizing the importance of movement and form quality. We also showed a video of an ideal drop jump landing. With assistance from the physiotherapists, players scored their own drop jump landing using the LESS scoring system.
After receiving instruction by a Physiotherapist on the PEP programme, the basketball players performed the programme 5 times per week, and the netball players performed the session 1-2 times per week.
Follow-up Assessment
Assessments and data collection were repeated at a 6-8 week follow up. Our preliminary analysis showed positive results. In line with our theory, there were no recorded ACL injuries. Two players sustained injuries that were not associated with the knee and were not related to using this programme. However at the 8 week follow up, the remaining 31 athletes significantly improved in their LESS score. The basketball team's LESS score average improved from 8.89 (poor), to 3 (excellent). The netball team's LESS score average improved from 7.8 (poor) to 4.6 (good). Lastly in the final netball team there was an improvement from a poor 10.5 to a good 4.75. The results are positive, proving that a modified 15-minute warm up programme can improve the LESS score in young athletes. In addition, we found that there was an overall increase in the average, percentage hop height in the basketball players of 5.8% in the left leg and 10.5% in the right leg.
Conclusion
Despite sample size and study length limitations, our study suggests that following a 15-minute warm up programme may lead to a reduced risk of sustaining ACL injury. This in turn, may reduce and/or prevent the emotional and financial burden of treating such career threatening injury.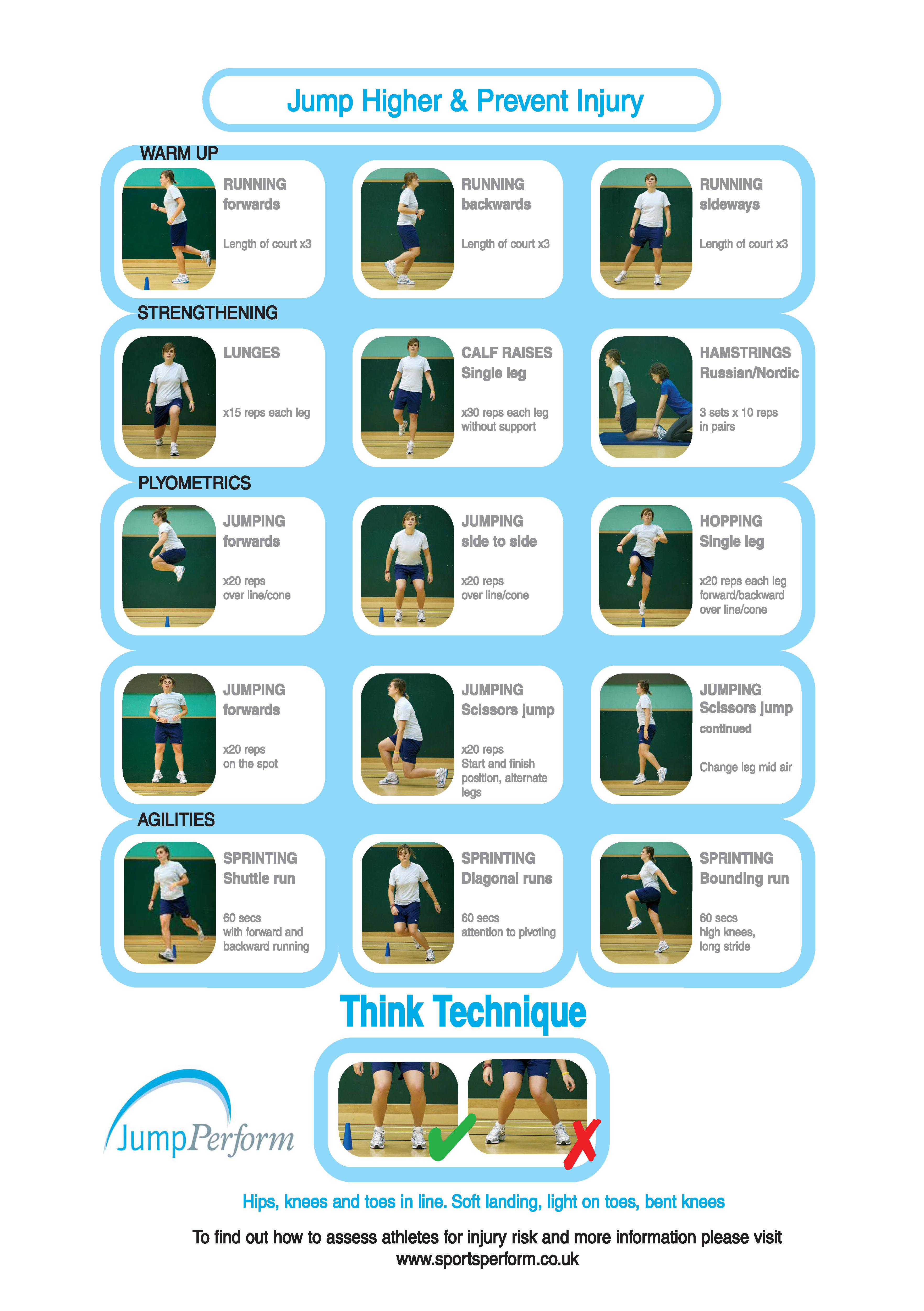 (Visited 4,742 times, 1 visits today)