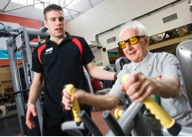 Many diseases and long term health conditions respond clinically to exercise medicine. Just like medicines, such as statins, different exercises and physical activities have the ability to transform patient's lives, control their symptoms and prevent and treat disease successfully. The evidence for the clinical practice of 'exercise as a medicine' is supported by the UK Chief Medical Officers, the World Health Organization and many international medical organisations. However, it is ultimately prescribed and supported by the health care team that provides direct patient care.
For this reason, within medicine and health care settings we must encourage the perspective that exercise advice and support are critical aspects of 'world class, personalised patient care'. Many patients may benefit from exercise advice as part of the management and treatment protocols for their diseases and lifestyles. This includes non-communicable diseases and acute problems, such as surgery.
The list of medical evidence supporting specific exercises and fun physical activities for improving quality of life and physical and mental health on personal, national and international levels includes: type 2 diabetes, cancer, heart disease, stroke, osteoporosis, Parkinson's disease, hypertension, obesity, rheumatoid arthritis, chronic obstructive pulmonary disease (COPD), back pain, anxiety, depression, asthma, peripheral arterial disease, pre and post operative surgery…..
Many health professionals practice medicine because they love patient care and using their skills and knowledge to help patients improve their health. Providing quality exercise advice has a similarly clinically satisfying outcome. Patients can improve their mobility, experience life changing better health and more importantly see their symptoms improve and their risks of serious health problems diminish. This may be demonstrated through improved blood pressure control, better lipid profiles or just simply improved strength and balance that helps reduce falls risk.
A great, inspiring video (see link here) shows how careful motivational support, together with the right exercise advice, at the right time, can transform patient health.
After all, when that patient says:
"Hey Doc, that exercise advice you suggested……."
"It worked! I can now take my grandchildren to the park, and share in the joy of them growing up…"
"Well, that's just fantastic!" replied the doctor. "Your blood pressure readings are down, I see you've lost weight, and management of your blood pressure is looking good."
Because patients are worth that 'brief intervention!"
********************************************************************
Ann Gates BPharm(Hons) MRPharmS
Founder of Exercise Works!
Video kindly provided with permissions via FitBehavior : promoting health through inspiring patient stories! @FitBehavior
(Visited 124 times, 1 visits today)