Sport and Exercise Medicine: The UK trainee perspective

 

(A BJSM blog series)
By  Dr. Natasha Beach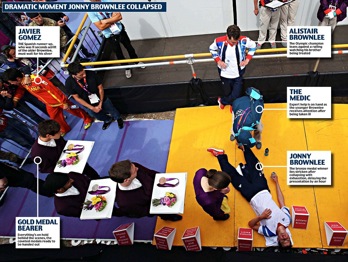 The fast-growing sport of triathlon (1) comes in a variety of forms. The most commonly used short distance, known as the super sprint has a 400m swim, 10km cycle and 2.5km run.  Sprint distance (the next level up), refers to a 750m swim, 20km cycle and 5km run.  The Olympic distance event is a 1500km swim, 40km cycle and a 10km run (2). The Olympic distance triathlon used to be the pinnacle of an amateur triathlete's career but there is now an increasing trend to surpass this by competing in the more gruelling half or full iron-man events.
Due to the variety of components and extremes of distances possible, sports medicine teams have to be experienced in dealing with a range of conditions, with a varied and appropriate skill set within the team.
The swim is the highest risk component; cardiac arrests occur.  The underlying causes include hyperthermia and previously undetected cardiac abnormalities. It is essential to have ALS trained staff present and prudent to have an on-site anaesthetist. Other common presentations include hypothermia, particularly in longer distance events with cooler water temperatures, ill-fitting wetsuits with consequent water accumulation and excess drag, or difficulty in breathing due to wetsuit compression. Recently we have noted a rise in eye pain and reduced visual acuity secondary to the use of goggle spray or homemade alternatives.  Frequently, participants are extracted from the water secondary to anxiety.  This is most commonly observed in those new to open water swimming.
The bike section can lead to traumatic injuries presenting for medical attention, particularly in wet or windy conditions.  The medical team should identify potential problem areas on the course beforehand, i.e. tight corners or rapid descents, so that prevention can be discussed and resources can be appropriately placed. Having an experienced orthopaedic surgeon in a car or motorbike provides the flexibility to navigate the course promptly, providing appropriate care on the route.  Biking injuries range widely from abrasions and dislocations to ruptured spleens and major head injuries.
Those who complete the swim and bike unscathed generally have little problem during the run. However, exertional hyperthermia can occur on warmer days and in longer distance events. The use of a wet bulb globe thermometer measuring the ambient temperature, humidity, radiant heat and airflow will give an indication of the likelihood of problematic hyperthermia (3).
Asthma, fatigue, dehydration and cardiac related collapse can occur during any of the disciplines; the medical team must be prepared for all eventualities.
Whilst the majority of triathletes complete an event unscathed, there is potential for serious harm.  A well-trained and appropriately skilled medical team can enable the vast majority of competitors to be treated on site with a high probability of returning to triathlon competition in the future.
References
1)     http://www.waylink-english.co.uk/?page=19260
2)     http://www.thelondontriathlon.co.uk/LTRaceDescription.html
3)     http://www.topendsports.com/medicine/wbgt.htm
***************************************************
Natasha Beach is a Sport and Exercise Medicine registrar in London.  She has an interest in mass participation endurance events and is medical director of a sports events team.
Dr James Thing co-ordinates "Sport and Exercise Medicine: The UK trainee perspective" monthly blog series.
(Visited 731 times, 1 visits today)