Guest Blog by Peter Brukner (@PeterBrukner)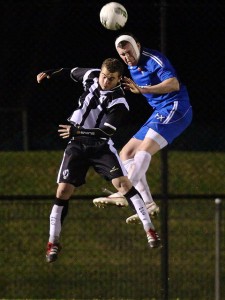 What will determine who will win the 2012-13 Premier league title?
Money, manager, quality of squad – all these factors are obviously important, but in the end when you look at the teams that have top quality squads – and I would probably include Man City, Man United, Chelsea, Arsenal and Tottenham in that list – then the biggest single factor will be the injury record of these clubs.
One only has to look back at last season to see how important injuries were in deciding the eventual winner. Here are the stats on the top eight teams in last year's Premier League (courtesy of the excellent website physioroom.com)
If we compare the two Manchester clubs, Manchester City had a fraction of the games missed compared to United. Remember United had a number of long term injuries to key players Nemanja Vidic, Darren Fletcher and Anderson.
There is no doubt that had there been parity, or anywhere near parity, between the two with injuries, then the title would have gone to United once again.
Are injuries just a matter of bad luck or can they be prevented?
There are a lot of factors that can influence injury rates. These include the number of games played, the type of training and the age of the players. If players have to regularly play twice a week (e.g. Premier League and Champions League matches), then they are more likely to be injured. Those clubs with greater depth in their squads who can afford to rotate players and reduce the game load should be in a better position to reduce injuries.
The last but by no means least factor is luck. The majority of injuries are probably not preventable and are the inevitable result of the physical demands placed upon players in the Premier League.
However there is a particular group of injuries that may be "preventable".
Clubs generally divide their injuries into muscle and tendon injures such as hamstring, groin, calf and achilles problems, and other direct contact injuries. Most clubs now pay particular attention to reducing the number of those muscle and tendon problems. There is considerable evidence now that a comprehensive injury prevention program can significantly reduce muscle and tendon injuries.
Getting managers and players to embrace the concept of injury prevention has been a challenge for club medical and fitness staff. Managers will always tell you how keen they are on injury prevention (a "no-brainer"), but actually getting them to allocate part of the precious time spent at the club to prevention is another matter. It amazes me that players earning £100,000 per week are not expected to commit additional time other than the 1-2 hours on the training ground to matters such as injury prevention.
When I arrived at Liverpool two years ago I was told by numerous people that we would never get the players to embrace a culture of injury prevention and spend the time on the necessary exercises to achieve that. However the opposite has been the case and once the players realised the benefit of what we were proposing, they fully embraced the change of culture. By the end of last season, most were in the gym doing their personalised injury prevention programs every day.
There is unfortunately a culture among Premier League clubs of not asking the players to do anything they don't want to do. The challenge for club fitness and medical staff is to convince players and management that a little time and effort spent on prevention will be more than worthwhile by the end of the season.
Should clubs be making their medical and fitness departments a higher priority?
It makes sense from a business point of view that when you have extremely valuable assets (the players), one should look after those assets as well as possible. It is an interesting point to note that Chelsea, Liverpool and Man City, three clubs which had significantly lower injury rates than the other top clubs last season, have all invested heavily in their medical and fitness staff in the past few seasons, allocating more resources and recruiting high quality personnel.
One thing for certain is that once again this season injuries will play a major role in determining the Premier League title and clubs will be paying more and more attention into ensuring that their players get the best medical, physiotherapy and fitness advice to reduce the number of games missed by key players through injury.
Related Articles
J W Orchard. (2009) On the value of team medical staff: can the "Moneyball" approach be applied to injuries in professional football? Br J Sports Med 2009;43:13 963-965  (viewed over 3000 times) 
Arnason A, et al. 2004. Physical fitness, injuries, and team performance in soccer. Med Sci Sports Exerc. Feb;36(2):278-85.
Eirale, C et al. Low injury rate strongly correlates with team success in Qatari professional football Br J Sports Med bjsports-2012-091040Published Online First: 17 August 2012  (not free – Online first for subscribers and BJSM member societies)
*****************************************************************
Dr Peter Brukner (@PeterBrukner) is an Associate Editor of BJSM and an Australian sports medicine physician, author and media commentator living in Liverpool, UK. Currently working with Sky Sports News and one of the sports physicians working with the Australian cricket team.
Reposted with permission from Peter Brukner's website http://www.peterbrukner.com/news/  – a site for provocative and insightful sport and exercise medicine columns. Follow @PeterBrukner on Twitter.

BJSM invites your comments on Twitter using the #EPL hashtag or @PeterBrukner to help us follow the conversation.
(Visited 282 times, 1 visits today)