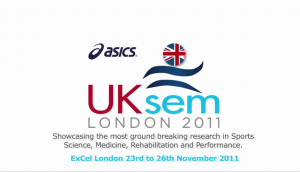 Looking for a world class conference bringing together sport and exercise medicine, conditioning and science with nutrition, rehabilitation and high performance coaching?. This conference will provide new knowledge for those working with elite sport and recreational athletes as well as those presenting to all clinicians for exercise prescription. See the UKsem home page including the concise video (and Andy Franklin-Miller's very modish shirt)…Will you be there?
The UKsem site is the best place to find the conference program. Names I am looking forward to hearing from include Roald Bahr (sports injury prevention-always great value), Dan Lieberman (the 'barefoot doctor'), Damien Comolli (the secret to Liverpool's success), Vern Gambetta (the art and science of coaching).Vern has over 4000 followers as @coachGambetta on Twitter so you know he's doing something right.
'Sleepers' for many will be Carl Askling on hamstring rehabilitation and Richard Frobell on conservative management of ACLs. The former has terrific programs for both prevention and treatment. He discovered the difference between 'type I' (sprinters/football players) and 'type II' (stretching/dancer's) hamstring strains and their very different prognoses. Great teaching videos for both rehab and determining return to play.
Dr Frobell headed up the New England Journal of Medicine RCT which randomized ACL patients to rehab or surgery. Not every conference presenter can open up with that claim…'Thanks for coming and if you doze off during my talk you can read all about in the NEJM….'. Good one. 10 years of hard work to become the overnight sensation. BJSM comments on that paper are here in a WarmUp and here in a podcast with Dr Frobell and his research team. Do your homework and then ask him the stumper at UKsem. Or buy him beer for the great effort!
I'll stop there as I want you to use your coffee break to go to the UKsem site, not to read this. And by 'sleepers' – I meant – 'under the radar' — not lectures to sleep in. I would reserve sleeping for Friday morning 9:35 – 10:05. Something about how Mad Men, the Marlboro Man and Freakonomics have the answer to 'smokadiabesity'? Weird!
The UKsem site is great but if you insist on only following BJSM pages you can see Andy Franklin-Miller's WarmUp about the conference here and listen to two interviews with the mellifluous BBC-trained sports physician and fashionista.
July podcast – his conference highlights
October podcast – lower limb biomechanics plus a sneaky conference plug in the last 3 minutes of this 24 minute file.
Nice shirt….
(Visited 194 times, 1 visits today)