We invited Dr Omar AlSeyrafi to share his perspective on Sport and Exercise Medicine (SEM) in his home country, Qatar.
Tell us more about yourself
I am a Qatari physician and former football player (AlSadd club, under 17s team). Quitting football to attend medical school in Damascus (Syria) was not the easiest decision I have made to date, yet I have since returned to the field thanks to sports medicine! My story with sports medicine started as a happy coincidence during a sad time. In my final year at Damascus University, the war broke out and I had to return to Qatar to find another medical school where I could finish my training. This was not an easy task as almost all medical schools around the world required completion of at least 50% of curricula internally before granting a degree. In my case, this would have involved three extra years of medical school, even though I was in my final year in Syria! At that time, a large sports medicine hospital (Aspetar) was opened in Doha (Qatar). At Aspetar, I experienced a range of sports medicine clinical rotations and thus my love story with sports medicine began. Later, I graduated from St. Martinus University in the Caribbean. I am now a sports medicine physician at Aspetar after I completed a sports medicine diploma and certificate in drugs in sport from International Olympic Committee (IOC). Currently, I am following a sports medicine residency at the University of Belgrade, which has one of the oldest established SEM programs in Europe. Additionally, I will act as a venue medical manager for the upcoming FIFA World Cup 2022 in Qatar.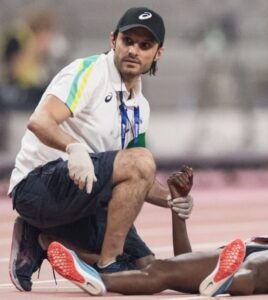 What is the path to become a sport and exercise physician in Qatar, and what are the main hurdles on this path?
Academic SEM programs are limited in Qatar. Aspetar Orthopaedic and Sports Medicine Hospital has become one of the leading sports medicine hospitals in the world thanks to the world-class current and former physicians, physiotherapists, and researchers. It offers several premium facilities under one roof that spans the entire patient journey from diagnosis to rehabilitation. Aspetar is a recognised FIFA medical centre of excellence and an IOC medical research centre. Whilst there is not currently an established academic SEM program (residency/fellowship) at Aspetar, I envisage this will be a reality in the near future. Despite the lack of this formalised SEM program, Aspetar hosts medical students, sports medicine fellows and family medicine/rheumatology residents for clinical rotations regularly. Collectively, sports medicine is not currently taught as a medical speciality in Qatar, however, sports physicians who have gained the qualification abroad are fully recognised as specialists and consultants.
How developed is collaborative work in SEM in Qatar?
SEM has become a part of the healthcare system in Qatar through Aspetar, which is the leading sports medicine provider in the country. Aspetar has established the National Sports Medicine Program (NSMP), which provides SEM services to all sports clubs and federations in Qatar by assigning sports physicians and physiotherapists. Furthermore, all athletes and referees in Qatar have to go through medical screening at Aspetar prior to season commencement and new contracts. At Aspetar, athletes can access all musculoskeletal (MSK) and sports medicine services under one roof and any out-of-scope services can be referred externally via a national health information system. Likewise, MSK and sports medicine cases can be referred to Aspetar by public or private hospitals.
Are exercise physiologists/scientists integrated into your healthcare system, and does health insurance cover their services?
Sports science in Qatar is an umbrella term that includes a range of allied health professionals. The title "sports scientist" itself is not a licensed profession in Qatar, however, practitioners using this title are often licensed allied health providers (e.g. psychologists, dietitians and podiatrists). As for exercise physiologists specifically, these individuals are licensed practitioners in Qatar. Regarding medical insurance for registered athletes, all services are covered by their clubs/federations, and this includes all sports science and physiology services. On the other hand, the provision of services to non-athletic population groups forms a developing area, whereby citizens are covered by the Ministry of Health for these services. Meanwhile, some residents with private medical insurance are covered for sports science and exercise physiology services, yet this depends on individual insurance companies' policies and is managed on a case-by-case basis.
What is done in Qatar to promote SEM among students and young professionals regarding research and clinical opportunities?
As you probably noticed in the above paragraphs, Aspetar has become a synonym of sports medicine in Qatar. Aspetar is a semi-government organization that represents SEM in the country. Hence, Aspetar has played a significant role in promoting SEM among the population by promoting healthy lifestyle and has published many recommendations and guidelines for the public. Aspetar has supported many young PhD students from different countries, which has resulted in many published SEM papers across a range of journals. Furthermore, the Aspetar Sports Medicine Journal has reached many sports medicine clinicians and students around the world. As mentioned earlier, Aspetar hosts orthopaedic and sports medicine fellows from around the world, as well as family medicine and rheumatology residents. Moreover, medical students are required to do sports medicine clinical rotations at Aspetar as a part of their training.
Finally, if you were Harry Potter, what would you change to SEM in Qatar?
I would create an SEM residency program for both local and international graduates. I believe this would create a fantastic atmosphere and provide an invaluable learning opportunity for many students around the world. There is an obvious lack of SEM training opportunities around the world and a program such as this would address this issue. I have experienced this issue myself and struggled to find an SEM speciality program given the few programs outside of Qatar available are not available to international students. In Qatar, we have everything a sports medicine fellow or resident might need, from world experts to world championship sporting events, yet we lack an established SEM residency program!
One more thing I would do is find a way to reach a larger population of elite athletes and teams around the world. Aspetar is an ideal place for elite athletes to receive treatment and rehabilitation, so it a shame it is not more easily accessible to these individuals.
(Visited 415 times, 1 visits today)