The full paper can be found here
---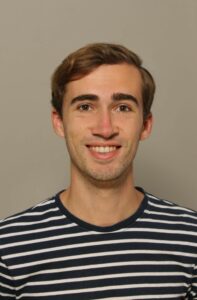 Tell us more about yourself and the author team.
My name is Tjerk Sleeswijk Visser, and I am currently doing my last clinical internship (in sports medicine) before graduating this July. Already before I started medical school, I have been passionate to pursue a career in sports medicine. As part of my study of medicine, I performed my scientific internship at Erasmus MC University Medical Centre in Rotterdam, where I met Dr Robert-Jan de Vos. Under his supervision, I spent 6 months on research, mainly focused on Achilles tendinopathy. It didn't take long for him to transfer his enthusiasm for this topic to me. Arco van der Vlist has been previously 'infected' with this enthusiasm and has defended his PhD thesis on Achilles tendinopathy with great success this January. Professor Jan Vehaar has been head of the Department of Orthopaedic Surgery & Sports Medicine at Erasmus MC since 1995 and has recently received a royal decoration for his scientific and social merits. Robert van Oosterom and Peter van Veldhoven are sports medicine physicians working in a large regional hospital (The Hague Medical Center) with a special interest in cricket and football.  The two departments of these hospitals closely collaborate for more than a decade now and have been very successful in scientific research.
What is the story behind your study?
We knew from both our clinical experience and previous studies that Achilles tendinopathy can profoundly impact patients' lives. However, the impact on quality of life and the specific domains affected was unknown. Information on the impact on work performance, health care utilization and costs were also lacking. These are all important measures to estimate the socio-economic impact of disease, and knowledge of this also aids in designing tailored management plans.
In your own words, what did you find?
We found that the impact of Achilles tendinopathy on the quality of life of patients is significant. Patients especially experienced problems in the domains of mobility, pain/discomfort, and usual activities. Work productivity was decreased in 38% of the patients, and 9% reported absence from work due to their symptoms. The total annual costs were €840 per patient. This corresponds to €21 million for all Achilles tendinopathy patients in the Netherlands. This large socio-economic impact was comparable to other chronic diseases such as osteoarthritis, rheumatoid arthritis and fibromyalgia.
What was the main challenge you faced in your study?
The main challenge we faced was the process of transferring the information of the completed questionnaire to a dataset suitable for analysis. All 80 patients completed a questionnaire on quality of life and provided detailed information on the number of healthcare visits per type of healthcare provider (sports medicine physicians, physiotherapists etc.) It took quite some time to work our way through this and create a correct and complete dataset.
If there is one take-home message from your study, what would that be?
Achilles tendinopathy leads to a significant decrease in work productivity, causes substantial costs, and has a large impact on patients' quality of life.
(Visited 305 times, 1 visits today)