On a recent visit to the UK, the West Australian Parliamentary Standing Committee on Education and Health was impressed by the shift in focus from the medical treatment of type 2 diabetes to management approaches which can induce remission, and so reduce or eliminate the need for medication.
The Committee has serious concerns that the management of type 2 diabetes is poorly understood in the West Australian community—in particular that it is often simply accepted as a "part of ageing" or dismissed as "beyond my control."  
With over one million Australians currently living with type 2 diabetes and more than 100,000 Australians developing diabetes in the past year, the shift in thinking from medication to treatment that can bring about remission is a welcome development. Equipping our local doctors with knowledge around patient care and treatment options would assist patients and benefit both their health and the health of our economy.
The total annual cost of diabetes to the community in Australia is estimated at $14.5 billion and is forecast to increase to $30 billion by 2025. Western Australia spends an estimated $850 million annually on treating type 2 diabetes and its complications, in a health budget of $8.8 billion. The current approach to diabetes prevention and management within the state's health system appears to be largely based on an acute care model, rather than on patients controlling their treatment.
The UK has a similar prevalence of type 2 diabetes to Australia. Given the apparent growing acceptance by the UK Parliament and organisations such as Diabetes UK that remission is achievable with particular interventions, the Committee believed its deliberations would be greatly assisted by hearing from UK practitioners, researchers and local and national government members.
Professor Roy Taylor's research was of particular interest to the Committee in establishing that type 2 diabetes can be treated effectively through a very low calorie diet, often to the point of remission. Our meeting with Professor Taylor, in which he expanded on his research and shared his views on ways to change eating habits, illustrated for us the urgent need to recognise the importance of effective dietary responses to type 2 diabetes. 
On establishing its inquiry into the role of diet in type 2 diabetes management and prevention last year, the Committee received a written submission from David Unwin, a Southport general practitioner, who acted on his feeling of hopelessness as he observed more of his patients being medicalised for type 2 diabetes. Unwin's impressive treatment journey centred on patients gaining hope that effective dietary tools could combat their disease. His methods have been adopted (unofficially) by some GPs in Australia.
The Committee visited Unwin's surgery where we were privileged to meet three of his patients. They outlined how thrilled they were to be able to take greater control of their type 2 diabetes through adopting a low carbohydrate diet and making lifestyle changes. Many of his patients have been able to discontinue medication, saving the public health system thousands of pounds.  
It is critical for stabilising or reducing type 2 diabetes in Western Australia that GPs are given similar tools to assist patients to prevent or reverse their diabetes.
Visits to Leicester Diabetes Centre and Newcastle City Council, where we heard about health initiatives within various sectors of the community, formed an important part of our investigations given the forthcoming changes to our state's preventative health delivery which will make it primarily the responsibility of local government (similar to the UK system).
We left the UK impressed with how many of its health practitioners are now focused on patient-centred care, ensuring those diagnosed with type 2 diabetes are fully aware of all their options with respect to treatment and management of the disease. Inclusion of alternative approaches in management guidelines was a promising indication of what might be achieved in Australia.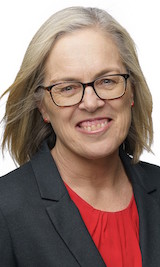 Janine Freeman MLA was elected to WA State Parliament in 2008 and is the Member for Mirrabooka. Janine is passionate about pursuing public policy which improves people's health and wellbeing. As a long-standing member and current chair of the Parliamentary Education and Health Standing Committee, she has worked on key health policy initiatives, including the Public Health Bill.