My life's work has been driven by my hatred of the poliovirus, which cripples those who are the most treasured among us: children. In 2011, more than two decades after the world resolved to eradicate polio, a girl living not too far from my hometown of Kolkata became the last child in India to contract the disease. Now nine years old, she still walks with a limp, and is a painful reminder of polio's devastating impact—but she's also a harbinger of hope that we can rid the world of polio once and for all.
This final isolation of wild poliovirus in India led to the entire South-East Asia region of the World Health Organization being certified polio-free in 2014—a historic achievement that astounded the international community. As a former surveillance officer during the final years before India interrupted polio transmission, I saw first-hand how rapidly progress occurred across the country. Only a decade ago, India had about half of the world's cases. Overcrowding, poor sanitation, difficult terrains and numerous nomadic communities led many to predict it would be the last country to stop polio.
So how did India execute one of the most complex public health campaigns of all time to successfully rid itself of polio—and what can we learn from this victory?
The Indian government contributed significant public funds and spearheaded an immunization program to reach and sustain 100% vaccination coverage. On a state level, officials rose to the challenge. District Magistrates led monthly cross-sectoral meetings to intensively review the status of ongoing polio activities. Additionally, the Indian government worked in close collaboration with international agencies, resulting in an influx of resources and expertise for critical aspects of the program—including public information drives, monitoring of house-to-house campaigns and analysis of surveillance data.
Political leadership went hand-in-hand with the government's efforts to grow and strengthen the health workforce, increasing the number of vaccinators to 2.5 million to cover the vast territory needed to reach every child. Vaccinators not only reached every doorstep, but went further to immunize children on the move—at bus stands, ferry points, railway platforms and market places.
Community volunteers and religious leaders also worked tirelessly to educate families and increase vaccine acceptance, and national icons such as A. R. Rahman and Amitabh Bachchan made these vaccination campaigns a point of national pride. With such incredible scale and intensity, polio campaigns came to be viewed as celebrations in a country known for its year-round festivities.
India's polio elimination effort was also driven by rigorous collection and utilization of data. The WHO assisted the government in setting up a surveillance system of unprecedented scale. This network created a wealth of community-specific data allowing health workers to better track the virus in paralyzed children and in sewage systems. Meticulously detailed maps—hand-drawn in many instances, but regularly updated—provided vaccination teams with information about each and every household and community at district, state and national levels. This microplanning allowed vaccinators to tally and reach underserved populations with vaccines, including mobile and migrant families, as well as children living in slums, brick kilns, nomadic settlements or on construction sites—non-traditional dwellings that otherwise would have been overlooked.
Today, India has remained polio-free for eight years. The ripple effects of this success have the potential to go far beyond the country and polio—but only if we make an effort to capture the lessons we've learned there. The infrastructure and expertise from the polio program have been used for other health initiatives, including supporting the delivery of new vaccines and treatments for rotavirus, pneumococcal disease and lymphatic filariasis and surveillance for other diseases including measles—large-scale initiatives that would not have seemed possible two decades ago. In Afghanistan and Pakistan, the only countries that reported wild polio cases last year, knowledge gathered from India's polio campaign can be one of our greatest assets in crossing the finish line.
Poliovirus does not discriminate—it affects unimmunized children, no matter what caste, creed, nationality or religion. In our decisive final battle against the virus, we have to sustain a united front so future generations can live without the fear of paralysis. India showed us what is possible, and it's time we fully commit to realizing a polio-free world—a goal that is now within reach.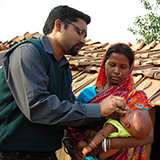 Ananda Bandyopadhyay is the senior program officer for polio research at the Bill & Melinda Gates Foundation
Competing interests: None further declared
Twitter: @anandaonline