The NHS's 70th birthday is turning out to be a big occasion.
On Saturday 28 June, thousands of people marched through London to celebrate and call for more funding. On 5 July, the birthday itself, blue lights will illuminate buildings and historic monuments across the country, including Blackpool Tower, the Eden Project, and the Houses of Parliament.
The BBC broadcast a 90 minute live special from Queen Elizabeth Hospital. Michael Sheen, Martin Freeman, Celia Imrie, and Tamsin Greig have starred in a film poem. Michael Mosley, Stacey Dooley, and Ann Widdecombe have experienced life at King's College Hospital. And BBC radio is broadcasting a 20 part series on the NHS and a symphony composed entirely from sounds of the NHS, words of staff and patients, and a choir of NHS staff.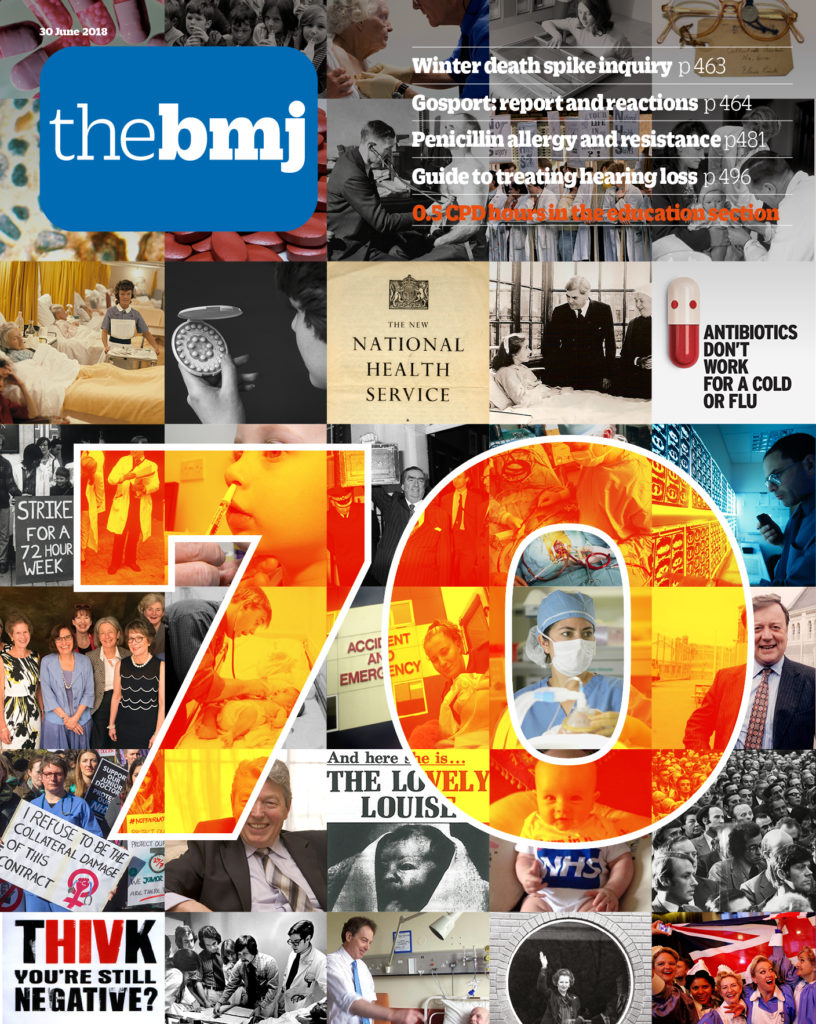 For its part, The BMJ has collaborated with the BMA to commission an interactive artwork that visualises what the NHS spends on supporting us as patients throughout our lives (see video below). We conducted a poll to find what readers think is the NHS's greatest achievement. Nick Timmins has written a thoughtful essay that puts doctors' 70 year relationship with the NHS into perspective. And Abi Rimmer has spoken to a surgeon who qualified the same month as the NHS started.
In her weekly column, Margaret McCartney argued that the NHS's slow decline is a preventable disease. A cultural historian has discussed how the meaning of the NHS has changed over time and what "need" has meant in the NHS over its history.
A series of articles have looked at whether it is possible to sustain the NHS and retain its core principles, how funding of the NHS has changed and how we should assess how much is enough, and what options are available for achieving an adequately funded NHS.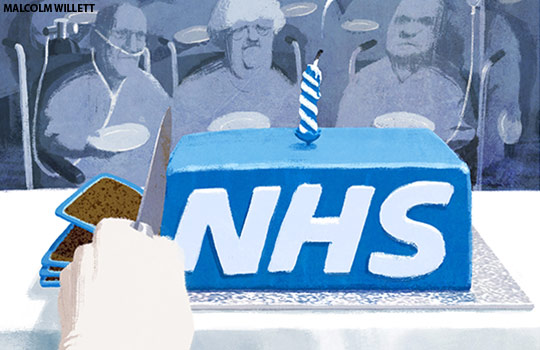 We've also run a set of "provocation" articles, settling out radical ways the NHS needs to change, from doctors giving up professional protectionism, overhauling the consultant on-call system, and embracing new technology to health services transforming outpatient services and giving nurses more responsibility. We've also looked at arguments that it is, as yet, nowhere near crisis point and can fly the flag in post-Brexit Britain and pondered how it might look in 2028. And I've written a piece for the Magnum Photos picture agency looking at the visual legacy of the NHS.
All of The BMJ's NHS at 70 coverage from the past three months is collected here. As well as examining and celebrating the past, we have taken a hard look at how the service needs to adapt to meet the country's needs over the coming years.
Do share your thoughts, and ideas for the future of the service, by posting rapid responses to any of the articles included in our NHS at 70 coverage.
Tom Moberly is the UK editor at The BMJ. Follow Tom on Twitter @tommoberly.