It is time to do better, says Amitava Banerjee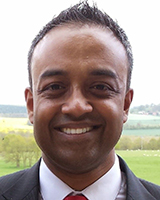 Less than two weeks ago, there were standing ovations at football stadia around the country in tribute to Cyrille Regis, one of the first black footballers to play at a top level. He encountered and tackled racism in football in all its forms from the 1970s onwards. My father joined the NHS in 1972, five years before Regis made his debut for West Bromwich Albion. Like many doctors and nurses actively recruited from Commonwealth countries in that era, he was met with "Dogs and Indians Not Allowed" pub signs and other symptoms of xenophobia which were endemic at that time. What is rarely talked about is the overt and covert racism within the medical profession which existed then, and still unfortunately exists, albeit to a lesser extent, to this day.
At least 30% of NHS doctors and nurses are from black and minority ethnic backgrounds (BME). These overseas doctors have been essential to the functioning of the NHS since its inception. Even now, with Brexit looming and increasingly difficult working conditions, the Department of Health and Social Care is recruiting all grades and specialties of doctors from outside of the EU, while EU doctors and British-trained doctors leave, or threaten to leave, in increasing numbers. As well as the difficult immigration climate for those coming to the UK, institutional racism is still a major problem in the NHS. In the internet era, prospective applicants know about it long before they set foot on British soil, and are possibly deterred from applying or coming in the first place.
There is evidence of racism in selection, assessment, and training of doctors. In the 1990s, a national study and one focusing on London medical schools found that BME applicants were less likely to be selected than their white counterparts. In the past few years, there has been much controversy regarding potential racial biases in assessment of doctors, such as the MRCGP postgraduate exams. Historical data from the late 1980s suggested that BME doctors were six times less likely to obtain hospital jobs than their white counterparts with identical qualifications. The current situation has not been assessed. Lack of representation of BME staff in the upper echelons of the NHS has been recognised in a National Health Executive report, "The Snowy White Peaks of the NHS".
Complaints are more likely to be against BME doctors, and when they proceed to the General Medical Council or the law courts, they are more likely to lead to more serious punitive measures and guilty verdicts. Following the tragic death of Jack Adcock, the paediatric specialty trainee, Hadiza Bawa-Garba, has been found guilty of manslaughter by gross negligence and has been struck off the GMC professional register. It is not a cliché to state that nobody won in this case. There is great concern and consternation among doctors and other health professionals about blaming junior staff for multifactorial health system failures and using doctors' reflections on their training in criminal proceedings. Both these trends will adversely affect patient safety. A further aspect which has been under-discussed and under-reported, yet is patently obvious, is that had Bawa-Garba been a white male, she would likely have been treated very differently by the media, the GMC, and the courts alike. This hypothesis is given weight by the situation of the duty consultant at the time of the incident, Stephen O'Riordan, who hasn't been charged and has avoided the media scapegoating which has plagued Bawa-Garba. On many fronts, the health system and the GMC need to establish trust with the public, but also increasingly with the medical profession itself.
Just as the culture and environment are slowly improving for women in medicine (with more female Presidents of Medical Royal Colleges than ever before, for example), there is more visibility of the work of overseas doctors and issues of racism are being more openly debated. There has been progress, but if we want to attract the best doctors in the world to the NHS, we have to create an environment where those doctors will be treated fairly and without discrimination. It is 2018 and the world has moved on from that which Cyrille Regis and my father started work in. In the febrile post-Brexit referendum environment, the number of incidents of NHS staff being subjected to racism has rocketed. There has been some media coverage of racism towards EU nationals post-Brexit, but the perpetrators of racism do not ask to see a passport and do not distinguish between EU and non-EU overseas workers. In the climate of greater openness and debate which has been afforded by social media and brave campaigns such as #metoo, it is time to do better on institutional racism in the NHS. The world is watching.
Amitava Banerjee is senior clinical lecturer in Clinical Data Science and Honorary Consultant Cardiologist at University College London. He is particularly interested the application of health informatics to improving patient care and is active in research, teaching and clinical practice.
Competing interests: None declared.