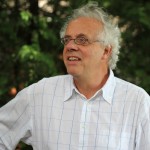 The NHS is legally committed to reducing its carbon consumption by 80% by 2050, but the route to that destination is far from clear. The leaders in trying to find a practical route are Sussex Community NHS Foundation Trust, and I went to visit them in Brighton.
The trust covers Brighton and Hove, West Sussex, and part of East Sussex, and has nine community hospitals, 65 health centres, and almost 5000 staff. It manages 9000 patients each day.
The journey begins
The trust's journey to sustainability began in 2010 when Will Clark, "a sustainability guy" and an engineer by background, joined the trust. He had previously worked with some 15 NHS trusts while employed by a climate change consultancy.
The place to start, he insists, is with "quick wins," which can be easy to identify in some old NHS buildings. The headquarters of the trust are housed in what was once Brighton's workhouse, and as I roamed around the buildings in thick sea mist I felt as if I was in a Victorian melodrama. The obvious place to start was to replace the old oil fired steam boilers with modern gas fired condensing boilers—which delivered substantial financial (as well as carbon) savings.
From the beginning Clark has worked with the philosophy that sustainability efforts must pay for themselves—and that has been achieved even with what is now a team of seven, probably the largest sustainability team anywhere in the NHS.
Clark remembers his first board meeting, which he described as "frosty." The non-executive directors were especially sceptical, and the chief executive said he didn't know anything about sustainability. The reaction is understandable in that boards have so much to worry about; sustainability can feel like a minor and non-urgent, even abstract, issue. There are probably still NHS trusts with that view.
A plan and the importance of data
Having promised the board a plan within three months, Clark set to work. As an engineer he was convinced that everything must be measured and progress shown with data. The first job was to measure the carbon footprint of the trust. Another principle was that staff must be engaged and that marketing would be important. "Sustainability," he says, "is a 'fluffy word' and this can be unhelpful. It's really about good resource management, and in our view sustainability in the NHS is about looking after three main resources: our finances; the natural environment; and, of course, our staff." I asked about patients, and including patients is becoming more important. "Patients are our raison d'etre. By putting staff wellbeing at the centre of our sustainability work we hope that they will be better able to look after our patients."
The way to engage staff, he says, is by concentrating on their health and wellbeing—because what's good for the environment is also good for individuals. For example, increased physical activity and reduced car journeys means both less carbon and better health for the individuals.
The recognition of the three main resources leads to the idea of a "triple bottom line": saving money, reducing carbon, and improving workplace wellbeing. It's essential to deliver on all three.
Seven steps to sustainable healthcare
Clark produced a practical plan that has "seven steps to sustainable healthcare" that is now called "Care Without Carbon." A combination of financial savings; national awards; and a practical, measurable plan won the board round to being positive about sustainability, and Clark's team is now working with other trusts. The trust aims to be a carbon neutral healthcare provider.
1) Buildings
The team working on sustainability is still part of estates, and buildings along with procurement and journeys are three of the steps in the plan and the place to start with carbon and cost reduction. The trust has invested in "energy efficient lighting and intelligent lighting controls, boiler replacement, building fabric improvements, and renewable energy installations." This has led to a 28% improvement in energy efficiency and a 55% improvement in water efficiency, which means that 1607 tonnes CO2e are saved each year compared with the 2010 baseline—a 20.6% reduction in the buildings' carbon footprint. The target is a 34% reduction by 2020.
2) Journeys
Reducing journeys provides more "low hanging fruit." The staff were travelling over five million miles a year on work related journeys, but it's now been reduced to 4.2 million miles, a reduction of 17% with an 18.8% reduction in carbon emissions. The trust has worked to reduce unnecessary travel and solo car journeys. The carbon reduction has been achieved by reducing miles travelled and by introducing a Travel Bureau, which provides a fleet of low emission vehicles and organises public transport and other sustainable travel interventions. From 2017 the trust will include in its plans carbon from staff commuting, and it already has a Cycle to Work scheme.
3) Procurement
The carbon footprint of the whole NHS from 2009 showed that procurement (of drugs, medical equipment, vehicles, uniforms, everything) accounted for 60% of the footprint, with 22% from buildings and 18% from travel. This is normal for service as opposed to manufacturing industries. The NHS obviously has less direct control over the carbon footprint from procurement, and at the moment the trust does not have a measurement of its procurement footprint, but it's almost ready for launch. The trust is developing partnerships with suppliers to reduce carbon emissions, and it's also working on waste and already has a recycling rate well above 60% with no general waste going to landfill.
4) Wellbeing
As staff are the most important resource of the NHS, wellbeing is one of the seven steps, and the trust has worked with the New Economics Foundation (NEF) to develop a measure of staff wellbeing suited to the NHS. The measure follows the NEF's National Accounts of Wellbeing, which are a response to Robert Kennedy's famous criticism of using Gross National Product as a measure of "progress": "The Gross National Product counts air pollution and cigarette advertising, and … the destruction of the redwood and the loss of our natural wonder in chaotic sprawl… Yet [it] does not allow for the health of our children, the quality of their education, or the joy of their play… the beauty of our poetry or the strength of our marriages… it measures everything, in short, except that which makes life worthwhile."
The measure aims at "explicitly capturing how people feel and experience their lives" and includes measures of personal wellbeing, social wellbeing, and wellbeing at work. Personal wellbeing includes emotional wellbeing, satisfying life, vitality, and resilience and self-esteem. The Sussex trust owns the intellectual property rights on the measure it's developed, but Clark recognises that it's not yet "a definitive model." The score on the measure can be 1 to 10 with 5 as the average. The staff scored 4.35, 6.5% below the national average (for all sectors). The target is for the staff to be scoring above the national average by 2020.
Clark is keen to translate the wellbeing score into financial benefit. Improvements in wellbeing should lead to lower absenteeism and greater productivity, both of which have a direct financial benefit. It then becomes possible to add improved wellbeing to savings in carbon emissions and reductions in waste to produce an overall figure. So far the trust has saved £3.09m from sustainable healthcare and invested £877k in sustainable healthcare. This figure doesn't yet include any savings from improving staff wellbeing, but even so it's an impressive return on investment—which should interest any trust board.
One of the ways that the team aims to improve staff wellbeing is through its "Dare to Care" programme. Possible dares include doing a sugar swap, taking a walk, saying hello, car sharing, or holding a virtual meeting. Staff can sign up to take a dare, and on the day I looked at the website staff had taken 4739 dares. Staff who have taken a dare have shown a 12% improvement in their wellbeing score. Andrea Richardson, a specialist practitioner in occupational health, says: "I have completely changed the way I work over the last six months and no longer drive my car to work. I catch the train and walk from the station, it is much more enjoyable than driving—no parking issues and I get all the health benefits. If I need a car I use a fleet car, it's easy to arrange and always a friendly service. Without Dare to Care I probably would not have done this."
5) Culture
The fifth of the seven steps is Culture, and famously "culture eats strategy for breakfast," meaning that if you can't change culture then there will be little sustained change. Dare to Care is at the heart of the efforts to change culture, and so far 950 staff in the trust (around 20%) have taken a dare. It's clearly a challenge to reach out to the other 80% of staff, not least as in NHS jargon they will include the "hard to reach."
6) Future
The Future step deals with the Trust's role in the community, as part of a wider health system that is undergoing transition to achieve more with less. It is within this step that the team is exploring opportunities to engage with patient groups on sustainable healthcare.
7) Pioneering
Pioneering, or leading the way, is the final step, and the trust aims "to be recognised as the leading NHS service provider for sustainable development policy and practice." It is probable that the trust has already achieved this aim, but it wants to continue to lead the way.
Working with other NHS organisations
From his arrival Clark has had a vision of creating a team that can work not just with its host trust, but with others in the NHS. The team is already working with other trusts, including acute trusts, in Sussex and Surrey, and it has worked with trusts as far afield as the West Midlands.
Clark thinks of this as a business that operates within the NHS. The Sussex trust is their "lab," but growing the business by working with others in the NHS means both that the Sussex trust can have a sizeable team at no cost (or even an income) and that the team can share their learning and help others in the NHS achieve the goal of reducing its carbon footprint by 80% by 2050. The team has a business plan and aims to have a turnover in excess of £1m in the next three years. The "business" has a tested product (the seven steps), a track record, and works from within the NHS. Most competitors are outside the NHS, and the Sussex trust has an offering that is more holistic than that of its competitors.
The "market" (and Clark recognises that many within the NHS feel uncomfortable about using business language) is set to grow as every part of England has a sustainability and transformation plan (STP), and Clark is chairing a group working on the local STP. But despite the language, these STPs are more concerned with keeping the NHS going within shrinking budgets rather than true sustainability in the longer term. Clark's aim is to make sustainability in the way that he means it mainstream within the NHS.
What about clinical services?
I asked how much the team had changed clinical services, and the answer is not significantly to date. This is because there is no clinical leader in the team, however, from 1 May this is set to change. The team has been successful in attracting funding for a Darzi Fellowship, a clinician funded by Health Education England to work on a clinical transformation project for 12 months. She will work with some of the trust's clinical services, to explore how the services can be made more sustainable in the broad sense and develop a measure of "clinical sustainability" as a core component of the trust's business model.
The role of research
My visit to the trust was made because I'm a member of the NHS Sustainable Development Unit's advisory group on research and development. What part has research played in the work of the Sussex trust? Usually people hesitate when I ask this question. They are tempted to answer "none" because they don't think of themselves as researchers and nobody in the team is called "researcher." But clearly the team depends on a long history of research—establishing the link between carbon consumption and climate change, working out how to measure carbon footprints, developing the score of wellbeing, and much more—and then the whole programme is driven by data; and the data allow evaluation of the programme.
The team operates very much in a research mode in that it asks questions and finds answers, but they are not connected to "the research community." But I felt that they should be. They are surrounded by researchable questions: What is the link between improved staff wellbeing and absenteeism and productivity? Might improved staff wellbeing lead to better patient outcomes? What are the best ways to engage the 80% of staff who are not yet engaged? What would sustainable community care look like and how can it be measured? Will improved sustainability in community care lead to better patient outcomes?
Shouldn't researchers be part of this work and shouldn't bodies like the National Institute of Health Research be willing to fund such research? Achieving an 80% reduction in NHS carbon consumption will not be easy, and researchers surely have a part to play, working alongside those trying to make it happen.
Richard Smith was the editor of The BMJ until 2004.
Competing interest: As it says in this article, RS is a member of the NHS Sustainable Development Unit's advisory group on research and development. He is unpaid and even paid his own fare (with both a Senior Railcard and a Freedom Pass) to Brighton.