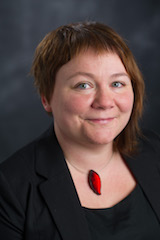 I have had full access to my electronic health record (EHR) online since 2012, when Uppsala became the first region in Sweden to make EHR accessible to patients. I remember the excitement I felt the first time I logged in, and I've continued to use the patient accessible EHR (PAEHR) referred to as "Journalen" ever since. As a health informatics researcher and a member of the DOME research consortium, I also have a special interest in how the PAEHR is designed and used.
In March 2017, I attended a session at the Salzburg Global Seminar called "Toward a Shared Culture of Health: Enriching and Charting the Patient-Clinician Relationship." The session was focused on transparency and the importance of patients being able to access their EHRs. The Swedish national health information exchange (HIE) platform and PAEHR received a lot of attention (both during the seminar and afterwards), but I left Salzburg with mixed feelings. I am proud of the work done in Sweden to give all patients access to their EHR online—I believe that this is a fundamental right that everyone should have. Currently, the Swedish PAEHR has about 1 million users (out of 10 million citizens), and in April 2017 39,5% of the Swedish population had created accounts in the national patient portal 1177 (through which the PAEHR can be accessed). Yet, we have a long way to go. Despite the national HIE platform and the intention to provide patients with a complete overview of their health related data, the view remains fragmented depending on where, when, and why a patient seeks treatment. [1, 2] There are important differences in how much information each care provider allows access to ( see figure 1).

Figure 1: Examples of information provision from 9 Swedish counties connected to Journalen, Dec 2016 [3].
Over the five years that I have used PAEHR, I have never been asked whether I read my record or whether I have questions or thoughts on the content. This lack of acknowledgement makes me feel like I'm doing something forbidden, as if I'm eavesdropping on a conversation I'm not supposed to hear. Preliminary results of a national patient survey among PAEHR users in Sweden indicate that my experience is not unique (less than 10% of the respondents indicate that they are encouraged to use the PAEHR by healthcare professionals). Previous research has indicated resistance from healthcare professionals which may be part of the explanation. [4,5]
Recently I underwent a minor surgery followed by a post-surgical infection. During this time, I began exploring a function in the PAEHR which is only available to patients in Uppsala (where I live)—the patient's notes. I can actually comment on each of the professionals' notes in my EHR. As I activate the function, there is a disclaimer warning me that no healthcare professional has a responsibility to read my notes (although they can if I grant access). I use this function to record my symptoms and progress in the time between visits. I find it useful as a memory support, and I review my notes (as well as the healthcare professionals' notes) as I prepare for my next visit. I have been somewhat disappointed that no one acknowledged my notes, but as I entered the room for my most recent follow-up visit, I found two physicians deeply engaged with the EHR. They turned around smiling, and explained that they had just found my notes in the EHR (a function they did not know existed) and found them very useful; "Now we know what has happened since we last met—this is excellent!"
Based on my personal experiences, the discussions in Salzburg, and the research done in the DOME consortium (and internationally, for example, in the OpenNotes project) I want to take the discussion to the next level. How can we go beyond transparency? Once patients have the basic right of access (equally for all, not based on each care provider's decision), how can we make this a tool for collaboration? I would like to propose two important steps which require both a change in practice, and further research and development:
Communication about PAEHR needs to be a part of any patient encounter. Otherwise it will never become a tool for collaboration and communication. A minimum step would be to ask whether the patient reads their record and how they perceive the information they find in it. Education and information about the existence and benefits of PAEHR is needed among both patients and healthcare professionals.
Co-creation of the record can be achieved in several ways which needs to be explored further. Being able to comment on healthcare professionals' notes is still a very blunt tool; how do we design a system where healthcare professionals find the information shared by patients through the PAEHR as useful as the information provided during the patient encounter?
Within the recently started research project PACESS (patient-centred assessment of patients' online access to electronic health records) we will evaluate the current implementation and use of PAEHR in Sweden through in-depth qualitative case studies in different regions to achieve a better understanding of how roles, relationships, and organizational structures are affected on micro, meso, and macro levels. In addition, we will work together with patients and healthcare professionals to co-design future eHealth services based on the PAEHR to improve communication, collaboration, and co-creation of the EHR. We hope that this research will help move progress forward not only in Sweden, but for all patients regardless of their illness or country of residence.
Maria Hägglund is a senior researcher at the Health Informatics Centre at Karolinska Institutet in Stockholm, Sweden. She is also the programme director for the Joint Global Masters Programme in Health Informatics at Karolinska Institutet/Stockholm University.
Competing interests: None declared.
See also:
References:
[1]          I. Scandurra, L. Lyttkens, and B. Eklund, "Implications of Swedish National Regulatory Framework of the Patient Accessible Electronic Health Record," Stud Heal. Technol Inf., vol. 228, pp. 695–699, 2016.
[2]          I. Scandurra, M. Pettersson, B. Eklund, and L. Lyttkens, "Analysis of the Updated Swedish Regulatory Framework of the Patient Accessible Electronic Health Record in Relation to Usage Experience," Full Paper Accepted to Medinfo 2017.
[3]          M. Hägglund and I. Scandurra, "Patients' online access to Electronic Health Records – current status and experiences from the implementation in Sweden," Full Paper Accepted to Medinfo 2017.
[4]          C. Grunloh, A. Cajander, and G. Myreteg, "'The Record is Our Work Tool!'-Physicians' Framing of a Patient Portal in Sweden.," J. Med. Internet Res., vol. 18, no. 6, p. e167, Jun. 2016.
[5]          I. Scandurra, A. Jansson, M.-L. Forsberg-Fransson, and T. Ålander, "Is 'Patient's Online Access to Health Records' a Good Reform? – Opinions from Swedish Healthcare Professionals Differ.," Procedia Comput. Sci., vol. 64, pp. 964– 968, 2015.