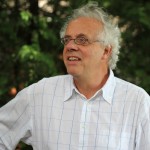 The juxtaposition of an article by a dying (indeed, dead) journalist bemoaning the NHS denying him an expensive cancer drug and a spate of articles illustrating the "crisis in social care" shows well the conundrum facing the British people.
I may be the only member of Britain's "elite" who hadn't heard of A A Gill, the journalist who has been described as embodying the heart and soul of the Sunday Times. (I've stayed away from the Sunday Times for 25 years and am confused by A N Wilson, A S Byatt, and all the others who opt for initials rather than first names.) Gill was famous for his acerbity, wit, dissolute lifestyle, dyslexia, ex-wives, and pet hates, which included "truffle oil, fat people, dinner parties, Christmas dinner, coulis, gastropubs, Tex-Mex, warm salads, nutritionists, seasonal eating, and vegetarians." His first wife left him in the middle of a dinner party, and his wit, but not his acerbity failed him when he described the classicist Mary Beard, who has long grey hair, as too ugly for television.
I know something about dissolute lifestyles as my brother has enjoyed one. He recognises that he has opted for quality rather than quantity of life, and you'd think that Gill must have recognised the same. Nevertheless, when he developed "the full English" of lung cancer with metastases he hoped, as most of us do, for "more life with your kids, more life with your friends, more life holding hands, more life shared, more life spent on earth." But, the way his oncologist presented it to him, he could have that only if he could pay. He'd reached the end of the chemotherapy that the NHS will pay for, and his oncologist recommended the new biological drug pembrolizumab. In fact, NICE decided that the related drug nivolumab (cost £5700 a month) should be available through the NHS, and Gill received it before he died.
The day after he died the Sunday Times published his final article—on the NHS, his cancer, and his last days. It's a brilliant (although a friend says overwritten) article, rewarding rereading and reflects well Britain's ambivalent love of the NHS. "It seems unlikely, uncharacteristic, so 'un-us' to have settled on sickness and bed rest as the votive altar and cornerstone of national politics….The NHS represents everything we think is best about us. Everyone standing for whatever political persuasion has to lay a sterilised hand on an A&E revolving door and swear that the collective cradle-to-crematorium health service will be cherished on their watch….We say it's the envy of the world. It isn't. We say there's nothing else like it. There is. We say it's the best in the West. It's not. We think it's the cheapest. It isn't."
We don't know whether Gill had a "good death" (if such a thing exists), but we do know that the gap between him announcing his cancer and dying was just a few weeks. We know too from his article that he was admitted to hospital as an emergency very shortly before dying. That to my mind is something to be avoided. I hope that he may have got home before dying because a "good death" is almost impossible in an acute hospital.
Gill's death was a celebrity, even glamorous death. A mass outpouring of grief and admiration. A long, beautifully written article in a national newspaper the day after he died. Dozens of obituaries. Controversy. A life story filled with drink, food, words, famous people, and beautiful women, including our current Home Secretary.
In contrast, many, even most, of us will die unglamorous (but possibly better) deaths in nursing homes. And that death may well be much more expensive than a death fended off by expensive drugs. My mother has been paying £4500 a month for nursing home care for the past three and a half years. She has no short term memory and doesn't know that she's in a nursing home. But she uses complex language, has a sense of humour, loves to walk, and could live another ten years. Her total bill would then be about £600 000. She will towards the end of next year have spent her capital and descended to the threshold (£23 500) where the local authority has to pick up the tab. The local authority would not pay the full cost, but luckily for us the home will pick up the difference—otherwise we would have to pay, or we'd have to move her to one of the cheaper homes I've seen where I challenge anybody to find a single reason to go on living.
This all assumes that the home doesn't go bust—and it might. Local authorities did not pay the full costs even before the minimum wage was increased. Now they pay even less of the full costs, so nursing homes have to strip down to an even grimmer minimum, support those funded by local authorities with higher payments from those paying for themselves, or go bust. Many are going bust at just the time when more are needed.
There will be more elderly people needing care, more patients with cancer (chances of developing cancer increase exponentially with age), and more expensive drugs to fend off death. What there won't be is a cure for most cancers, and even if there were they would simply keep us alive to need residential care. Costs are going to rise not fall and the wealthy past that Britain has enjoyed through exploitation of its empire is rapidly disappearing.
This is a problem that we know has been coming for decades, but, as with climate change and all other serious but slowly developing problems, we have failed to confront the problem. We have to wait until a crisis is upon us. We then muddle our way through, but it won't be easy to muddle through this one.
So there are hard financial choices to be made, and one crucial choice is whether health care should continue to be free and social care charged for. It seems impossible for both to be free, but to my mind it makes no sense for all of health care, including very expensive drugs that buy months of life, to be free and social care charged for. It would be better for some defined package of both to be free and the rest paid for. This is already the case with social care, but restricting health care (and, I have to say it, firing some oncologists or retraining them as social workers or palliative care physicians) would allow generous increases in social care.
Although we may lack money, what we do have is lots of retired people like me who might be useful before we lapse into senility. Can't we find our way to a society that puts caring and sharing and doing things for ourselves, our families, and our communities ahead of building hospitals and accumulating houses, cars, boats, and stuff? We may once have had such a society.
Richard Smith was the editor of The BMJ until 2004.