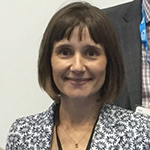 "More life with your kids, more life with your friends, more life spent on earth—but only if you pay" was the message of AA Gill's posthumous essay published in the Sunday Times this week. His death from lung cancer, at 62, saddened and shocked readers of his column, where he had announced less than a month before that he was suffering from "an embarrassment" of cancer.
The "paying" Gill referred to was for Nivolumab, an immune checkpoint inhibitor shown to be effective as a second line treatment in NSCLC. A 2015 NEJM RCT showed Nivolumab increased survival in NSCLC by a modest but significant three months. [1,2] But Nivolumab is expensive, costing around £60,000 per year. How much is three months of extra life worth? For any one individual desperately hoping for more life spent on earth, this is an unanswerable question. But for our population the answer is more clear: the NICE threshold for recommending treatments to be used in the NHS is between £20,000 and £30,000 per Quality Adjusted life Year. And this rules out Nivolumab.
The good news is Nivolumab isn't the only treatment shown to be effective in advanced lung cancer. Five years before the Nivolumab RCT, another RCT involving patients with advanced NSCLC was published in the NEJM. [3] This trial, similarly, found a survival benefit for the patients in the intervention arm of around three months. What's more, patients also had improved quality of life and less depression. But this time the intervention was not a new and expensive cancer drug. It was specialist palliative care, introduced early and collaboratively alongside standard oncology care.
Since this 2010 NEJM trial, other studies involving people with cancer and non-cancer diagnoses have found a survival benefit of specialist palliative care. The increasing body of evidence that palliative care not only helps people with advanced disease live better, but can help them live longer, has led to recent ASCO guidelines recommending palliative care is introduced early for patients with metastatic cancer, alongside oncology care. [4] Gone are the days of palliative care as the thing that happens after all the medicine has finished.
Both interventions, Nivolumab and specialist palliative care, improve survival in advanced NSCLC by around three months. One also improves patients' quality of life. The other can cause enterocolitis, hepatitis, and dermatitis among other itisis. And yet, if faced with a choice between the two, my guess is that most patients would opt for the drug. Because it's simply hard to comprehend that something as low-tech as person-centred, holistic, palliative care could be as beneficial as an expensive (and toxic) new drug.
I don't know if Gill received specialist palliative care before he died. I hope so, if not for the potential survival benefit, then for the benefits to his quality of life and to provide support to his family. As a middle-classed, educated, relatively young person with cancer, he is more likely than many to have accessed specialist palliative care. [5] Like expensive cancer drugs, specialist palliative care is a relatively scarce resource: not everyone who might benefit from it gets it. It is estimated that at a minimum three quarters of all deaths in England would benefit from palliative care. [6] That's 375,000 people every year: overwhelmingly more people than our current hospital, community and hospice services can care for. The irony is that in contrast to expensive cancer drugs, palliative care can actually be cost saving: the extra expense incurred by the specialist team is offset by the fact that patients have fewer expensive interventions and trips into hospital. [7] Investing in palliative care is good for individuals, and good for society.
What level of investment is required to provide good palliative care to everyone who might benefit from it? This was the question asked by the Review of Choice in End of Life Care in 2015. The answer was £130 million, to ensure that every dying person could access the care they need whether in hospital or community settings. In response, this year, the Government made a National Commitment to improve end of life care. What was not committed, however, was any of the £130 million needed to achieve this.
Cross-cultural surveys have shown that most people, if faced with a hypothetical terminal illness, would choose to prioritise quality of life over quantity of life. [8] Gill, facing non-hypothetical and rapidly progressing metastatic cancer, was clear about his desire for quantity. He wanted more time. More life. But this doesn't have to be an either/or choice. It's possible to have both quality and quantity. And investing in palliative care, alongside cancer care, is part of the solution.
Katherine Sleeman is an NIHR Clinician Scientist and honorary consultant in palliative medicine. She is on twitter @kesleeman.
References:
Borghaei H, Paz-Ares L, Horn L, et al: Nivolumab versus Docetaxel in Advanced Nonsquamous Non-Small-Cell Lung Cancer. N Engl J Med 373:1627-39, 2015
Brahmer J, Reckamp KL, Baas P, et al: Nivolumab versus Docetaxel in Advanced Squamous-Cell Non-Small-Cell Lung Cancer. N Engl J Med 373:123-35, 2015
Temel JS, Greer JA, Muzikansky A, et al: Early palliative care for patients with metastatic non-small-cell lung cancer. N Engl J Med 363:733-42, 2010
http://www.asco.org/practice-guidelines/quality-guidelines/guidelines/patient-and-survivor-care#/9671:
Sleeman KE, Davies JM, Verne J, et al: The changing demographics of inpatient hospice death: Population-based cross-sectional study in England, 1993-2012. Palliat Med, 2015
Murtagh FE, Bausewein C, Verne J, et al: How many people need palliative care? A study developing and comparing methods for population-based estimates. Palliat Med 28:49-58, 2014
Smith S, Brick A, O'Hara S, et al: Evidence on the cost and cost-effectiveness of palliative care: a literature review. Palliat Med 28:130-50, 2014
Higginson IJ, Gomes B, Calanzani N, et al: Priorities for treatment, care and information if faced with serious illness: A comparative population-based survey in seven European countries. Palliat Med, 2013