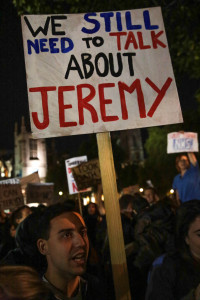 This week, junior doctors in England will be undertaking a full withdrawal of labour between the hours of 8am and 5pm on Tuesday 26 and Wednesday 27 April, as the ongoing industrial dispute between the BMA and the government shows no sign of ending peacefully. This latest action marks an escalation from previous strikes this year as junior doctors will not be providing emergency cover. It is also a historic moment; the first time an all out strike has been called by junior doctors in the history of the NHS.  If you have any news, pictures, thoughts, or tweets to offer us for the blog, please send them to Gareth Iacobucci at giacobucci@bmj.com
Wednesday 27th April
16.44 – With the strike drawing to a close, NHS England has said that 78% of junior doctors who were expected to be working did not report for duty today.
These estimated figures – which include other forms of absence such as sickness – were the same as those given for yesterday's strike action.
Anne Rainsberry, national incident director for NHS England, said, "We're not going to pretend the last two days have been easy but the NHS has remained open to business for patients. The health service has coped admirably to date thanks to extensive planning and the exhaustive efforts of other staff. However the strike has undoubtedly increased pressure on a service already facing increasing demand and has led to the highly regrettable cancellation of needed care for well over 100,000 patients."
—
16.32 – A huge turnout in Sheffield for this junior doctors rally.
Sheffield junior docs rally in the city centre. Great turnout and support from the public. #JuniorDoctorsStrike pic.twitter.com/FklJduUIlp

— saira ghafur (@sairaghafur) April 27, 2016
—
16.07 – Once again, a few famous faces appeared at picket lines today to support junior doctors.
Thanks to the great @louistheroux for the photo in support of #juniordoctors @TheBMA #JuniorDoctorsStrike pic.twitter.com/dzPypsU2wM

— Samuel Gardiner (@DrSJMG) April 27, 2016
Thank you @sueperkins for your fabulous support on the picket @RoyalFreeNHS #JuniorDoctorsStrike #timetotalkjeremy pic.twitter.com/OszQgLsi4s

— Alexandra Barry (@alexmaybarry) April 27, 2016
—
15.56 – "I retain my hope, possibly even my expectation, that at some point the government is going to realise that it cannot continue like this."
The BMJ's Abi Rimmer has spoken to the BMA council chair Mark Porter about life after the dispute.
You can read the full interview here.
—
15.34 – The Telegraph columnist and executive editor James Kirkup has not been shy in criticising The BMA and junior doctors during the course of the strike.
This afternoon, he has given junior doctors a right of reply and answered their questions directly via a webchat. You may not agree with all of his points, but there is some good discussion here.
—
15.11 – This picture below shows Jane Dacre, president of the Royal College Physicians, joining picketers earlier today at Whittington Hospital in north London.
https://twitter.com/Vishal_VRaman/status/725230642569596928
—
14.59 – *New Jeremy Hunt mashup alert*
—
14.37 – Interesting political story here from the Newham Recorder in East London, which reports that the deputy chairman of the local Conservative association has defected to Labour over the government's handling of the junior doctors' strike.
Adam Nowacki, whose wife is a junior doctor, is said to have viewed the health secretary's imposition of a new contract on doctors following recent strike as the "final straw".
He is quoted as follows…
"This is about principles for me. My wife is a junior doctor and so are many of my friends. They are being hurt by the government, so I can't support the party anymore.
"The Tories are supposed to be the party for working people, but they are attacking some of the most hardworking people in the country."
—
14.25 – The BMJ has just published a fresh collection of blogs from doctors offering their contrasting views on this week's unprecedented strike action.
Duncan Steele, a CT2 in cardiothoracic surgery at St George's hospital in south London, says the clause in the new contract stating that the government is free to change any term or condition at any point was the "metaphorical straw" that convinced him to strike.
"These proposed changes are untested, unfunded, and unmodelled, and in my opinion incredibly harmful to the care that we will be able to provide patients in years to come," he writes.
Lizzie Wortley, a paediatric registrar working in Northwest London, writes about the difficulty she felt in deciding whether to strike. (In the end, she did).
"Yesterday I did not cross a picket line. I don't yet know the figures for how many junior doctors did choose to work, aside from those who were unable to strike, but I would not blame anyone who chose to. I almost did," writes Wortley.
And the former editor of The BMJ Richard Smith outlines what he views as the deeper causes of the doctors' strike. Whilst Smith does not reach a firm conclusion, he says…
"I remain convinced that the strike is about more than having to work on Saturdays, and the drivers may be a complex amalgam of the work being less satisfying and meaningful and more demanding, juniors being lost in the system, anger at the older generation having taken too much, and fear of what the future might hold."
—
12.50 – Also new on BMJ.com is a piece from correspondent Clare Dyer which examines the top issues worrying junior doctors about the new contract, including pay structure, working hours, on-call rotas and the right to change terms.
—
12.44 – Yesterday, Thomas Cassidy, Marina Soltan and Tom Macaulay visited picket lines in London and Birmingham for The BMJ to speak to junior doctors.
You can read what those doctors had to say over on our BMJ Careers site.
—
12.01 – Let's not forget the bigger picture here…
NEWS! Doctor's strike results in Daleks conquering the universe https://t.co/4NR2hLAmh4 pic.twitter.com/JhuFgltGzv

— News Thump (@newsthump) April 27, 2016
—
11.51 – No sign of snow or other unseasonable weather conditions in south west London today.
@garethiacobucci Strikers were enjoying the sun on picket line @KingstonHospNHS this am! Lots of supportive toots! pic.twitter.com/1u9k3geHno

— Anne Gulland (@annegulland) April 27, 2016
—
10.59 – Yesterday evening, Channel 4 News anchor Cathy Newman interviewed the health secretary Jeremy Hunt about the strike and ongoing contract dispute.
This clip from the interview shows Hunt coming under pressure to justify his claims that 500 doctors had already signed up to the new contract.
—
10.32 – Baked goods and letters of support for junior doctors continue to flood in…
@Garethiacobucci @bmj_latest Great support here with lots of cake and letters of support pic.twitter.com/5pwtx2r2Cp

— Rebecca Davies (@BexiDwyer) April 27, 2016
—
10.06 – The comedian Frankie Boyle has written a wonderfully acerbic column on Jeremy Hunt and the strike for The Guardian today.
He begins with this gambit..
"One of the worst things for doctors must be that, after seven years of study and then another decade of continuing professional exams, patients come in telling them they're wrong after spending 20 minutes on Google. So imagine how doctors must feel about Jeremy Hunt who hasn't even had the decency to go on the internet."
—
09.55 – The BBC's Newsnight programme also covered the strike yesterday evening (scroll to 30.11 on this video).
Out on the picket line and on a march over Westminster Bridge, Newsnight journalist Chris Cook mused on the BMA's strategy.
Cook said, "The BMA does not have a clear game plan for victory but by extending this dispute they hope it will have a few effects – there's a chance that something might just come up, they might get a new health secretary or prime minister who might be prepared to compromise a bit more. Secondly, with protests like this they can pile pressure on the government so they might change their minds about the contract imposition, Finally they point out that's its very difficult to do other things while this dispute is going on such as negotiate the consultants contract."
In an oddly staged stand-up interview between Newsnight journalist James O'Brien and Jeremy Hunt, the health secretary was not budging an inch.
Hunt said,"In order to roster more staff on at the weekend we need to bring down premium rates of pay. It is still more generous than anywhere else in the public sector, more than nurses, police officers, and fire officers. It's a very fair package. The BMA is not prepared to discuss this in a reasonable way."
—
09.43 – Tom Macaulay has provided this helpful roundup of how yesterday's action was covered by local news outlets and those on the picket lines…
—
09.34 – Junior doctors across England have returned to the picket lines this morning as the second day of the all-out strike gets underway.
Already a strong showing on the picket line at Gloucester Hospital! Keep it up! @TheBMA #JuniorDoctorsStrike pic.twitter.com/kYdCKZdIZd

— BMA Severn JDC (@BMASevernJDC) April 27, 2016
Day two on the picket line at St Thomas' #JuniorDoctorsStrike @LBC pic.twitter.com/8svuy1zbut

— Charlotte Wright (@charlotte_bbc) April 27, 2016
Fantastic to join @TheBMA picket line at John Radcliffe Oxford #JuniorDoctorsStrike #juniorcontract pic.twitter.com/Fn8YMShxWw

— Henry Fowler (@RedHen90) April 27, 2016
—
Tuesday 26th April
16.59 – The BMA has also issued a statement as today's action by junior doctors draws to a close.
Johann Malawana, BMA junior doctors committee chair, said…
"The overwhelming turnout at almost 150 picket lines across England today shows the strength of feeling amongst junior doctors against the government's plans. Tens of thousands protested against a contract they believe is unfair and damaging to patient care in the long term.
"Figures indicate that more or less all of those eligible to take action today did so, and are in line with the proportion of junior doctors who are members of the BMA.
"Junior doctors deeply regret the disruption to patients and are taking this action as a last resort and with a heavy heart, but the government's refusal to negotiate has left them with no option but to take short term action to protect the NHS in the long term.
"It is a testament to the hard work and dedication of other doctors and NHS staff that emergency services continued to be provided today.
"We continue to call on the government to get back around the table and to listen to the concerns of doctors, which are about much more than pay. The health secretary himself has admitted that are serious outstanding concerns around excessive working hours, training, recruitment and retention and the impact these have on the ability of the NHS to deliver a seven-day service.
"It is not too late for the government to put patients first, and choose negotiation over imposition."
—
16.44 – NHS England has issued an update on the estimated number of doctors taking part in action.
It said…
In the period of industrial action on 26 April 2016 (which includes the full withdrawal of emergency cover by junior doctors), the earliest available data, reported as at 0900hrs, indicates that 78% (21,608) of junior doctors who were expected to be working have not reported for duty today – this includes other forms of absence not just industrial action such as sickness.
Further NHS analysis of the last industrial action – covering the period 6 to 8 April 2016  (when emergency cover was provided)  – shows that on each day of the last strike 14,600 junior doctors were not at work with approximately 12,800 (88%) actually on strike, with the remainder absent for other reasons such sickness.
NHS England said the extra challenges caused by the escalation of the action had led to significantly more postponed elective operations during this strike.
It added…
Last week trusts said that they expect there will be 12,711 postponed elective operations over the period of 18 April to 2 May – 4187 relating to inpatient cases and 8,524 day cases.
They have also reported that there have been 112,856 postponed outpatient appointments over the same period.
Commenting on the figures, Anne Rainsberry, national incident director for NHS England, said…
"The NHS exists to help the sick and people in need and we'd like to sincerely apologise to the more than a hundred thousand people facing disruption during this strike alone, as well as the thousands more affected over the last few months.
"This is an unprecedented situation and staff across the NHS have made herculean efforts to ensure continued safe services for patients, which is always our top priority. However the escalation of this action does bring heightened risk and we are continuing to vigilantly monitor the picture across the whole of the country.
"The NHS is open for business but in some places may be under specific pressure. We ask the public to use it wisely in this very challenging time as some services may change and some may be busier than usual".
—
16.40 – The Government has abused its power as sole employer of junior doctors during this dispute. This is the view of The BMA's chairman of council Mark Porter, who was interviewed by The BMJ's reporter Abi Rimmer on the eve of today's strike. You can read more here.
—
16.20 – The BBC's health editor Hugh Pym has just tweeted this information from NHS England regarding today's turnout…
NHS Eng says 78pc of junior doctors expected to work did not come in today – other 22pc presumably included non BMA members

— Hugh Pym (@BBCHughPym) April 26, 2016
—
15.39 – If you're after a sardonic take on today's proceedings then the excellent Mr Hunt's seven-day diary from NHS Networks editor Julian Patterson should be your first port of call.
—
15.16 – John Underwood, a patient who is suffering from what he describes as "an aggressive form of lymphoma," has written this powerful piece in support of junior doctors for The Huffington Post. Underwood's first hand account of being treated in an NHS hospital is well worth reading as an example of how much the health service and its staff are valued by those who depend on it.
—
14.40 – JDC chair Johann Malawana has written a blog for The Huffington Post on today's strike action.
"A generation of junior doctors is desperate here. Striking is an act of desperation," he writes.
—
14.17 – Some exemplary satirical baking here.
A GP just delivered this to Warwick Hospital! Awesome! pic.twitter.com/E7v2ZS2F87

— Amie Burbridge (@AmieB3) April 26, 2016
—
14.05 – Nice message of support for juniors here from the actor Ralf Little. What do we think the "unrelated meeting" at Downing Street was about then..?
Been at No 10 for an unrelated meeting this morning but feeling very pleased with this photo! #IsupportJuniorDoctors pic.twitter.com/FzpCuLmvkw

— Ralf Little (@RalfLittle) April 26, 2016
—
13.55 – A&E units across England have been "quieter than usual" this morning, The Guardian reports.
The newspaper suggests that most services looked to be running smoothly, with no hospitals reporting incidents or undue pressures in light of the strike by junior doctors.
—
13.19 – Taryn Youngstein, a junior doctor in London, has written a blog for The BMJ that articulates the conflicting feelings of many junior doctors this week.
Youngstein writes, "We have very dark days ahead, no easy path forward. If we strike we may damage trust in our profession, but if we don't, we will see the ushering in of a poorly thought out, unplanned, and unfunded junior contract, that will undoubtedly lead to a further decline in morale and haemorrhaging of doctors from the NHS."
—
12.12  – These tweets below offer a flavour of the support being offered by consultants to their junior colleagues today.
Over 260 consultants at Sheffield Teaching Hospitals NHS Trust have signed an open letter supporting #juniordoctors pic.twitter.com/2hmXzAqKdj

— BBC Radio Sheffield (@BBCSheffield) April 26, 2016
Several @CUH_NHS Consultants proudly wearing @TheBMA badge of solidarity with #JuniorDoctorsStrike @johannmalawana pic.twitter.com/BusCLoonvC

— Angelos Kolias (@ag_kolias) April 26, 2016
—
12.02 – The chair of the BMA's junior doctors committee Johann Malawana has shared this message of support to UK junior doctors which has been set from colleagues in New Zealand…
A very welcome message from our New Zealand colleagues. They have experience of difficult disputes pic.twitter.com/AABkx4GmEo

— johannmalawana (@johannmalawana) April 26, 2016
—
11.48 – A clip here of an interesting exchange between the health secretary Jeremy Hunt and the BBC's Nick Robinson on BBC Radio 4's Today programme this morning.
Whilst Hunt sidestepped the question over whether he might stand down in light of the industrial dispute, he did disclose that his current role was "likely to be my last big job in politics." Whether this is his own choice is another matter…
"This is likely to be my last big job in politics" says health sec @Jeremy_Hunt #JuniorDoctorsStrikehttps://t.co/3dLlxSfBxx

— BBC Radio 4 Today (@BBCr4today) April 26, 2016
—
11.37 – Reinforcements have arrived at the Hammersmith hospital picket in West London…
This just took us by surprise at the Hammersmith hospital picket ??❤️❤️ just wow #JuniorDoctorsStrike @ImperialNHS pic.twitter.com/P3nEUJqYbc

— Julia Prague (@julia_prague) April 26, 2016
—
11.27 – Pictures below showing large turnouts on picket lines in Leeds and Brighton today.
Leeds #JuniorDoctorsStrike saying #timetotalkjeremy pic.twitter.com/7bUSYvVELj

— ? (@eye_polly) April 26, 2016
Great to be on the #PicketLine with @TheBMA in #Brighton #JuniorDoctorsStrike #juniorcontract pic.twitter.com/toEm8nxtEF

— Andrew Anderson (@andy0892) April 26, 2016
—
11.13 – Yet ANOTHER explainer here – maybe visual treats are the the best means for explaining this long running and increasingly bitter dispute?
It's fair to say this one has a particular viewpoint it wants to convey…and we're not talking about which brand of sandal the health secretary might prefer.
Not sure why the #JuniorDoctors are going on strike? This explains it in a nutshell – pls RT & show your support pic.twitter.com/1MmsXy9mYS

— NHS Million (@NHSMillion) April 25, 2016
—
11.07 – Lizzie Wortley, a paediatric registrar  in north west London, has written a blog for The BMJ about her conflicted feelings on today's strike.
"The idea of a full walkout today is a level of uncertainty we have not dealt with before," she writes.
—
11.01 – Who wants to see Piers Morgan ask a question to a pillow*? Of course you do.
*The pillow also has Jeremy Hunt's face on it, in case you thought we'd steered away from the topic at hand.
WATCH: @piersmorgan has a question for @Jeremy_Hunt. Unfortunately he can't answer… #JuniorDoctorsStrikehttps://t.co/e0H3Cq6KCD

— Good Morning Britain (@GMB) April 26, 2016
—
10.52 – The chairman of The BMA Mark Porter has posted this video message regarding this week's industrial action by junior doctors.
—
10.45 – The Guardian's Polly Toynbee has also written on the strike in a piece which namechecks The BMJ.
In Toynbee's view, the real target of today's strike from the government's point of view is not junior doctors but "the entire public sector."
—
10.38 – "Explainers" are all the rage at the moment. This latest graphic has been published by The Financial Times based on figures from NHS Employers. 
The editor of Newsnight Ian Katz says it's the first time he's properly understood the gap between The BMA and the government on junior doctors pay.
Takes bit of digesting but this FT graphic first time I've properly understood gap between BMA + govt on jnr doc pay pic.twitter.com/YIjrEc0PHx

— Ian Katz (@iankatz1000) April 26, 2016
—
10.30 – The Labour party leader Jeremy Corbyn has also weighed into the debate. As well as giving his backing to junior doctors on strike today, Corbyn has suggested that the government may be deliberately starving the NHS of resources to encourage people to pay for private care.
His comments, reported by The Guardian, were made at yesterday's Communication Workers Union in Bournemouth.
—
10.27 – Leading NHS commentator and all round puller of no punches Roy Lilley has written this blog on the strike.
In Lilley's view, the real question is what happens next in the dispute.
—
10.18 – This infographic was doing the rounds on Twitter last week, explaining the reasons behind the dispute.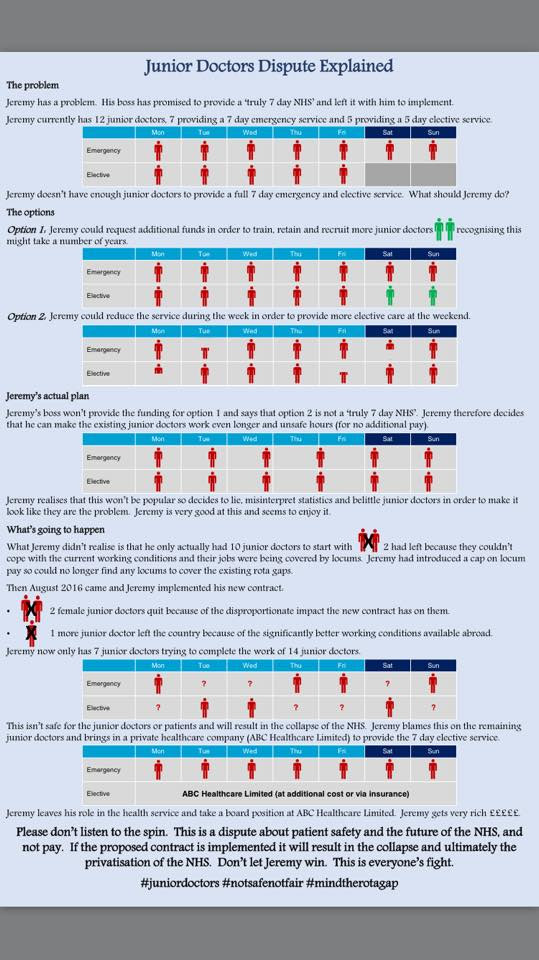 10.11 – Junior doctors across England have joined picket lines this morning, including these doctors pictured below in Newcastle, Cambridge and Poole.
Junior doctors picketing outside Newcastle's RVI. The strike ends at 5, and starts again 8am tomorrow pic.twitter.com/AnP6MKMZWa

— Capital NE News (@CapitalNENews) April 26, 2016
Picket line outside Addenbrooke's Hospital as junior doctors in Cambs join all-out strike https://t.co/9zN95BZWJ4 pic.twitter.com/h3c8sveNcd

— BBC Cambridgeshire (@BBCCambs) April 26, 2016
Lots of colourful signage on the #JuniorDoctorsStrike picket line outside Poole Hospital #Dorset pic.twitter.com/YhUioEmRYw

— Luke de Costa (@NewsLukedC) April 26, 2016
09.58 – The aforementioned political ramifications of the strike are reflected on the front page of The Times this morning (see below).
The paper claims that two cabinet ministers including the prominent Brexiteer Michael Gove have helped to turn the strike into a dispute over the EU by backing claims that the money saved from leaving the EU could settle the protracted battle. The full story is online here [£].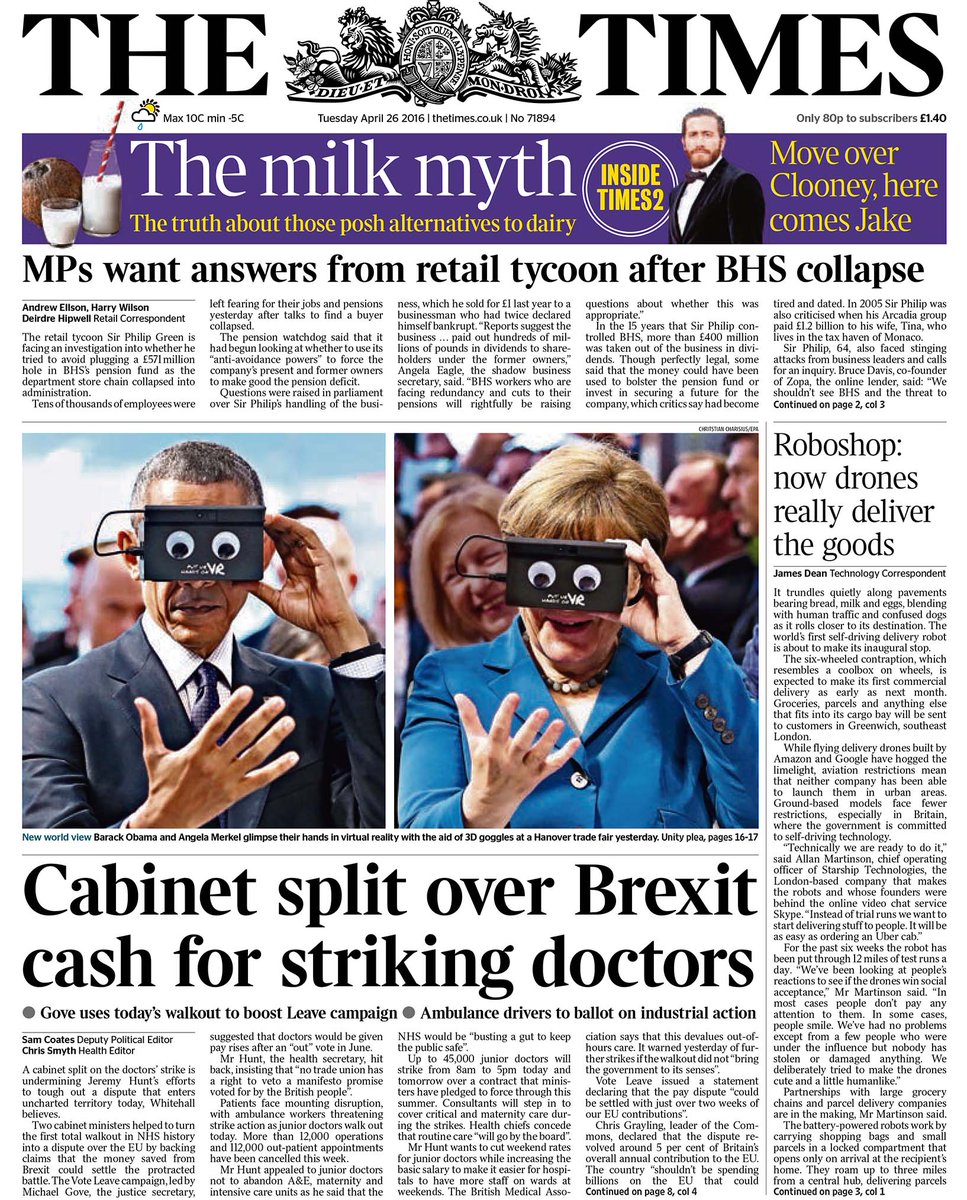 —
09.30 – As with previous days of action, the junior doctors taking all action today say they are doing so with a heavy heart.  But politically, the stakes have never been higher than they have this week, with doctors walking out of both routine and emergency care for the first time.
Doctors can take some heart from the latest opinion polls, with figures released this morning from Ipsos MORI showing that 57% of support the doctors' cause, compared to a quarter who oppose.
The figures – highlighted in graphical form below – show that the majority still think the government is most at fault for the ongoing dispute – although a rising number think government and doctors both to blame equally
—
08.15 – The first all out strike by doctors in the history of the NHS has begun as thousands of junior doctors join picket lines across England.
—
Monday 25th April
16.59 – The Department of Health has just published the health secretary's statement in full here.
—
16.48 – Jeremy Hunt has delivered his statement to the House of Commons, and as it stands, it looks like tomorrow's strike by junior doctors will be going ahead.
In his statement, which you can watch again here, Hunt once again insisted that his government was correct to be taking what he called the "tough and difficult decisions" required to bring about seven day working in the NHS.
The health secretary also made a direct appeal to all junior doctors not to withdraw emergency cover tomorrow.
In response, Labour's shadow health secretary Heidi Alexander lambasted Hunt for spurning her cross party proposal to pilot and independently evaluate the new contract in a small number of areas before deciding whether to roll it out nationwide.
Alexander said that "history will not be kind" to the health secretary if he allows tomorrow's strike to go ahead.
—
15.53 – Two junior doctors with contrasting views on the strike have blogged their thoughts ahead of tomorrow's strike action.
Writing for The I newspaper, junior doctor Reena Aggarwal says she wished she did not have to strike – but feels there is no alternative now.
"I wish I did not have to strike. I wish the government would recognise that implementation of this contract will not deliver their uncosted, unmodelled and undefined 7 day soundbite. I wish the government would recognise that we would all return to work tomorrow without any reservation if the imposition of the contract was lifted and negotiations restarted," writes Aggarwal.
In contrast, fellow junior doctor Alice Gerth will not be taking part in action. In this blog for BMJ.com, Gerth expresses her concern of "a schism" developing between the sides of the picket line.
"It is important that we graciously engage with each other and acknowledge that the right to not strike is as important as the right to do so. For after all, we all believe that we are acting in the best interests of our patients and the NHS," she writes.
—
15.12 – The 'junior doctors leaders trying to topple the government' story has elicited plenty of responses on social media, many of them expressing bafflement at the "noises" emanating from Whitehall.
The idea that BMA has "radicalised a generation of junior doctors" is frankly laughable. Gov losing all credibility. https://t.co/EVVinj8J2r

— Simon Cockell (@sjcockell) April 25, 2016
Not entirely sure that this is without hyperbole.

— Keir Shiels (@keirshiels) April 25, 2016
—
14.40 – Ahead of his statement, The BMJ reports today that Hunt has offered to meet with the BMA's chairman of council Mark Porter in a last ditch attempt to avert an all-out strike by junior doctors.
Is it possible that a last minute resolution can be found? All eyes will be on the House of Commons this afternoon.
—
14.08 – The House of Commons has just announced that there will be a statement from Jeremy Hunt on seven day health services and junior doctor industrial action later today.
Tune in here at 4:15pm to hear what the health secretary has to say.
—
13.55 – With the first all out strike action by junior doctors due to commence at 8am tomorrow, the rhetoric is being dialled up.
"Junior doctors' leaders 'trying to topple the government'" is the understated claim made by "a government source" quoted by the BBC.
In what the BBC describes as "a scathing attack," the unnamed source said the strikes this week were aimed at toppling the government and the embattled Health Secretary Jeremy Hunt, and accused the BMA of radicalising junior doctors.
In response, the BMA said the accusation was "ridiculous."