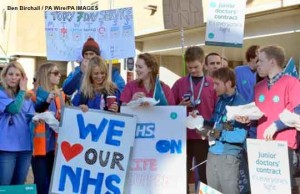 As a full walk out is planned for this week, juniors need to ensure that they have carefully considered which side of the picket line they will stand on. Full disclosure, I have not been participating in strike action and my reasons can be found in a previous blog post: Strike action is not the answer.
I continue to engage with my colleagues on their plans for this week and I have noticed the mood shifting. They are disheartened and deeply concerned for two reasons. Firstly, the strikes have been going on for a long time with little evidence of progress; secondly, the prospect of withdrawing all junior doctor care is daunting.
With regards to the latter; junior doctors are endeavouring to ensure that trusts have arranged adequate consultant cover. A&E and acute services seem to be the areas causing most concern to trusts and the public. I think this is misguided. A&E and acute medicine consultants routinely work in the same environment as their juniors and so they are well equipped to cover for them. In contrast many consultants (especially surgeons) are no longer ward based. Concerns raised in my trust include who is going to carry the F1 crash bleep for orthopaedics? Who is going to do routine bloods and reviews? Who is going to write our in-patient discharge letters? These are jobs we routinely do, almost without thinking and are at risk of being missed. It is not that consultants are unable to do the work of junior doctors, but it is a very different job to their day job.
The bigger challenge is where we go from here. Mr Hunt does not seem to be about to blink—he is holding his nerve and persisting with "introducing" the contract. Currently, the BMA is pursuing a judicial review (I would argue that strike action should be delayed until we know the outcome of this), an independent group of junior doctors is challenging the contract in court and there are mutterings about a prolonged strike next. I am watching the first two with interest and the last with concern. I believe that junior doctors should be preparing for the introduction of the contract by working with trusts to develop the best possible rotas within its constraints. That does not mean that we are endorsing it but rather that we have a plan B. If we belligerently refuse to engage with trusts as they write rotas, we risk "cutting off our noses to spite our face."
Finally, we need to continue to respect each other. There is a real risk of a schism between the sides of the picket line. It is important that we graciously engage with each other and acknowledge that the right to not strike is as important as the right to do so. For after all, we all believe that we are acting in the best interests of our patients and the NHS.
Alice Gerth is a junior doctor.
Competing Interests: Paying member of the BMA. Otherwise none.