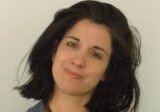 I often try and whizz round an exhibition during a lunch hour, but the Wellcome Collection's latest exhibition on forensics is not one to rush. My visit was how I imagine it must be to work on a crime scene. You take in a lot of detailed and gripping information from different places, and then it dawns on you what it's really all about. People dying—often in a terrible way.
The exhibition is divided into five rooms that track death and murder from the crime scene to the court room. In the first room, you come across what looks like a doll's house. At first glance, you're in an intricate, innocent doll's house, but keep looking and things just aren't right in there.
It is one of Frances Glessner Lee's Nutshell Studies of Unexplained Death. Glessner Lee (pictured) was a US heiress who created a set of miniature crime scenes in the 1940s and 1950s that were used as learning tools for detectives. Glessner Lee was made an honorary captain of the New Hampshire State Police for her dioramas, and they are still used for training today. I found the piece at the exhibition extremely disturbing.
Photography has an important part in the exhibition throughout—from methodically photographed crime scenes and mugshots to reconstructions and artworks, including Sally Mann's photograph of a rotting corpse at "the body farm"—the University of Tennessee's forensic anthropology unit where decaying bodies are studied.
It was the artwork in the exhibition that really made it for me. None more so than Bosnian artist Šejla Kamerić's Ab uno disce omnes (From One, Learn All)—a mortuary fridge you stand inside to see a screen showing images of the documents, photographs, and film that she found in her search for information on those who died in the 1992-95 war in Bosnia. It's cold in that fridge and the viewing is uncomfortable.
Index cards were not things that I expected to spend much time looking at, but "card 5" from the forensic pathologist Bernard Spilsbury's collection had me hooked for 10 minutes. Spilsbury kept records of postmortems on more than 7000 handwritten index cards. They give a description of the body and background information on the dead person, along with any newspaper clippings about the case.
Spilsbury became famous after working on murder cases, including that of Hawley Crippen, who was convicted of murdering his wife in 1910. However, card 5 in the box was not about such a notorious case. It told how Helenora Catherine Horn-Elphinstone-Dalrymple died at Harrods while having her hair done (tetrachloride fumes from a dry shampoo treatment caused heart failure).
If you like fine and gruesome detail, and have the time, this exhibition is for you. If you don't have the time, it's still well worth going—check out the nutshell studies and the index cards, then go into the fridge. You'll miss a lot, but you'll get the gist.
"Forensics: the anatomy of crime" is at the Wellcome Collection, 183 Euston Road, London NW1 2BE, from 26 February to 21 June 2015. It is free.
Sally Carter is a technical editor at The BMJ.