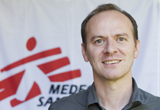 Ten years backwards—this was the journey through time that representatives from governments around the world took last week when they gathered at the World Health Organization (WHO) to discuss the recommendations of a 2012 WHO expert group report on how to address the medical research and development (R&D) system's failures in meeting the needs of people in developing countries. But instead of tapping into the blueprint for action proposed by this group, the meeting's delegates decided to simply continue monitoring the situation, by creating a global R&D "observatory"—a deeply disappointing outcome that will not help re-shape priorities, increase funding, or catalyse development of urgently needed new medical tools. At best it will only underscore further how badly these actions are needed. Practical discussions of new mechanisms to coordinate R&D efforts, secure sustainable financing for R&D, and establish a binding global R&D convention were postponed until 2016. So, after more than ten years of inter-governmental efforts to produce concrete proposals, these proposals will be shelved for almost four more years while countries hide behind excuses. A feeling of déjà vu…
For Médecins Sans Frontières (MSF) and others providing care in resource-poor settings, and for the patients with neglected diseases we see every day, this inaction comes as a serious setback. Many of the available tools for diagnosing and treating diseases caused by kinetoplastids (sleeping sickness, leishmaniasis, Chagas disease) have major limitations. While the not-for-profit "Drugs for Neglected Diseases initiative (DNDi)," which MSF helped create ten years ago, has improved treatment options through new combinations and formulations of existing drugs, there is still a desperate need for better tools to accurately diagnose and effectively treat more patients. Disease management often still relies on drugs with limited efficacy (eg benznidazole for chronic Chagas disease), lengthy series of painful injections (eg antimonials for African visceral leishmaniasis), or microscopy to examine samples that can only be obtained by invasive procedures (eg cerebrospinal fluid or bone marrow aspirates used in tests-for-cure for sleeping sickness and visceral leishmaniasis). MSF's 25 year long experience, recounted in our recent report "Fighting Neglect," proves that these tools can save lives. But scaling up case finding and treatment is challenging in poor, rural settings with weak health infrastructures, where most patients with these diseases live.
Whilst most multinational pharmaceutical companies now make their compound libraries openly available for neglected disease drug discovery research, this is only a first step. The subsequent pre-clinical studies and clinical trials are enormously expensive. Yet R&D funding for sleeping sickness, leishmaniases, and Chagas disease is not only very limited, but is actually decreasing. According to the latest edition of the G-Finder survey, only US$ 131 million was spent in 2011 for R&D on kinetoplastids, down US$ 16 million compared with 2010. Philanthropic and public resources for this research have been declining since 2009, and private investment remains minimal. The pharma industry invested only US$ 12 million for R&D on kinetoplastids in 2011, although multinational pharmaceutical companies can pay over US$ 10 billion for a single promising compound—as seen earlier this year when Gilead Sciences bought a small company named Pharmasset in order to acquire its promising hepatitis C drug, a possible blockbuster in rich markets.
This contrast is a good illustration of how the current model for financing R&D—ie the promise of high prices for new products—fails completely for "commercially unattractive" diseases such as kinetoplastids. Unless this link between R&D funding and prices of end products is severed, the needs of populations in resource limited countries cannot be fully addressed.
In addition to more (and more secure) funding, a shift in priorities is also needed to address the innovation deficit that has persisted for too long. However, since most non-governmental organisations working on neglected tropical diseases target diseases that can be effectively controlled by mass administration of existing drugs (lymphatic filariasis, onchocerciasis, schistosomiasis, trachoma, etc), they prioritise the rollout of available medicines, not the development of new tools. The second meeting of a coalition called "Uniting to Combat NTDs," held in Washington, DC last month, barely mentioned the need for better vaccines, diagnostics, or drugs for these diseases.
But there are hopeful developments, among them that groups of patients with neglected conditions are sprouting up and speaking out. The need for better treatments tops the advocacy agenda of many groups of people living with Chagas disease. Their pressure will be critical for engaging governments and mobilising the public leadership needed to support the research for cures that millions of neglected patients await.
Julien Potet is the Paris based neglected tropical diseases policy advisor for the access campaign at Médecins Sans Frontières. Katy Athersuch is the Geneva-based medical innovation & access policy adviser for the access campaign.
Next week MSF, DNDi and Mount Sinai Global Health will hold a conference: "Lives in the Balance: Delivering Medical Innovations for Neglected Patients and Populations" (December 13-14, 2012, New York City). The event will be livestreamed (register here).