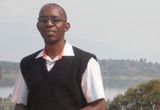 Just 3.5% of the 234 million major operations taking place each year are in low-resource settings, often carried out in very dangerous conditions due to lack of resources and training.
Lifebox Foundation, the BMJ's christmas charity, works in more than 70 countries to improve the quality and safety of surgical care.
They spoke recently with Patrick Kyamanywa, dean of medicine at the National University in Kigali, about the challenges of delivering safe surgery in Rwanda.
Lifebox: How much surgery is taking place in Rwanda these days?
PK: Over the last three to four years we've seen a lot of activity here. Previous to this, surgery suffered from the effects of the genocide: a lot of doctors left the country, or were killed.
Afterwards, we began rebuilding—and surgery is in the fast lane.
Lifebox: How many surgeons are there in the country?
PK: About forty.  The majority are general surgeons, and there are very few specialists: four ENT, two neuros, seven orthos, two urologists, one plastics.
The bulk of surgery takes place in the 42 district hospitals, carried out by GPs—they've been through medical school, they have their primary qualifications and they can do basic caesarean sections, occasionally laparotomies for ectopic pregnancies, and hernia operations.
Lifebox: Do you think the WHO Surgical Safety Checklist is important?
PK: It's just like having your seatbelt—you never know when it will restrain you.
People take the checklist as something that should have been obvious.  But it's always easier to get buy-in if someone has been down the dirty road and experienced a disaster, such as the wrong patient, or the wrong blood. That will win them over very quickly.
Lifebox: We know that many low-resource hospitals end up with vast warehouses full of donated equipment that is given in good faith, but totally unusable in a different environment.  Have you experienced this before?
PK: Of course we have. We've had pulse oximeters and other equipment donated—it's hard to refuse, because people feel we have the need. But then a few months down the road something needs troubleshooting and we don't know how to repair it. There's no biomedical engineer, or the engineer doesn't have experience with that machine and has to guess. We don't have the spare parts. We don't even know how to dismantle it for recycling.
Lifebox: How important do you think a working pulse oximeter is to safe surgical practice?
PK: As regards its importance in surgery—this can't be overestimated. Every one of us in surgery has worried about a patient's oxygen level before—the knowledge you get from a pulse oximeter is very reassuring.
For more information about Lifebox, or to donate, see this week's BMJ or visit www.lifebox.org. The BMJ campaign runs until the end of January.
Patrick Kyamanywa, General Surgery Faculty of Medicine and dean of medicine at the National University of Rwanda.